What is it like to work in social media? Who is a social media ninja? What predispositions and skills do you need to have? What salary does one get? If you have ever asked yourself these questions, you will find the answers in our text.
Portals aggregating job advertisements increasingly publish offers for "social media ninja". This modern nomenclature may come as a surprise among traditionalists – however, it means just a social media specialist. The multitude of these sites, as well as the scope of responsibilities are highly diverse, which makes the repertoire of skills of a social media practitioner quite large. How to become one? Where to look for a job and how much can you earn in it?
Social media ninja – topics covered:
Social media ninja – who is it?
The unflagging popularity of social media is an opportunity for brands to gather loyal and engaged followers. However, this does not happen on its own – in order to generate valuable traffic to a profile, social media specialists are needed. They can watch over the profile and create both the content of posts as well as dedicated graphics or videos.
However, it is also important to publish paid advertisements targeting specific groups and to analyze statistics. As you can see, this position requires many skills from different areas – which is why social media virtuosos are called "ninjas".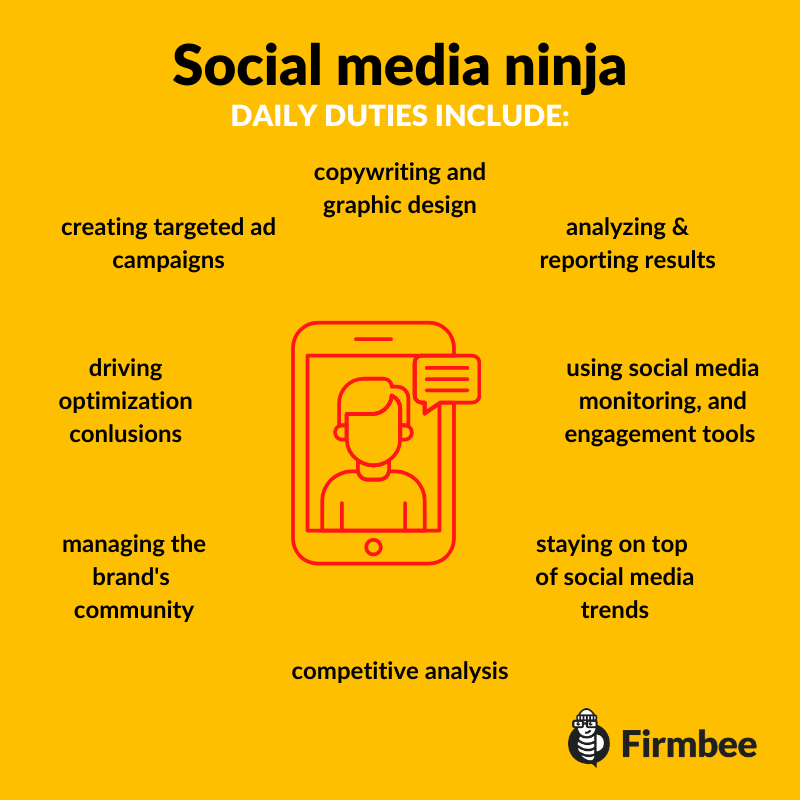 How to start working as a social media specialist?
At the beginning you need to objectively assess your skills and determine the level of their advancement on your own. If the prospect of being able to work from any corner of the world (a social media specialist needs a computer and the Internet to perform his/her duties, which fits the definition of a digital nomad) seems tempting to you, you don't have to be afraid that your deficiencies in a given field disqualify you from this profession.
Revise your skills and choose the area to master:
The spectrum of activities in this field is so immense that you can successfully choose a narrow specialization. What skills are involved?
creating engaging posts with ease – this is one of the first visible elements of any post on Facebook or any other social network. This includes creating concise but volatile slogans as well as more elaborate content that will fulfill a specific purpose. This lightness of narration bridges a gap between the brand and its recipients, prompting discussion & activity;
using the language of benefits – regardless of whether you will represent the segment B2B (business to business) or B2C (business to client) – in both cases you need to provide some real value for the user by discussing, for example, not the advantages of the product, but specific apps that will make life easier for the members of the target group of the brand;
creating advertisements – preparing an appropriate copy and creation is only the beginning. Creating an ad, selecting an appropriate group of recipients and then optimizing it is an example of an action that allows to achieve relatively quick conversions meeting the brand's/customer's expectations;
knowledge of online design and publishing tools that improve work efficiency – specifically Canva (you can prepare attractive graphics on your own using available templates, which can be easily adapted to the visual identity of your brand) or Facebook Ads – Facebook Ads Manager will allow you to professionally manage your promotion;
readiness to develop and learn – the above aspects are only a fraction of the skills that an effective social media specialist should have. Willingness to follow the latest solutions and practice their effectiveness is essential.
Social media specialist – the earning, the job
A candidate for the social media ninja does not have to be a specialist in each of the above fields. Often companies are looking for specialists in specific areas – so you can work solely on creating copy, as well as setting up ads based on materials already provided. However, basic knowledge of all the mechanisms associated with the operation of the account can effectively increase your chances in the job market and facilitate communication between various departments involved in the care of the visibility of the brand.
Earnings as a social media specialist are highly varied and apart from your education it also depends on the city you work in and of course your experience.
How to find a social media ninja job?
This stage has two scenarios – one for candidates who are looking for a secure full-time position and one for freelancers.
In addition to the standard browsing through online advertising platforms in both cases, you can directly apply to agencies that may be willing to accept support in running some projects. Freelancers can also try their hand at popular job advertising boards for freelancers, such as fiverr.com.
It is also a good practice to apply directly to companies that are not yet active on any social networking site. In this case, it will be helpful to present your portfolio to encourage the decision maker.
Benefits of working as a social media specialist
Working as a social media ninja is a dream come true for many people – cooperation with selected brands and the feeling of empowerment or the possibility to work remotely. However, these are some of the advantages that make this profession stand out. The relatively low entry threshold for becoming a social media specialist opens the door to this profession for many who would like to prove themselves in social media.
Already found your social media job? Check out: