What is social listening? That's a good question! Let's start like that. If you have a business, you should be using social media to build relationships with your customers and grow your reputation. There's no way around it – in 2021, it's downright irresponsible not to. Once you're set up on social media, a social listening plan is key to ensuring that you're actually using social media to connect with your audience and grow your business.
What is social listening and which are the best social listening tools
Social listening is the act of sifting through all social media channels in search of mentions related to your business, brand, products, keywords, and competitors. The most important aspect of social listening is learning – analyzing the data you've accumulated and determining what actions can be taken. That might be responding to messages or completely revamping your strategy, or anything in between.
It's important to note that social listening and social media monitoring are two different things. While social media monitoring tracks metrics, social listening focuses on what is being said. Think quantitative versus qualitative data. Social media monitoring gives you data, or the "what," whereas listening gives you the "why."
Why does it matter?
The phrase "social listening" can sound daunting, but in reality, it's listening to what your customers have to say and adjusting to their needs.
Think of it this way: if you owned a bed and breakfast and a guest told you that the bed wasn't comfortable, you'd listen, right? If you heard multiple customers express the same sentiment, you might consider making a change. Once you bought new beds, you'd listen for feedback to see if your customers are sleeping better.
Social listening is a way to do this on a grander scale. You can receive feedback from all kinds of people, check out your competitors, and track keywords. When it's all put together, it creates a larger picture that you can learn from and act on.

What successful social listening looks like
With social listening, you can engage with customers when they leave positive or negative comments. By responding to positive comments, you further build that positive relationship. For example, if someone posted about how great their stay at your bed and breakfast was and tagged your business's page, you'd respond saying that it was a pleasure hosting them.
On the flipside, by responding to negative comments, you can save the day before a situation escalates. If someone tweeted that your website wasn't allowing them to book a stay at your bed and breakfast, you could hop in and correct the issue immediately.
This works on larger scales, too. When there's a crisis or scandal related to your business, people will be watching and listening for a response from you. They want to see you address it and right any wrongs. Ignoring it will only negatively impact your reputation.
When you're done reviewing your own socials, you should be checking out the competition and the industry. Track your top competitors to see what new products they're releasing and what the public has to say. Then, zoom out and look at your overall industry. What are people saying they need? What isn't working for them? Finally, take a look at your own offering and see if you can fill in any of that white space.
Four social listening tools to consider
Now that you know what social listening is and you're ready to get started, you might consider using a tool to assist you. Social listening tools can collect data for you, so you don't have to do the leg work searching for mentions and studying keywords. Here are our top 4 tools that you should consider:
Sprout Social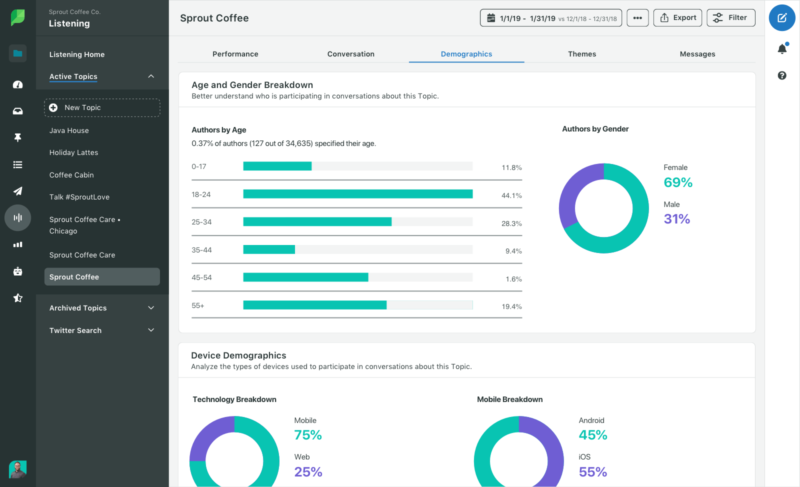 Improve interactions and simplify your experience using Sprout Social. Their social media management software brings everything together for you.
Smart inbox – Aggregates messages from all platforms to one inbox, so you never miss a message. It's built for team collaboration, so you'll never reply to the same message twice.
Brand keywords – Never miss out on a message that references your brand or products. Brand keywords run constantly and display in your smart inbox.
Trends report – Check out the most popular hashtags, topics, people, and brands that are mentioned with your business. This helps to create better content and reach more audiences.
Keyword report – Learn about the traffic for keywords related to your business, so you can track the market, check marketing effectiveness, and track your products.
Hubspot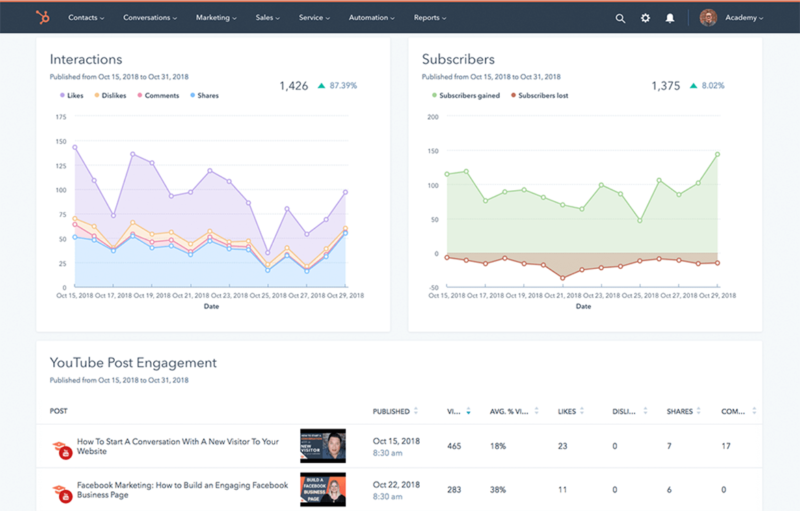 Prioritize interactions and never miss an opportunity to connect using this social media product.
Marketing campaigns – Build a campaign and share content from your blog or elsewhere to social media channels, all with guidance on when the best time is to post.
Monitor social media interactions – Check for interactions from contacts from your database.
Keywords – Create keyword monitoring streams that are specific to your business.
Compare channels – Check performance from various social media channels with stats on visits and leads, so you know where to focus your energy and where you need to grow.
Hootsuite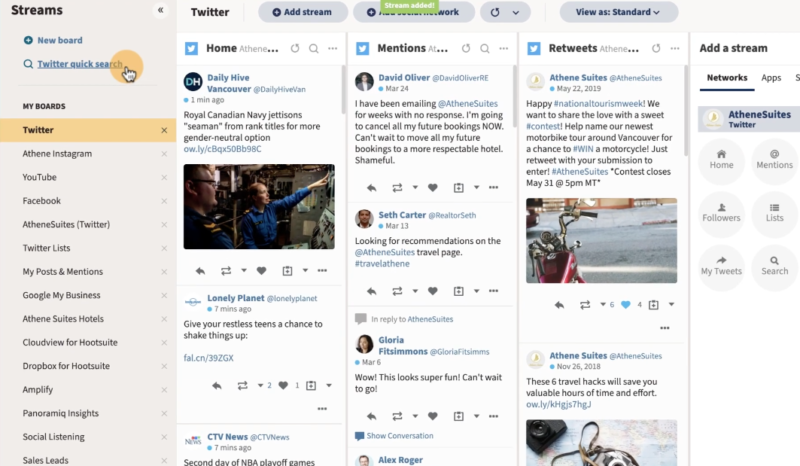 Combine social media monitoring and listening all in one place. Simplify social media by bringing all platforms to a singular dashboard.
Inbox – See all social media interactions, public and private, in one place.
Streams – Hootsuite's streams help you monitor and engage with people on all platforms from one dashboard. Choose to look at your posts and mentions, your industry, or browse all.
Search streams – Choose hashtags, keywords, and more that you want to track. Hootsuite will continually update this info for you.
Content – plan, create, schedule, and store content in one place so your team can collaborate and post with ease.
Synthesio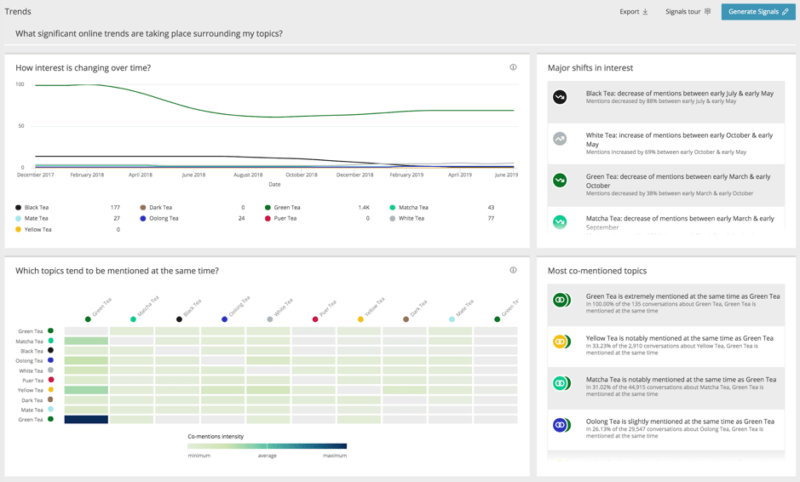 This free Hootsuite app helps businesses listen, engage, and analyze conversations across all social media platforms, as well as mainstream media.
Filters – This feature allows you to segment data so you can find your audience. This includes countries, languages, sentiments, authors, topics, affinities, and more.
Monitoring – Multitask by monitoring all of your streams at one time, in one place.
Communicate – Assign mentions amongst your team and reply, DM, and retweet to Twitter, all from the app.
Final Thoughts
As more and more business is done on line, social media has cemented itself as an important part of any business's marketing strategy. Staying dialed into what people are saying about your business, products, competitors, and industry is more important than ever. With social listening, you're able to get more feedback and react faster than ever before. Whether you choose to use a tool to help you with that or not, you must incorporate social listening into your strategy to stay competitive.
Read also: Social proof in marketing – best practices and examples
Do you like our content? Join our Facebook community to stay in touch!