How to become a CTO – you find the answer in this article. There are currently over 23,885 Chief Technology Officers employed in the United States and only 8.4% of all Chief Technology Officers are women. The average age of a hired Chief Technology Officer is 52 years old. This tells you a statistic about your chances of becoming a CTO. Let's take a closer look at the qualities and qualifications one should possess to become a successful CTO position.
How to become a CTO – table of contents:
How to become a CTO – Scope of action
As companies rely more and more on new technologies, the role of the chief technology officer (CTO) has become almost as important as that of the chief executive officer (CEO). The role involves leading the company's IT departments and all of its technical operations. As such, to become a CTO, one needs a relatively diverse set of skills, as well as a technology-focused mindset.
In this position, it is essential to anticipate what type of technology the company may need in the future; both hardware and software. The CTO must also assemble and maintain an IT team. In this extremely fast-paced industry, the ability to constantly hone your skills is crucial.
Areas of development
The Chief Technology Officer should develop versatile skills and knowledge, the key areas concern:
Communication. A large part of the CTO's role is to help those less familiar with the technology understand how it can facilitate achieving their business goals, often at many levels within the company. They also need to communicate effectively and clearly to explain business goals to more technically-oriented people.
Leadership. CTOs must have outstanding leadership skills to execute their strategy and convince both the board and management to invest in various technologies. They must also learn to inspire company teams so that they work towards the company's grand vision.
Business Development. The ability to work to achieve business goals at a high level is vital for any executive. A good CTO will stay abreast of industry trends and new technologies to help the company stay competitive.
Finance. The CTO role will require a solid understanding of complex projects and finance, as well as issues concerning resource allocation and software licensing. Having proficient financial skills ensures that the CTO will effectively fund those technologies the company needs.
Technical knowledge. These skills characterize many CTOs who began their careers as engineers or programmers. Advanced knowledge of a variety of technologies constitutes the key component of this position.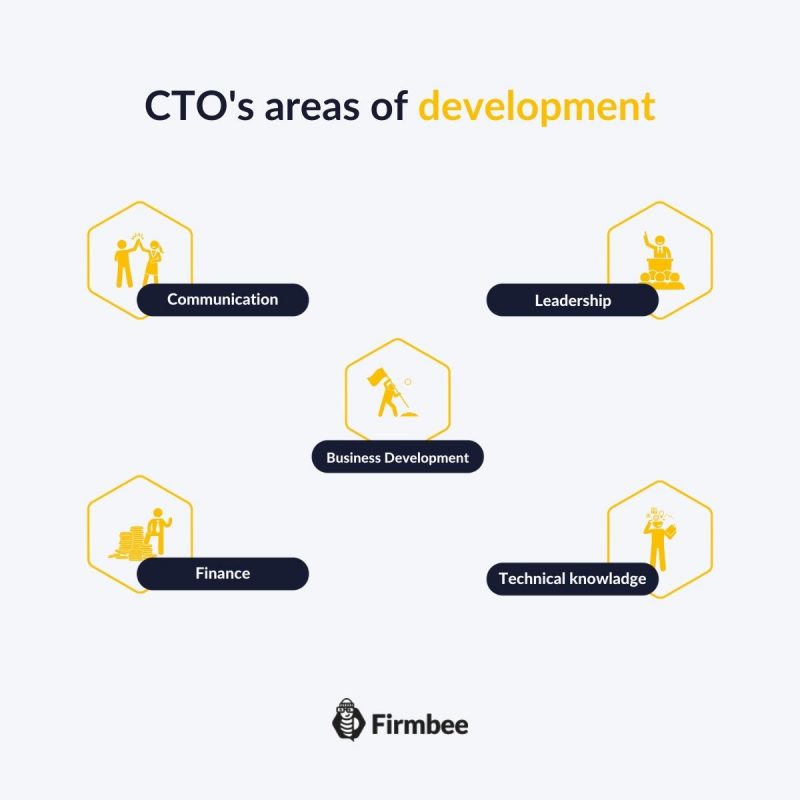 Features of a good CTO
A CTO must also possess several qualities covering wide range of areas. These include:
Experience and broad technological knowledge. In addition to demonstrating ease at operating on existing equipment and software, the Chief Technology Officer should also cleverly map out and implement them, taking into account company'specificity. It concerns both the ability to identify technologies that provide a healthy balance between risks and benefits, as well as to refrain from those classified as too experimental.
Curiosity and up-to-date knowledge. Technology is evolving at a rapid pace and a technology director needs to keep up with this dynamic. To do this, CTO needs to research every new solution to fit and target the necessary areas.
Knowledge of economics. The CTO actually bridges the gap between the areas of technology and business. The goal of the job is to ensure that the technology adopted enhances the economic efficiency of the company. Therefore, the CTO has to know the business as well as administrative aspects governing the company. Moreover, a chief technology officer needs to understand the market as it relates to acquiring new technology products or services.
High strategic capability. The CTO is usually a high-level executive and must have a strong ability to plan short, medium, and long-term strategies. This is one of the most complex tasks of Chief Technology Officer. It means to consider not only the current needs of the company but also future needs in the short, medium, and long term. In addition, the position requires to analysis of the current state of the company's technology implementation and its future growth opportunities, taking into account key issues, especially such as the company's economic resources. Due to executive nature of these tasks and their interconnection with other departments, the CTO must remain in constant contact with the CEO, CFO, CIO, and other company executives and mediate between their needs and the requirements and work of the technicians.
Social and communication skills. Communication is a fundamental part of the CTO's job, he must communicate effectively with the environment and in particular, make sure that both the technicians under his command understand the business problems and those other people who lack technical training can understand aspects of the technology.
Customer Knowledge. The Chief Technology Officer, who holds a key position related to digital transformation, needs to know the customer profile to understand their needs.
Team leadership and training. The Chief Technology Officer should know how to set goals and assign roles within his or her team and create a good working environment that allows for collaboration and communication to achieve ultimate goals. Other personal qualities such as an open mindset, empathy, willingness to dialogue, and the ability to lead and motivate staff will be essential for this position.
Project Management Knowledge. Given that often the CTO's business is tied to specific projects, having project management knowledge will be very useful.
How to become a CTO?
The Bachelor degree in computer science is a prerequisite. In addition, most IT managers hold a college degree. An IT bachelor's degree program usually covers the basics of programming, software design and mathematics. However, most IT executives also have a Master of Business Administration (MBA) degree. Many degree programs are now specifically tailored to those working in IT who want to advance to management positions in the industry.
The CTO position may require more than 15 years of IT experience, although smaller companies typically require less IT experience from their CTOs. IT directors and project managers are most frequently promoted to the CTO position.
IT managers gaining the experience required to qualify for the CTO role should look for opportunities to gain a reputation as a leader in the department. This will enable them to develop management skills, especially as team and project leaders.
How much does a CTO earn?
Holding a CTO position in a successful company pays off handsomely. How much? It depends largely on the scale of the company, its location as well as the experience of the CTO in question. According to compensation software provider PayScale, a London-based CTO relatively new to the role can expect an average total salary of £82,723 per year, including benefits, bonuses, and overtime pay. A mid-career CTO with five to nine years of experience in the role earns around £83,078.
However, after a decade in the CTO role, you can expect a significant pay rise. Those who had between ten and nineteen years' experience received an average of £102,779, while those who had spent more than two decades in the role got on average £121,913.
In terms of CTO base salary, according to data from the Glassdoor website, it is estimated to average around £101,000 per year – an increase of £11,000 from April 2019. This growth suggests that the mean salary could continue to rise, despite the difficult economic challenges caused by the pandemic.
For the success of both technology startups and stable global software companies, the role of the Chief Technology Officer is essential. CTO manages all technology-related issues and controls all related processes to solve the company's software problems.
Read also: How to find a CTO? The most important things you need to know about.
If you like our content, join our busy bees community on Facebook, Twitter, LinkedIn, Instagram, YouTube, Pinterest.