Many company founders spend years searching for the perfect person to fill the position of CTO (chief technology officer). In these times of cons, technological advancement is a key figure in the organization. So how do you find the right person for this position?
How to find a CTO – table of contents:
Is it difficult to find a CTO?
If you are looking for a good CTO – the answer is affirmative. The right candidate possesses a combination of various qualities and skills, a diploma certifying adequate education as well as many years of experience confirmed by successes.
It is crucial to remember that finding a candidate is one thing and convincing them to work with you is another. Candidates applying for a CTO position are conscious of their knowledge, experience, and professional achievements. That's why a high salary alone may be too little to entice them to work for you.
Who do you need in your company? – 4 types of chief technology officer
Depending on the type of company, we may need different types of CTO. Here are the main ones:
Digital Business Leader. Focuses on leveraging innovative technologies to transform business models, products, and services. These professionals are responsible for creating digital business strategies for the company. At the same time, they can design digital platforms well. Their main duties include: working with business executives to identify, rationalize and develop new business models and opportunities, as well as working on creating the enterprise architecture, innovation management, etc.
Business Development Leader. Such a CTO ensures that the technology works as intended and evolves together with the business. By taking care of operational technology issues, working as a team leader as well as meeting the business needs of the company and customers, the BDL is often a complement to the CIO (the one who focuses on leading the IT organization). This role's key responsibilities include making final decisions on technology investments, actively contributing to digital business platforms, working with product and engineering teams and assessing risk.
Innovator. This professional is the lead architect of IT innovation in a company. Innovator's key duties focus on leadership in technological advancement, selecting or creating strategies in terms of new technologies together with leading an engineering team.
Chief Operating Officer. In large organizations, this CTO focuses on the day-to-day running of IT and the maintenance of agreed-upon IT service delivery and repairs. The CTO is heavily involved in pursuing and buying new solutions for both technology and services. Their main duties are running and maintaining IT operations, ensuring the performance of internal and external systems, monitoring and responding to incidents as well as getting engaged in the procurement of systems such as CRM or ERP.
5 tips on how to find a CTO
Finding the right person for the CTO position poses a challenge, so we have prepared 5 practical tips to help you:
Clearly state your requirements. You need to have a clear idea what you expect from the candidate. For example, develop a list of technologies that are necessary for the project. This can act as a filter to select the most suitable ones.
Search in the right places. Conferences, meetings and summits are great opportunities to discover a potential CTO who would be a great asset to your company. Search for someone who can get different innovations (backend, frontend, and mobile, for example).
Look for programmers working at companies similar to yours, in positions similar to CTO. Positions such as vice president, engineering manager or programmer at a startup indicate that these individuals likely have the experience required to be CTO, but have not yet been promoted.
Use portals like Linkedin. This way you can make sure you have correctly specified the experience and responsibilities for the position. The Internet is a powerful tool for reaching a wide range of professionals.
Determine what you expect and what you are offering. Begin with the expected responsibilities and end with an employee-facing offer. Potential candidates will certainly receive many offers similar to yours. You need to sell the job; offer appropriate benefits, and present the advantages of the position.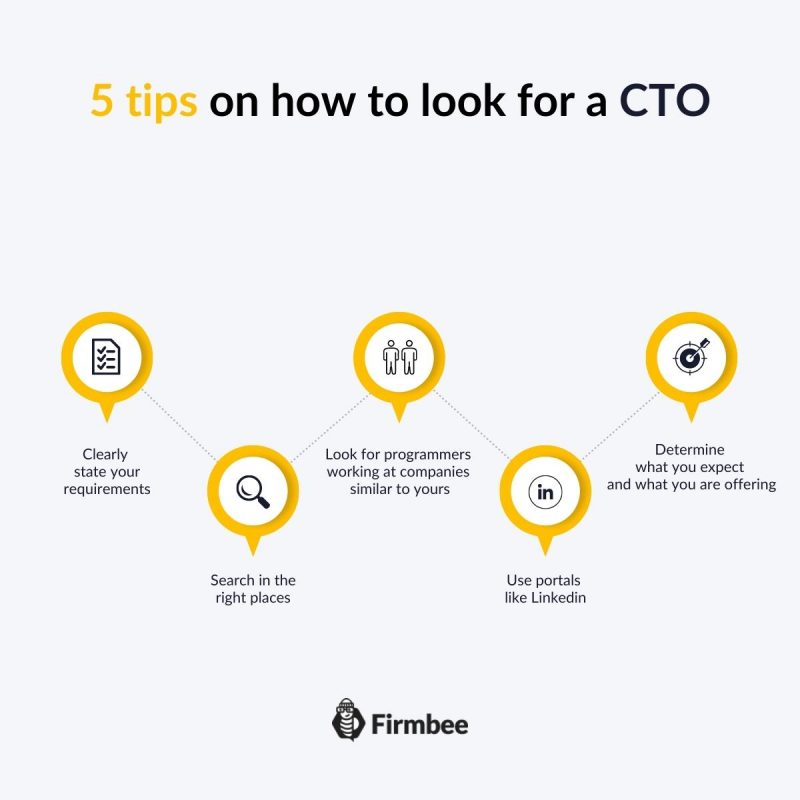 What to look for in CTO candidates?
Are you looking for the right CTO candidate for your company? If you don't know what makes them suitable, here's a list of several qualities the right candidates should possess:
Passion. In addition to material incentive, the employee will also want to work on a project that he or she is convinced of and will awaken a passion for the activity.
Responsibilities. As a CTO, you are responsible for many key areas of the company. When hiring a candidate, you need to be sure that he or she is the right person to carry the burden of responsibility.
In-depth technical knowledge. Experience is important but knowledge is the true foundation for making the right technical decisions.
Commitment. Due to the high level of responsibility, the CTO should be fully committed to work.
Communication. It is essential that the potential CTO shares the company's values and is trustworthy. Apart from hard technical skills, the CTO must possess the soft skills required to communicate easily with both technical and non-technical people on the team.
Leadership Skills. A CTO must be able to strategically build, develop and lead a technical team that follows company goals. Excellent leadership skills are essential to inspire and motivate other employees.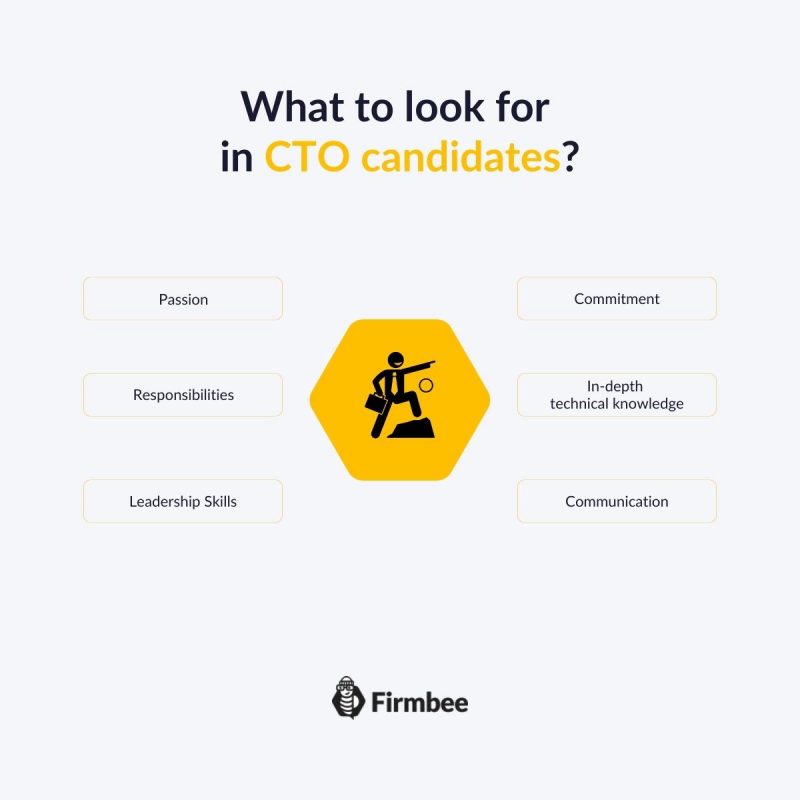 Where to find a CTO?
The fastest route would be the already mentioned – LinkedIn. Talk to new people and meet people in similar positions. Ask around for recommendations. There are also websites designed specifically for finding a business partner. These are communities of entrepreneurs with whom you can build relationships. This seems extremely valuable, even beyond finding a CTO. Add to this the aforementioned conferences, training, and meetings – all places where you can meet potential CTOs.
Use all possible offline channels – social gatherings and meetings. The first option is best because you get the most honest feedback and recommendations. Use social media to directly message your friends and don't hesitate to post publicly on Facebook and Instagram.
You can also ask successful tech leaders for their recommendations on how to find a co-founding CTO in a startup. Chances are that they are in a similar situation and can suggest you a reliable contact.
We hope these few tips will help you find the right CTO for your company. Maybe you should look around your company's employees and you'll find a perfect match for CTO among them. Good luck!
Read also: What is a CTO in business? Understanding the CTO role in a company
If you like our content, join our busy bees community on Facebook, Twitter, LinkedIn, Instagram, YouTube, Pinterest.