There are currently over 68,868 chief operating officers employed in the United States, 23.4% are women and 76.6% are men. The average age of a hired COO is 52. What else is worth knowing about this market? How to become a COO chief operating officer? Find the answers in the article below.
How to become a COO and how much can you earn? – table of contents:
Characteristics of a good COO
The COO's primary function is to oversee the day-to-day operations and procedures of the organization and to monitor its overall effectiveness. The COO is a key member of the senior management team, reporting solely to the Chief Executive Officer (CEO). He or she exercises control over all business operations. All COO activities are intended to foster business cohesion and growth.
A successful COO can work with all types of people, has leadership skills and experience in various areas such as finance as well as human resources. A good COO needs excellent communication skills to oversee several departments throughout the organization.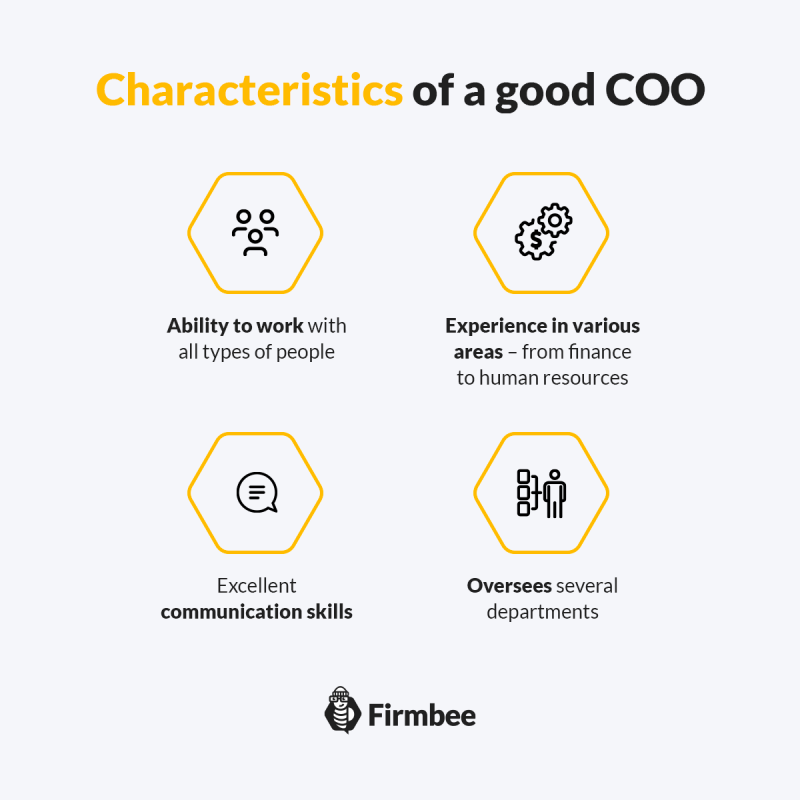 How to become a COO – a career step by step
There are several paths that lead to the position of the chief operating officer. Some individuals gain valuable industry experience before becoming a COO, while others work to develop their skills and advance to the position. These professionals usually have considerable work experience and a solid education.
A sample pathway to the COO position:
Industry Selection. It is very important for a COO candidate to be willing to work in a particular industry and to have extensive knowledge about it. This will help in directing the business accordingly.
Education. To apply for a COO position, you need a combination of education and extensive experience. The minimum educational requirement is a bachelor's degree in business or a related subject, but many organizations prefer to hire someone with an MBA. At the same time, you need to keep in mind to possess competencies in teamwork management, statistical methods and leadership. It's also a good idea to obtain various certifications that enhance your employability.

After completing your technical degree, consider courses and training that will provide you with business knowledge as well as strategic and leadership skills.

Experience. Prospective CIOs typically have about 10-15 years of experience in the field. This doesn't necessarily have to be strictly experienced in one industry, although that is often an asset. It's worth noting that for COOs, an in-depth understanding of how various departments within a company function, such as HR, finance, sales, design and communications, is quite an asset to help oversee the day-to-day operations of each department.
Continuous skill development. The COO usually develops his/her skills through experience and education. So it's worth ensuring that the knowledge you have is constantly being updated and developed. In addition to educational qualifications and work experience, there are several types of skills that a COO should possess:
Leadership skills. As a senior executive, the COO directs employees within the organization to make sure their efforts are aligned with company goals. To do this, you may need to delegate tasks and ensure collaboration within departments.
Communication skills. COOs are responsible for collaborating across departments and resolving issues that arise between departments. COOs are also responsible for building relationships with key stakeholders.
Decision-making skills. As COO, you may have to make important decisions for the company. The COO ensures that the company is in good hands in the absence of the CEO during crisis situations. In many cases, a COO is required to handle the internal affairs of the company.
Financial Management. In the absence of a CFO, the COO is responsible for budgets, resource allocation and financial reporting. Therefore, they must understand all aspects of his company's finances.
Activity. Once you get to the point where a COO position is attainable, stay proactive. Networking provides an overview of different areas and provides information about potential employers. Many jobs become more accessible when you know the right people. Expand your career network by attending conferences, industry events and staying active on social media Give your valuable input to small businesses. Keep in touch with previous employers and connect with companies that interest you.

How much does the COO earn?
Wondering how much a COO position can earn? Let's take a look at the statistics:
Chief Operating Officers receive an average annual salary of $175,471.
The average starting salary for chief operating officers is $104,000.
In 2021, women earned 90% of what men earn.
The top 10% of highest-paid CIOs earn as much as $293,000 or more.
It is worth noting that COOs are more likely to work in private companies than in public companies. Chief Operating Officers are usually the deputy CEO of the company they work for, which means their work is highly skilled and specialized. So how to become a COO? There is no doubt that it is not a short or easy path, but determined people will certainly, with a little luck and with our advice, be able to get their dream position.
Read also: Who is the COO and what are their 12 ultimate responsibilities?
If you like our content, join our busy bees community on Facebook, Twitter, LinkedIn, Instagram, YouTube, Pinterest.