If you think that PR is only a domain of big corporations, it means that you haven't realized yet what small and medium-sized companies can gain by consistently implementing tailored solutions in this field. Read how to approach PR in a small to medium-sized business.
How to approach PR in a small to medium-sized business? Table of contents:
What is PR?
But let's go back to what public relations is. PR is about building the intended image of the organization in the environment – both external and internal.
Thanks to a properly implemented strategy we can influence the way others perceive our brand, products or ourselves. To achieve this goal many solutions can be used – more or less technological and modern. Your task is to consider which methods will best achieve the company's goals.
Why do you need PR in a small to medium-sized business?
One thing is for sure – the way they perceive you is increasingly valuable and helps you gain new customers and their trust.
The Small Business Association's analysis shows that 95% of small companies fail within the first five years of their presence on the market. Certainly one of the reasons for this is that the smallest companies often do not care about their image, do not communicate with their surroundings, treating public relations as a luxury or whim, reserved for the richest enterprises.
Meanwhile, if you know how to approach PR it can be your greatest strength!
How to approach PR in order to achieve the best possible results?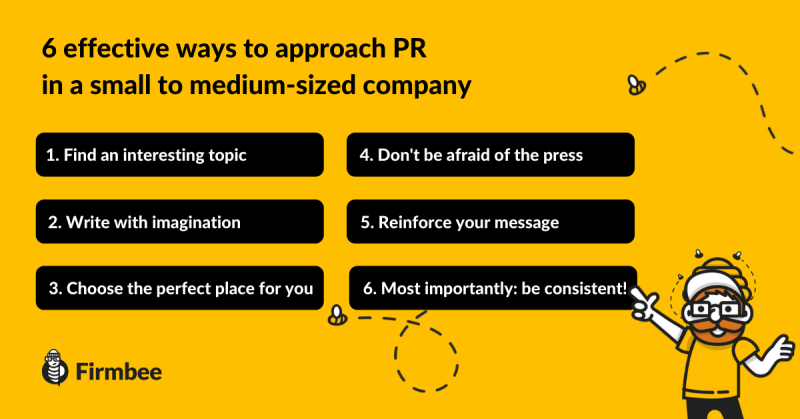 1. Find an interesting topic
Think about what events in the life of your company will attract the audience you care about. Every company has something to interest journalists or potential customers, and it's the job of the small business PR person to find such a topic.
Upgrades, new products, services, or events are all catchy topics. If you don't have any groundbreaking events, try to provide your audience with tips, advice or information that will add value to them and make them remember your company positively.
2. Write with imagination
If you want to discover how to approach PR you should know that it's not just the message that matters. It's how you phrase it that matters. Consider what form will be best – an article, a press release, a blog post or an email, or even a podcast?
You'll find plenty of resources on the web on how to create them, and in our blog post, you'll also learn about the best content strategies for 2021.
If you want to learn how to write creatively, we recommend starting with: Copywriting: Successful Writing for Design, Advertising and Marketing by Mark Shaw.
3. Choose the perfect place for you
The form and topic you choose often dictate the medium, so take a comprehensive approach. Consider where the people you want to reach with your message are and what they are reading. Are your customers active on LinkedIn? Or maybe the form of your how-to texts will work well on a blog that you support through Facebook activities?
If you operate on the local market, try sending your text to the local press.
4. Don't be afraid of the press and journalists
Have you invented an innovative product or service or want to talk about your know-how? Hit the national and international press. All you need to do is think about what titles will be interesting and find the contacts to editors and journalists.
If the topic is interesting enough, you can count on free publications. Remember, don't be afraid of journalists. Sometimes one phone call to a journalist's number found on Google will work better than 100 emails. In some cases, the journalist may even invite you for a short interview!
5. Reinforce your message and choose the best tools
How to approach PR? If you are active on social media and can afford it, invest in advertising efforts. Without it, your messages won't reach many people. If you wrote an interesting post or introduced a new product – invest money in promoting it.
6. Most importantly: be consistent!
Only deliberate, planned and continuous actions are likely to bring the expected results, i.e. make people hear about your company, remember it and use its products and services.
If you enjoy the content we publish, share a comment below and join our Facebook community. Let's stay in touch!