How much does it cost to sell on Shopify? Running a store on Shopify involves incurring certain costs, which are not limited to the subscription fee alone. The following article will outline what costs and what amount, a seller will have to pay when deciding to have a store on this platform.
How much does it cost to sell on Shopify? – table of contents:
Subscription plans
Shopify works on a subscription basis, so each merchant must opt for one of the three available plans. They differ in price and available features:
Basic – $24/mo – this package is ideal for stores that have a small assortment,
Shopify – $69/mo – ideal for growing stores with a larger assortment,
Advanced – $299/mo – recommended for large stores.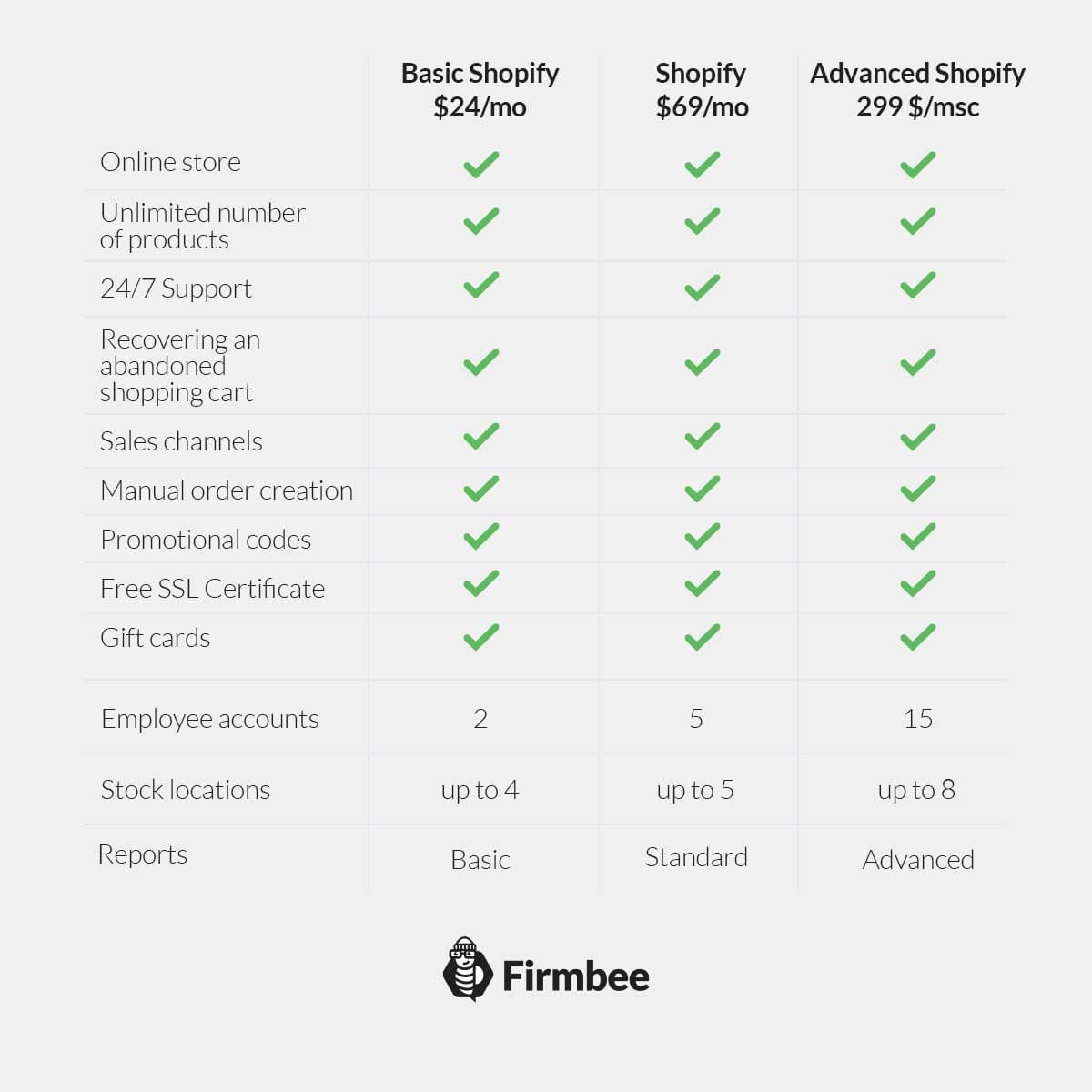 In addition, Shopify has prepared two more plans:
Shopify Lite – $9/mo – people selling only one or a few products (e.g. e-books) can use this plan to sell them as if without a store. They then get access to a tool, generating a link (so-called "buy buttons"), which they can paste on any website. The customer, after pressing such a button, is directed directly to the checkout.
Shopify Plus – the cost of such a package is negotiated individually, but usually starts at $2,000/mo. This plan is chosen by very large companies, often operating on the global market, which needs many tools and functionalities to support sales.
Commissions on transactions
Charges for credit card payments
Shopify allows you to accept payments with credit cards, such as Visa and Mastercard. It charges a fee for this, which varies depending on the subscription plan chosen and whether the payment was online or via Shopify POS. The merchant does not have to pay any costs to the payment providers themselves. In the case of refunds, credit card payment fees are not refunded.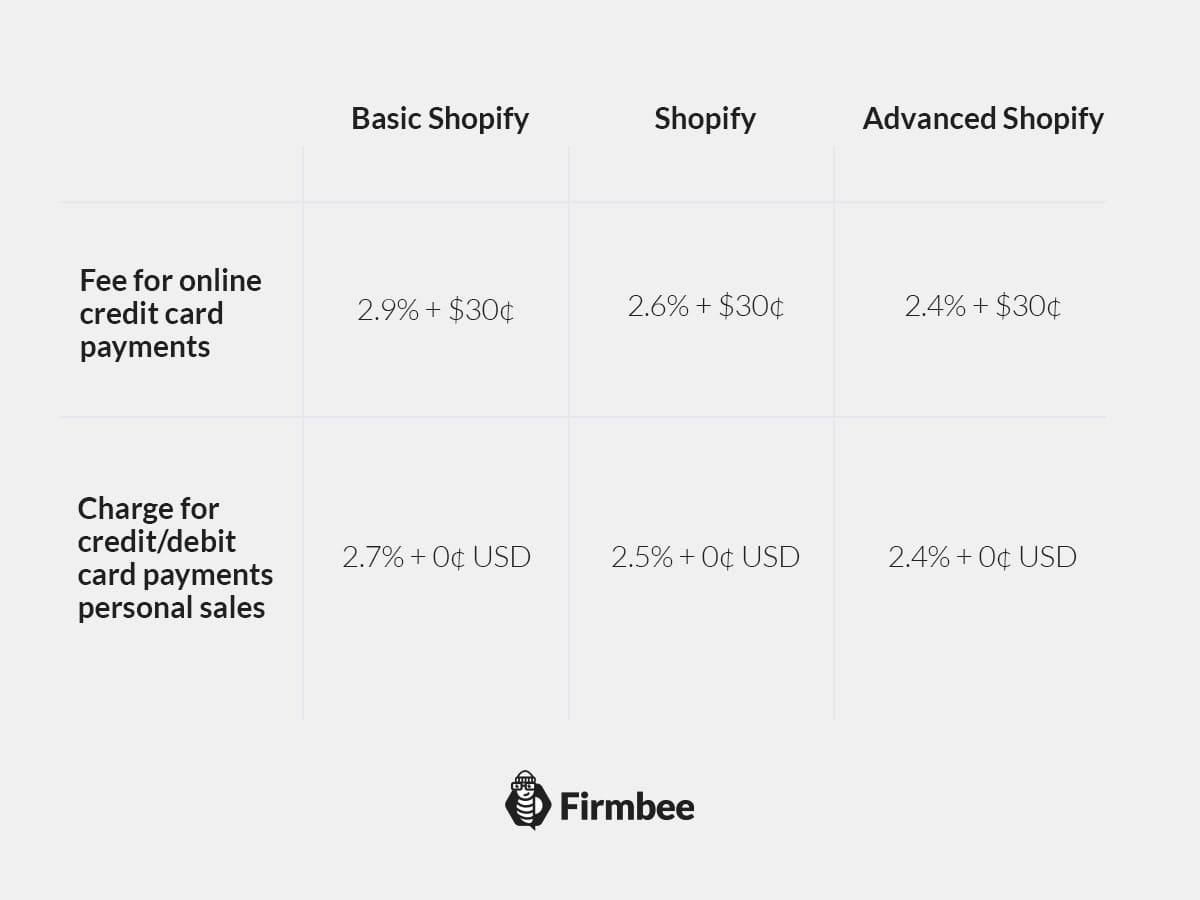 Transaction fees
Transaction fees are charged for each transaction using the services of a third-party payment provider. This is the cost of integrating Shopify with a third-party provider. The amount of such fee depends on the plan selected. Merchants using Shopify Payments or being their own payment provider are exempt from the transaction fee.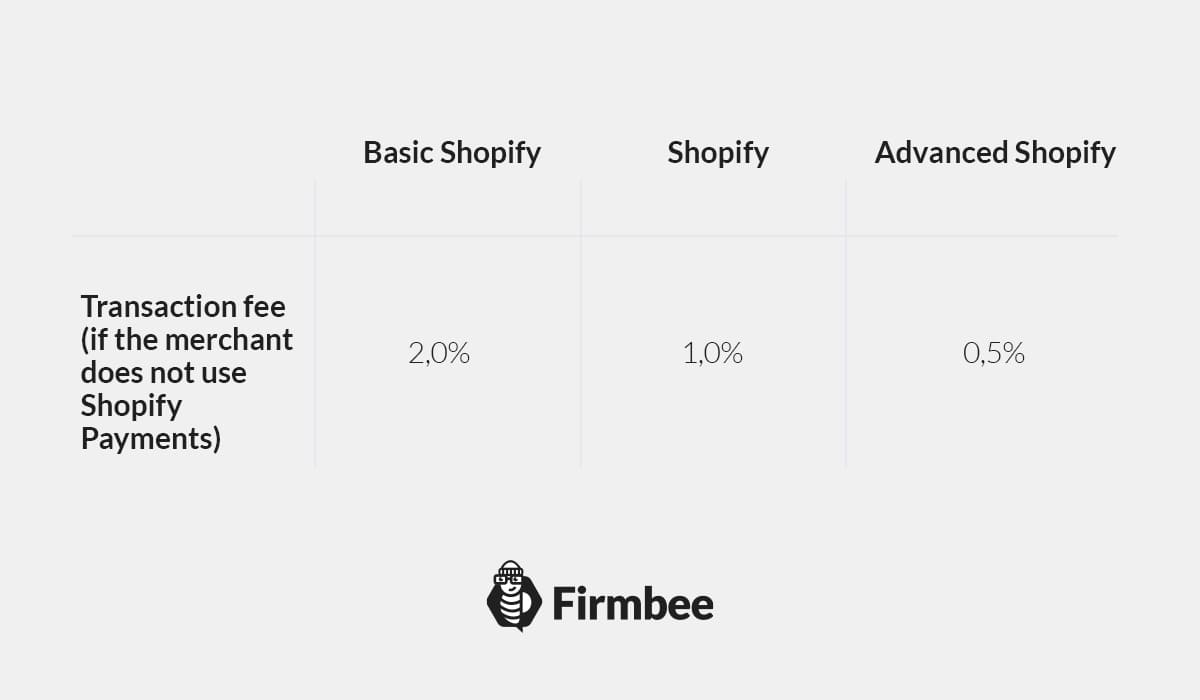 Shopify Payments has its payment provider and it is the Shopify Payments app. Qualified companies to use it:
pay transaction fees only for credit card payments,
allow customers to enter payment information at the time they make a purchase, without having to leave the online store,
have access from the Shopify admin panel to configure Shopify Payments,
in the dashboard have access to their payouts in real time.
PayPal – enables you to process payments via bank accounts, trade credit (only available in the US and UK), credit cards, or PayPal account balances, and can also be used to pay Shopify bills (not applicable for the US and India). By default, every newly created store is given access to a PayPal Express Checkout account, but you will need to set it up before collecting payments. Using PayPal incurs transaction fees unless the seller simultaneously activates Shopify Payments (in which case it does not have to pay transaction fees) – the exception are stores based in Austria and Belgium.
Shopify also offers a manual payment method. This means that after a customer makes an online purchase, the merchant sends them an invoice and manually approves the order. The most popular ways to use the manual payment method are:
payment on delivery,
bank transfer,
money order,
and e-mail transfer (only applies to stores and customers who are located in Canada).
For manual payments, the seller does not pay transaction fees.
Third-party payment providers – a merchant can choose to use their services if Shopify Payments is unavailable in his country or he simply does not want to use it. Then transaction fees apply to him. Third-party payment providers vary by country – here is a list by country.
Apps from the Shopify Store
The apps can be found in the Shopify App Store and help merchants build their businesses, integrate with external services, and add features to the administration panel. Third-party developers are responsible for creating most apps, so any inquiries or problems, are best reported directly to them. There are three types of applications:
public – they are divided into catalog apps (found in the Shopify App Store) and non-catalog apps that do not show up in search results or categories – they can be installed from the developer's website or from the App Store. Public apps must pass Shopify's verification process,
custom – can apply when adding features to the admin panel or when extending the online store to other platforms. They are created individually for the store owner, so they are not available in the Shopify store. The developer does not need access to the store's API to create them,
private – they are only available to a specific store (not in the Shopify App Store). A third-party developer will need access to the store's API.
The use of the app involves certain fees that the vendor may receive:
subscription fees – i.e., a fee for recurring, such as monthly, use of the application,
application fees – are variable depending on the service integrated into the application or its use,
one-time application purchase fee – refer to specific services that the application provides, such as one-time data migration,
app credits – when an app has been paid for through Shopify, the developer can either reimburse the cost or give a credit that will be applied to a future purchase in the Shopify store.

Domain and email server
The costs associated with buying a domain through Shopify, range from $11 per year. Email hosting is not included in Shopify's platform offerings, so merchants can connect a third-party hosting service to their custom domain.
Paid templates
Shopify has a database of free templates that merchants can browse from. However, if they would like to opt for a different look for their store, they can choose Shopify's paid templates or outsource the task to a third-party developer. Prices for templates from the store start at $150.
Shopify POS Pro
Vendors who would like to take full advantage of Shopify POS will need to purchase an add-on at $89/mo per location. Such an add-on will be needed by merchants who:
want to provide customers with the ability to buy online and pick up their order at the point,
want access to daily sales reports,
want to allow customers to exchange products stationery.
For detailed differences between Shopify POS Lite and Shopify POS Pro, please visit the website at this link.
International sales
Using Shopify Markets, a seller can reach new markets and customers around the world. However, such international sales do incur some fees:
0.85% of the order fee – if duties and taxes are calculated using Shopify Payments – if the seller uses another payment method then the fee is 1.5%,
1.5% fee is charged on currency conversion,
fees associated with the use of local payment methods.
How much does it cost to sell on Shopify? – Summary
The final cost associated with opening and running a store with Shopify will vary depending on what requirements the seller has and what country they are located in. When considering this platform, it's worth examining not only the available subscription plans but also additional services, such as apps, which can help you run your business for an additional fee.
If you like our content, join our busy bees community on Facebook, Twitter, LinkedIn, Instagram, YouTube, Pinterest.