The CFO, or Chief Financial Officer, is an incredibly responsible position. CFOs manage the company's finances in a general sense, as well as oversee the budget of each department or project in the company. So how much can you earn having such responsibility on your shoulders? If you want to know how much do CFOs make, keep reading.
How much do CFOs make? – table of contents:
CFO, or who?
A chief financial officer deals with everything in an organization that concerns cash flow, financial planning, and tax issues. This person usually holds the highest financial post and the second – after the CEO – position in the company, playing the key role in the strategic initiatives of the company. We've written more about this topic in a separate article, so today we'll focus on how much do CFOs make.
How much do CFOs make? – average earnings of a CFO
The Salary.com portal, which analyzes the salaries of various positions in the US, published information that in 2021 the median salary of a CFO was $393,377 per year.
A quarter of the lowest-earning CFOs should expect to earn $299,442 per year, while the top earner should expect to earn approximately $499,992 per year. For comparison, the earnings of full-time employees in the United States were $51,168 per year. What does this mean? The CFO earns almost eight times as much as the average worker.
Salary isn't everything
Often, CFO's gains go beyond the salary. In addition, they may receive compensation in the form of stock options, incentive bonuses, benefits or insurance.
Salary.com research shows that base salary and bonuses account for about 80% of the total compensation they receive in a given year. Additional benefits may also include a company car or driver, an extensive severance package, coverage for expenses such as moving, use of a private jet or helicopter, and first-class flights.
In addition, high-level executives frequently have access to disability and life insurance. Workplace perks may include a dedicated parking space, large offices as well as a private bathroom.
What determines CFO's earnings?
As we presented above, the spread of a CFO's paycheck can be significant. How much will ultimately flow into his account depends on several factors. Among others:
professional experience,
education,
the size and type of company,
the city in which the company operates.
The salary of a CFO of a small company in a county town will significantly differ from that of a CFO of a corporation in a capital city.
How to become a CFO?
Usually, it is a combination of extensive professional experience and good education. Many CFOs have several years of work experience in the finance sector, a master's degree or higher and an MBA.
This is not the rule but often CFOs have previously held positions such as a controller or were certified public accountants (CPA).
Here we can also use data from salary.com, which analyzed this issue. It turns out that in the U.S., about half of CFOs have a master's degree and 45% have a bachelor's degree. However, only 2% have a doctoral or post-doctoral degree. And 1% of CFOs finished their education with a high school diploma.
How much do CFOs at the biggest companies earn?
At Apple, CFO Luca Maestri, earns $1 million a year, according to executive compensation tables posted in public documents. Most of his compensation comes in the form of stock, which was worth more than $21 million in 2020. His total compensation for 2020, including retirement benefits and other compensation, was worth $26,253,270.
Microsoft's CFO, Amy Hood earned $975,000 in 2020. Additionally, she earned $14,792,679 in stock-based bonuses and $3,734,981 in non-equity compensation. Hood's total 2020 earnings were therefore $19,626,234.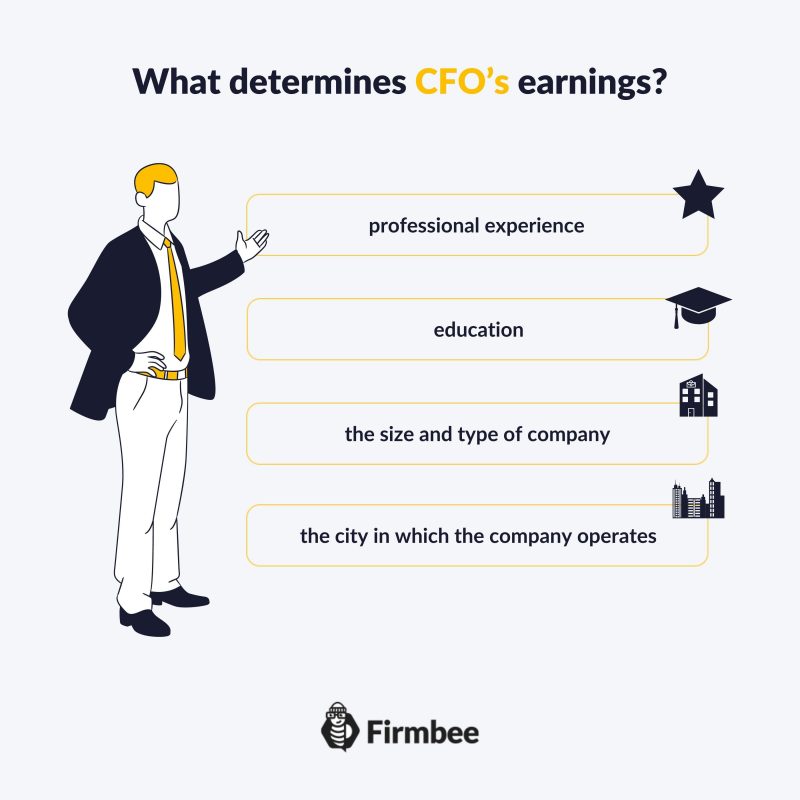 CFO earnings, and their responsibilities
CFOs oversee the financial operations of companies. They are leaders in the accounting and finance departments. They ensure that organizations run smoothly and comply with applicable laws and company policies. Their work is essential in creating a favorable image for the company while saving money in every way possible.
Chief Financial Officer – Responsibilities:
Provide leadership to the finance and accounting departments.
Coordinate the administrative, business, accounting, and budgetary activities of the company.
Directly or indirectly prepare financial statements, business activity reports, financial position projections, annual budgets, and/or reports.
Develop internal control guidelines, policies, and procedures for activities such as budget administration, cash and credit management, and accounting.
Oversee departments involved in purchasing, pricing, investments, taxes, debt management and billing/receivables.
Prepare reports for senior management.
Conducting research and audits on the consistency of company departmental activities.
The CFOs must have both analytical skills, create calculations, and reports, operate accounting software and have advanced knowledge of accounting, budgeting and finance. In addition, they should also have skills in public speaking or human resource management.
For many people, especially those working in the financial industry, CFO is a professional dream, not only due to the high salaries. However, it should be remembered that behind high transfers there are usually years of learning, work, and sacrifices.
After the topic "How much do CFOs make?" these articles may interest you:
If you like our content, join our busy bees community on Facebook, Twitter, LinkedIn, Instagram, YouTube, Pinterest.