As you can see from the following guerrilla marketing examples, a creative idea can bring about more commercial success than an impressive advertising budget. It is an ideal tool for smaller companies or those just entering the market. The owners of such companies often cannot afford to spend large sums on marketing activities. Innovation, an element of surprise, and going off the beaten track – these are the characteristics of guerrilla marketing that you can use to gain new brand customers.
Guerrilla marketing examples – the content of the article:
Guerrilla marketing – what is it and how does it work?
Guerrilla marketing is mostly used in large urban areas. We live in times of constantly nagging advertising so our brains have simply become immune to them. Guerrilla marketing is an answer to the challenges of the changing world. It takes an unconventional approach that does not require a large budget. That's why this type of advertising is mainly aimed at small businesses that have a limited marketing budget.
The main task of guerrilla marketing is to maximize profits with minimum effort.
The advantages of guerrilla marketing are nowadays also appreciated by large, well-known corporations who see its huge creative potential. Have a look at the following examples of how companies have adopted guerrilla marketing to communicate with their audiences and consider how you can apply them in your business.
Learn more about guerilla marketing from the article: Guerrilla marketing – an inexpensive way to attract new audiences.
Guerrilla marketing examples
When creating guerrilla marketing content, there aren't many rules or restrictions. On the one hand, it is convenient but on the other, it may prove troublesome to tailor them to your business scope of activities. The basic premise of guerilla marketing is to get maximum results with minimum effort. It doesn't imply that these activities are simple at all. Successful guerrilla marketing requires great vigilance, excellent knowledge of the target audience as well as a great dose of creativity.
KarstadtQuelle Insurance company came up with such an idea by promoting dental implant service in a bowling alley.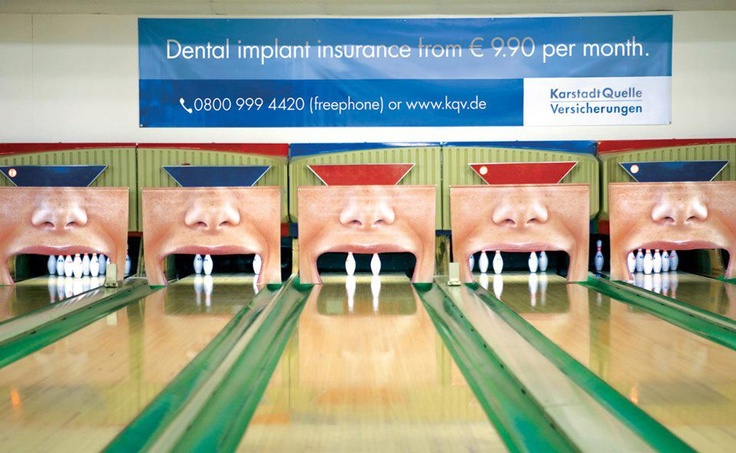 The potential of non-standard advertising also lies in the use of unusual media. During campaigns, companies are increasingly willing to exploit urban surfaces, which they cleverly incorporate into their advertising. Take the tea giant Lipton, which promoted its product in Egypt by sharpening hedges in the shape of cups filled with green tea.
Another cunning, surprising and relatively cheap marketing trick is to explore the potential of giveaways, promotional gadgets that you will hand out to your recipients. Small trinkets are something that people love. A company called GNC Live Well, which makes supplements to help you pack, came up with a simple but effective message. It includes a pouch with their purchases to illustrate the effects of using the product. Even small gifts cheer people up and leave a good impression, not to mention the lasting memory connected with this little gadget with your logo.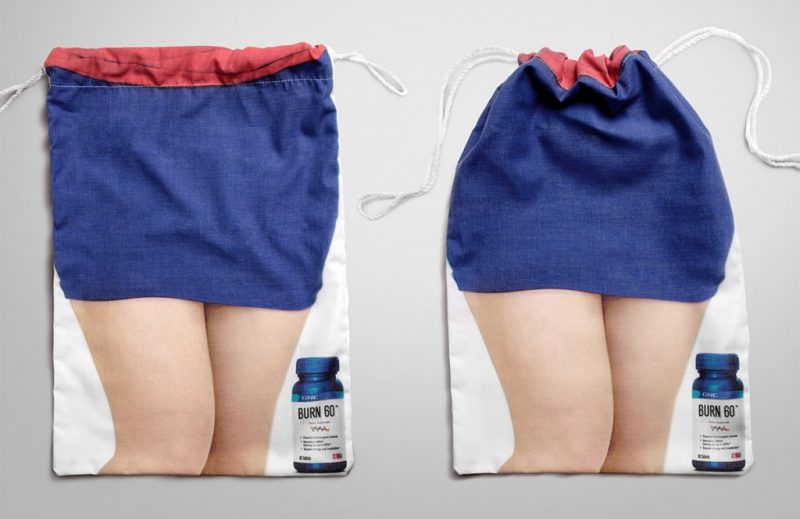 Inspiration and tools you can use in your industry
The above guerrilla marketing examples show how large companies have adopted these strategies to their advantage. Now let's focus on how you can translate these methods to your small business. If you notice the timing is perfect for implementing such an action, you can expect success – the customer will notice you.
These days, your customers need to notice you in the first place. That is how they'll know and recognize your company exists. A smart idea to stand out from the competition when you do not have a large budget, is to seize the right moment for a promotional action. If you have your store, salon or boutique you can host a party to celebrate, for example, Children's Day. This is the perfect time to invite entire families with children into your space. All you need to do is to offer games and activities for the youngest, and hand out balloons. How can you benefit from it?
First, recipients will notice you, and that's a gain. Additionally, during the event, you can organize a contest and ask people to post a photo with a specific hashtag or ask them to fill out a drawing and provide their email addresses or give away customer cards. When people see an opportunity to win a prize, they will gladly take part in such actions, and you will attain data of potential customers and a new audience on social media.
Another way to build a community is to engage your audience in a variety of activities. Arrange a place on your premises where your logo is visible and offer your clients that for every publication with an appropriate hashtag they will receive a discount when shopping or using your services.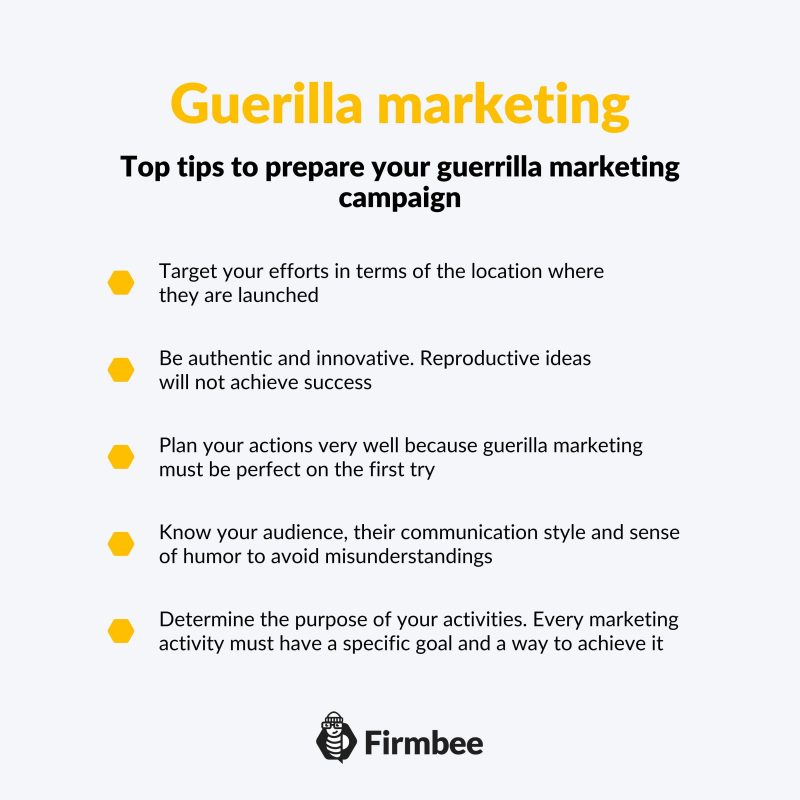 Summary
Guerrilla marketing proves that sometimes all you need is desire and creativity. To run a successful campaign, however, you need to learn about your audience in the context of the local market and then think how to take advantage of the collected data. However, you must remember that without innovative ideas, you will not succeed. In guerrilla marketing, you can't imitate others, it requires genuine ideas and actions. Otherwise, you will lose the key element of the tactics – surprise. All in all, guerilla marketing, when wisely adopted, can become a powerful tool to build the image of new brands that have limited financial resources.
If you like our content, join our busy bees community on Facebook, Twitter, LinkedIn, Instagram, YouTube, Pinterest.