Social media have long since ceased to function only as an entertainment hub where people bragged about a new photo or chatted with friends. Companies and marketers have noticed its potential and turned it into a powerful marketing tool. Unsurprisingly, it is a simple and relatively inexpensive way to reach new potential audiences.
Facebook landing page – table of contents:
However, having a Facebook page is not enough to make it. You need to take care of a dedicated Facebook landing page as well. What is a Facebook landing page and how to create one? If you're considering setting up one or find your current one ineffective, this article is just for you!
What is a Facebook landing page?
A Facebook landing page is a page to which users are redirected when they click on a particular ad. Depending on the purpose of the ad, the page should inform users about the possibility of joining a newsletter, provide a description and allow them to purchase a specific product, or allow them to buy tickets to an event. It all depends on the reason the user came to the site and what they just read in the ad.
We now live in a hurry and perpetually short on time, and we scroll social media such as Facebook while waiting in line at the doctor's office, on the bus ride home or during a break at work. Users expect simple transaction completion, clear descriptions and an uncomplicated process.
It is also worth mentioning here that a Facebook landing page is not a page created strictly for Facebook. In the past, the portal allowed the creation of such pages within its platform, but now they are standard landing pages that are simply configured with Facebook. This does not change the fact that each landing page should be dedicated to a specific advertising campaign.
Why create a Facebook landing page ?
Picture a user who takes a lunch break and scrolls through Facebook and finds your ad. Or one out of boredom on a bus or a tram browses around and notices your ad. The ad catches their eyes and tempted by the attractive product you offer, they click. But instead of going to a dedicated product page that will easily lead them right to purchase, they end up back at the company's homepage, where they began. Frustrated by wasted time and they drop the purchase. You lose a potential customer. The reason was the lack of a landing page dedicated to this ad.
Advertisers focus most of their attention on creating the ad itself, choosing the right text, graphics and making the whole thing interesting and appealing. They run tests, change the target audience and analyze the parameters, and when the ad still doesn't bring conversions, they change it completely. Few people take into account that it is not the ad itself that is the problem, but precisely the later process, i.e., redirecting the user.
In this case, both elements must be consistent and both have almost the same impact on the result. The ad is just a lure to catch the eye and catch the potential customer's interest enough to make them decide to go to the next step, which is to click on the link. A Facebook landing page, on the other hand, is where you can spread your wings a bit and describe your offer, product in detail or add more interesting photos. This means that a weak landing page, or no landing page at all, can make the time and expense spent on creating an ad, only put unnecessary strain on your budget, rather than lead to a sale.
How to create a Facebook landing page?
Before we get to the actual process of creating a landing page, there are a few things to consider. First and foremost, your target audience. Facebook, like the rest of social media, has advanced ad targeting and internal intelligence that does a great job of hitting the designated target audience. If you know what settings you're going to make in Facebook Ads and which parameters you're going to set, keep the same in mind when setting up a landing page. This is because you can be sure that the audience you indicate will be the recipients of your ad and, consequently, of the landing page as well.
Another element to take care of is the consistency of the message between the ad itself and the landing page. If your ad offers the user a 15% discount for signing up for your newsletter, then the landing page should have the same title, form and offer the promised discount. Otherwise, the user will perceive your company as unreliable and will not attempt the offer again. It's also worth making sure that the two forms are visually consistent.
Maintaining these two basic principles will ensure that the landing pages you create will have better conversions and be well-received by your target audience. But how do you create a Facebook landing page?
Start by choosing a landing page creation tool
The process of creating a Facebook landing page looks almost identical to a standard landing page. You can do it with a WordPress page builder or use a dedicated landing page app. Keep in mind that if you know that technical issues are not your forte, you can always ask an outside company to create such a landing page or partner with a freelancer who will create it according to your guidelines. However, if you are taking up the gauntlet, you can use one of the popular tools:
Shogun
PageFly
Leadpages
Unbounce
Page design in these applications is simple, even intuitive, and allows you to quickly build a landing page with the correct design and good performance. In each of these proposals, we have ready-made templates at our disposal, which make things significantly easier. You only need to change individual elements to get a tailor-made landing page. Which of these tools you choose is up to you. Check which one you are comfortable with and which one suits your requirements best.
Choose a template that is compatible with the purpose of your advertisement
Each of these tools has a set of ready-made templates that greatly facilitate the creation of landing pages. To use them, however, you need to create a new landing page. To do this, from the dashboard, select Add a Page or Create the new page. After creating and naming it, you will be redirected to the template directory. Browse through the available gallery and pick the one that suits you best.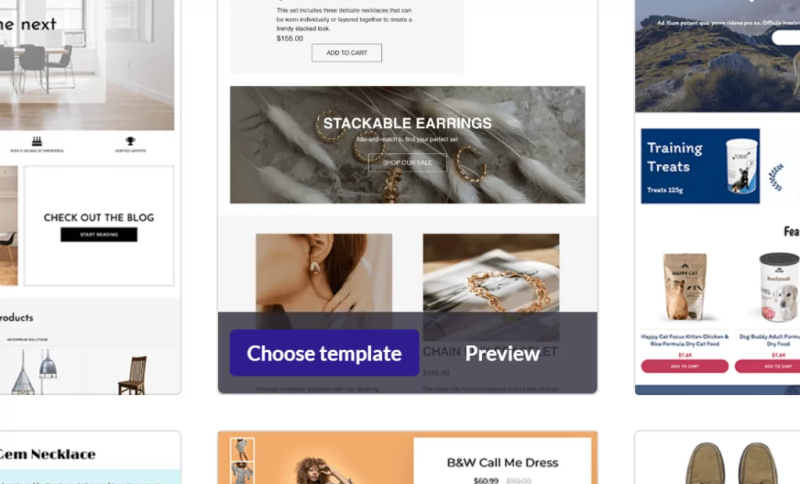 If you decide on one of the options, click the Select Template button. Remember that you do not have to use ready-made proposals at all, and if you feel up to it, you can design your landing page completely from scratch. However, if you are just taking your first steps in this topic, it's best to choose one of the templates that has the correct layout and, above all, is optimized.
The next element is to customize the content. You will do this in any application in a very simple way. All you have to do is click on a given element, such as a headline, and in place of the sample text, enter your own. You will also change the graphics in the same way. Remember also that you can remove individual elements if you think there is too much of something on the page.
The landing page should also allow you to view reports and visitor data. Facebook has its internal tool for this purpose, the Meta Pixel, the code which you can also place on your landing page. This will keep both under control, and you will be able to easily check if everything is going as intended or if changes need to be made. When choosing a tool for creating a landing page, make sure it has data reporting capabilities and works with the Pixel.
The last step is to publish the finished site. But before that, run some final tests, check if there are any errors on the page and if all the links work properly. If so, save and publish the page.
Although we mentioned that this is the last step, it does not mean the end of the work at all. The landing page should be constantly monitored, checked and modified if necessary. Launching it into the world is not enough, make sure to monitor and fix it regularly.

If you like our content, join our busy bees community on Facebook, Twitter, LinkedIn, Instagram, YouTube, Pinterest, TikTok.