Facebook Audience Insights is one of the most powerful analytical tools Facebook has made available to advertisers. Created primarily to help you target your ads more effectively, it allows you to learn a lot about your audience even when you don't broadcast any content.
See how to use the data available in Facebook Audience Insights and have even more insight into your business.
Facebook Audience Insights – table of contents:
Why use the data in Audience Insights?
The primary purpose of Facebook Audience Insights is to allow advertisers to narrow their audiences so that their ads reach those who are most likely to be interested in buying a particular product. After all, there's no point in offering dog food to people who don't show any interest in it; however, if the ad goes to people who like "dog" topics, the issue looks completely different.
Ads can be targeted in two ways:
Precise targeting – takes into account many parameters that allow you to run campaigns targeted at narrow or non-standard groups of recipients.
Broad targeting – the advertiser relies on Facebook's system to decide who might be a potential customer. Facebook recommends using this model when you don't know who to target.
What data does Facebook Audience Insight collect?
Facebook Audience Insight collects in one place a lot of information about our audience and although all of it is anonymous, you can read a lot from it. This is because it collects the following data:
Demographics (e.g., age, gender, interests, education, relationship status, workplace),
Page likes,
Location and Language,
Facebook Activity.
How do you start using Facebook data to your advantage?
To use Audience Insights, you need to go to the Ads Manager and select the Audience Insights option. At the very beginning we can choose two basic audience groups:
Everyone on Facebook
Users connected to your website
There is also a third group: custom recipients. To use it, you need to send Facebook a list of email addresses, which will match user accounts.
In the next steps, change the location and move on to setting the next parameters. We can decide on the language, relationship status, age and e.g. education, on the right side of the dashboard.
At the top there are four tabs: demographics, page likes, location and activity, which allow us to learn more about the target group, which we created by selecting the selected criteria. For example, if you type "handicraft" on the right side of the panel, you can see that among people using Facebook, 69% of those interested in handicrafts are women, that they like a particular page the most, and that most of them live in given cities. And that's quite a lot. This basic information (only one parameter was chosen: interests), allows us to create a campaign that will use e.g. local traditions or events to attract female inhabitants. It's no secret that personalized communication is the most effective.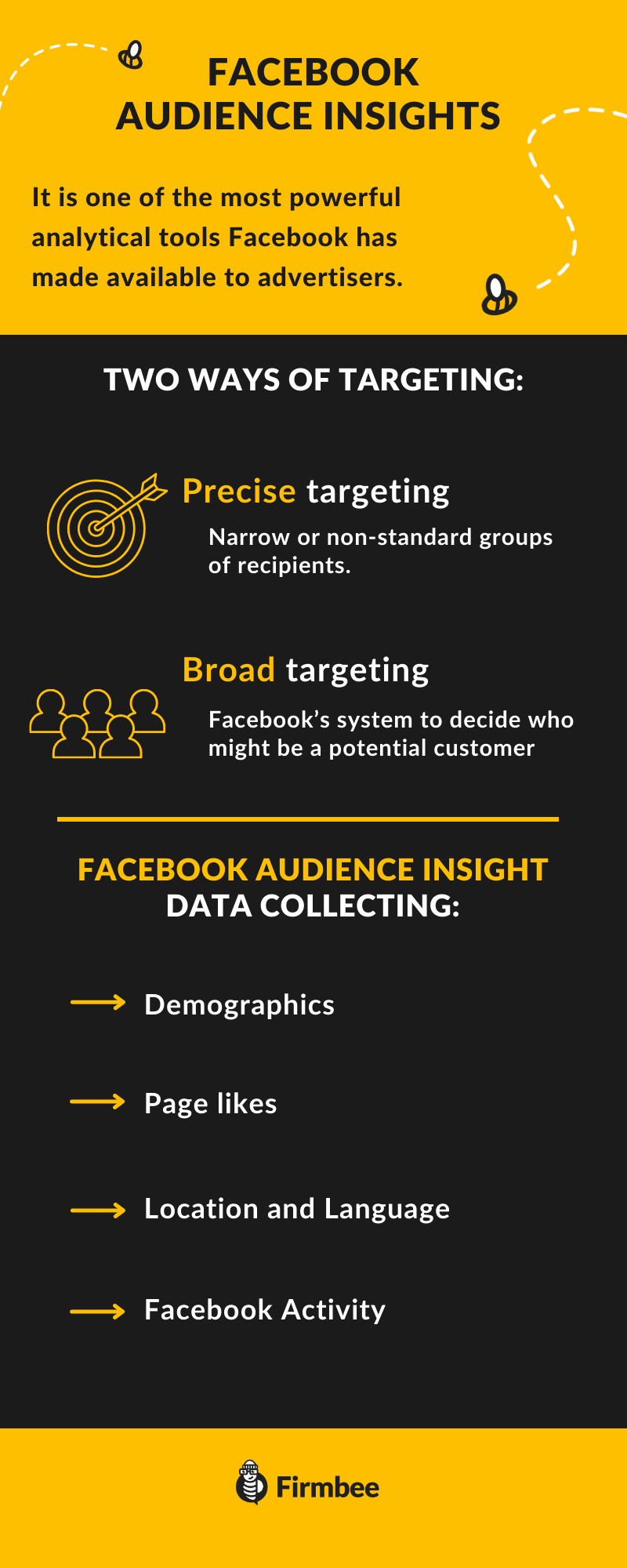 Audience Insights plus Google Analytics
Facebook Audience Insights data can also be used – like Google Analytics – to analyze traffic to your website if you have a Facebook Pixel on it. This is a small piece of code that collects data about users. Here you can read more about Google Analytics and how to use it properly.
This data can be used to improve the content strategy, but also for remarketing activities to remind customers about abandoned shopping carts, promotions, cross-selling and upselling. It is worth combining this data with other data received from he GA system, as well as internal CRM, ERP or sales systems, to follow the customer's journey as closely as possible before they decide to make a purchase.
If you like our content don't forget to join Facebook community!