In the following article you will read about the Equal Employment Opportunity Commission (EEOC) and its role. Discrimination at the workplace is a problem which is still noticeable in the society of 21st century. It is also the reason why countries set up internal institutions that fight for employee rights. In the case of the United States, it is the Equal Employment Opportunity Commission (EEOC). How does this body function? What is its role and the results of its actions?
Equal Employment Opportunity Commission (EEOC) and its role – table of contents:
Discrimination at the workplace
A woman has been turned down for a promotion to a managerial position as "men have always been managers". Despite being a highly qualified candidate, a foreigner hasn't been hired for a job because of their skin color. A disabled person discovered that they earn less than their colleague who holds the same position and is equally efficient.
Discrimination in the workplace is an action that violates the fundamental right of every employee – equal employment opportunity. It means unfair or unequal treatment based on individual characteristics. It is usually associated with race, nationality, gender, skin color, religion, age or sexual orientation, but nowadays it might be also related to pregnancy, gender identity and disability. Such actions as sexual harassment and victimization are considered discrimination as well.
It should be noted that discrimination may concern both employees (unequal remuneration, promotion prospects, equipment) and people outside the organization. It might be direct (specific behavior toward the employee e.g. limiting the job ad to 20-40 year olds) or indirect (creating unequal employment opportunities).
Equal Employment Opportunity Commission – history
American independent federal agency owes its roots to the 35th president of the United States, J.F. Kennedy, who signed the first implementing regulation. Within this act, steps related to ensuring equality in the workplace "regardless of race, religion, color or international origin" were taken.
The commission was created by Congress in 1965 under the Civil Rights Act passed the year before. The agency's headquarters are in Washington, and there are 53 field units across the United States.
First complaints that reached the Commission were related to sex discrimination, but at the time they weren't addressed – laws and practice have changed over the years. Since 2020, under the U.S. Supreme Court's decision in Bostock vs. Clayton County, Georgia, protections against sex discrimination have been extended to LGBTQ+ individuals.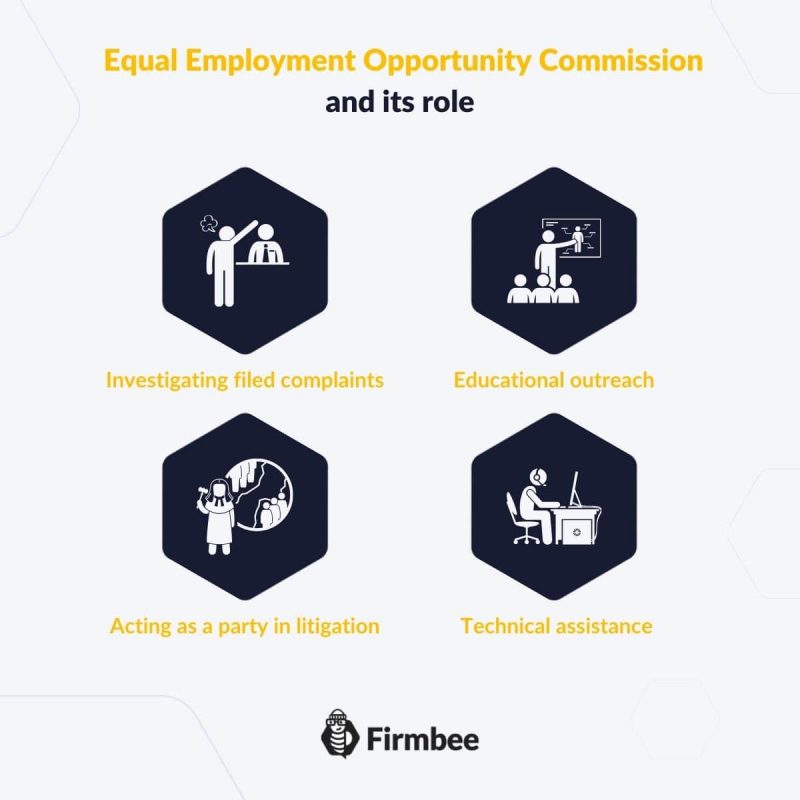 Equal Employment Opportunity Commission – competences
The purpose of the Equal Employment Opportunity Commission is to protect the rights of individuals and the interests of society.
The Equal Employment Opportunity Commission has the authority to intervene in complaints about discrimination in the workplace related to hiring, firing, promotion, pay, harassment, access to job opportunities, pregnancy issues, and others that are found in U.S. laws affecting any stage of an employee's life, by investigating allegations, conducting investigations, and bringing enforcement actions under applicable federal laws.
They may include discrimination based on age, disability, compensation, genetic information, harassment, national origin, pregnancy, race, religion, sex, sexual orientation and gender identity, as well as retaliation (discrimination due to filing a discrimination charge).
Equal Employment Opportunity Commission – taken actions
EEOC regulations apply to all employers who hire more than 15 people (20 people for age discrimination cases). Every complaint filed with the EEOC is investigated thoroughly in accordance with the law.
Once a violation is found, the Commission seeks to resolve the matter through mediation between the parties. If it's impossible, the case may be sent to court. In such a situation, however, the evidence at hand, the importance of the case, and the impact that the judgment will have on the fight for equal employment opportunity must be carefully analyzed.
The Commission's task is also to promote equal employment opportunities, which is done not only through court proceedings, but also by providing assistance and educational activities. Through various informational and educational programs, it strives to prevent the appearance of discrimination in the workplace.
Equal Employment Opportunity Commission – summary
Investigating filed complaints, acting as a party in litigation, educational outreach, technical assistance – these are the areas in which the Equal Employment Opportunity Commission has taken action since 1965.
It investigates approximately 80,000 cases each year in an effort to combat discrimination at the workplace at various stages of an employee's life. It undoubtedly plays an important role in the U.S. legal system, trying to juggle between the public interest, fighting for employees' rights and criticism of taken decisions.
If you like our content, join our busy bees community on Facebook, Twitter, LinkedIn, Instagram, YouTube.