Honest communication, mutual respect and cooperation – these are examples of great working conditions. Unfortunately, there are places where a bad atmosphere arises and a job satisfaction disappears. A special Vault report indicates that 75% of employees have personally experienced or witnessed irregularities in this area. In today's article we draw attention to the problem of hostility in the workplace and effective defensive strategies.
Hostility in the workplace – table of contents:
Hostility in the workplace – what is it?
Not every behavior belongs to this category. Such a phenomenon is usually initiated by the supervisor or co-workers whose communication and taken actions prevent reliable performance of entrusted tasks, as well as development and promotion. Workplace hostility can be associated with race, age, gender and religious discrimination. It can be long-term and present at different levels of organisation.
Forms of hostility in the workplace:
Sexual harassment – it is not only about physical attacks, but also verbal comments on appearance, sexual preferences and gender. Stop Street Harassment report informs that even 38% of women experienced sexual harassment at work.
Constant aggression – lack of achievements and insufficient sales results do not justify excessive emotions.
Unjustified complaints – frequent discipline conversations, reprimands and threats of punishement might be motivated by personal prejudices towards employees.
Innocent jokes – although they can be a great way of relieving stress and integrating the team, they can also be a sign of workplace hostility, especially when jokes concentrate on one person.
Minority discrimination
Discrimination against minorities is another example of workplace hostility. Minority groups encounter problems even when applying for jobs or seeking a promotion. They are often underpaid and forced to work excessive hours in difficult conditions. At this point, it is worth quoting the Pew Research Center report which states that 48% of generation Z qualify as a racial or ethnic minority! This is quite interesting since the postmillenial generation will constitute the future workforce. It is now estimated that new employees will command 27% of the labor market by 2025.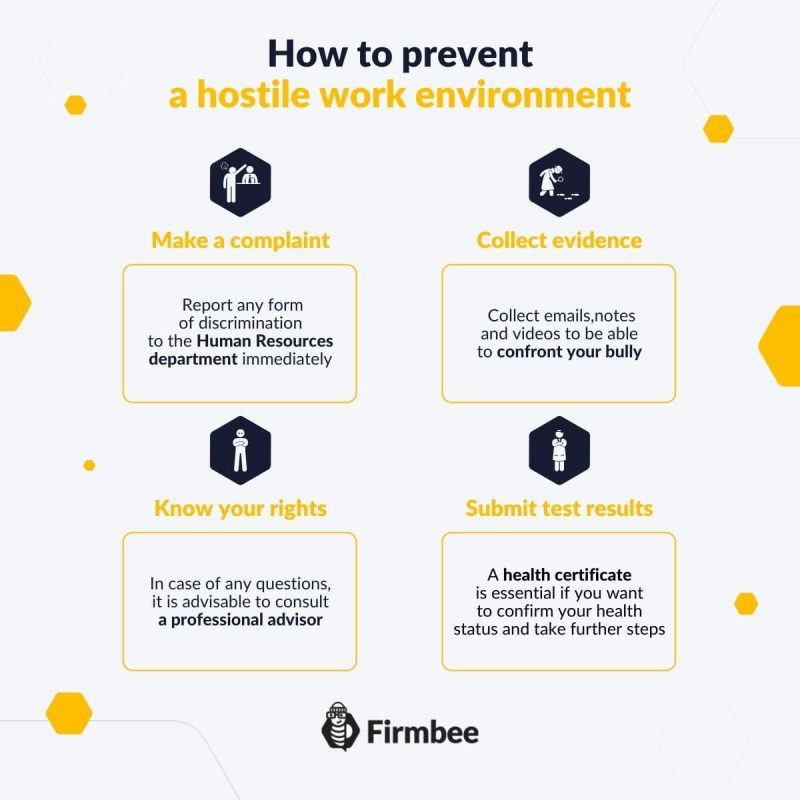 How to prevent a hostile work environment?
There is no doubt that a hostile work environment is a pathology which deserves reproach and requires decisive actions. Victims of discrimination often suffer from chronic stress, sleeping disorders, decreased self-confidence and even panic attacks. Therefore, we can't hide and tolerate hostility in the workplace.
Here are some guidelines for dealing with difficult behaviors:
Make a complaint – if you experience any form of discrimination at work, report it to the Human Resources department immediately.
Collect evidence – support your accusation with strong arguments. Collect emails,notes and videos to be able to confront your bully. Don't forget about witnesses as it is crucial to confirm that the management was aware of the prevailng situation, but no action was taken.
Know your rights – knowing your rights and obligations will let you recognize when your employer's powers have been exceeded. In case of any questions, it is advisable to consult a professional advisor. The expert will provide you with appropriate guidance and might later become your representative in court.
Submit test results – a hostile environment at work affects the way you feel and your overall body shape. It also has a huge influence on your productivity. A health certificate is essential if you want to confirm your health status and take further steps.
Summary
Hostility in the workplace isn't an isolated case.The consequences of this kind of behavior are far-reaching. Thus, every company should introduce a number of preventive measures which will eliminate it.
Do you like our content? Stay in touch by joining our Facebook and Twitter community.