The blogosphere has grown significantly in recent years, attracting not only readers but also a wide range of companies that want to promote their products and services. Living off blogging though is a whole new ball game. There are many requirements of various nature to meet to start a career. Check out what are the most common mistakes bloggers come across when trying to monetize.
Earning on a blog – table of contents:
The reality of blogging
A few years ago, writing a blog was an interesting yet somewhat eccentric activity. The representatives of the so-called old media (radio, press, television) scorned bloggers that tried to make a living that way. But when advertisers pursuing potential customers entered the scene, their marketing cooperation grew, reaching even six-digit figure income.
Currently, being a blogger is a profession, an activity combining work with personal satisfaction. Earning on a blog is possible and no wonder newcomers would like to join in. But there is more than meets the eye. So how start earning on a blog? Find out more as we explored the issue below.
Making money from a blog — can anyone do it?
Not every blog has to bring in a certain income. What's more, a large part of popular bloggers started creating their sites without thinking about making money. Only later, with growing statistics and increasing popularity, the first offers from companies and marketing agencies started to appear. Some blogs are just for the pleasure of writing, while others are a tool for their authors to popularize some idea or view of the world. As long as the topic and the way it is presented attract readers, the blog has a chance to last.
At some stage there usually come proposals of monetizing. And it should be clearly said that they can add a lot of value to the service created only out of passion. An example is a book written by the author of one popular blog. On the one hand, it allows to open another front of popularizing a particular idea or to be an instrument of personal branding, on the other, it generates profits. Commercial activities can therefore be an effective tool to increase the attractiveness of the site.
How much money is there?
Excitement about the amount of money earned by the leading bloggers is an obvious misunderstanding. Those few who succeeded made the best decisions at the right time and were also quite lucky. Not every start-up becomes Mark Zuckerberg. It can be said that anyone can earn anything from a blog.
Some will earn on the blog four-digit amounts, and an even narrower group of people will be able to make a living from the blog. Just a handful will reach the level where they will regularly earn a few thousand dollars and more. This is the level of absolute professionals, which of course does not rule out our chances of you joining this group.
Starting a blog just for the money
Tempted by the vision of earning on a blog huge amount of money, some people try to set up blogs with the sole focus on profit. They start analyzing the issue with ways to monetize their business, and only later think about the topic of the site they are creating. This is one of the most serious mistakes that can be made in the process of monetizing a blog, and one made right at the beginning.
If you want to start earning on a blog, it needs an engaged community of readers, who regularly visit the service and actively comment on the texts. They are most often gained through systematic work counted not in weeks and months, but rather in years. It can be said that the interest of readers and the popularity of the blog are the rewards for a job well done, and only later comes the cash.
This does not mean, of course, that it is not possible to treat a blog as a business venture right from the start, but you should always start by providing quality for the reader.
Three Sides of the Relationship
To be successful in the long run and earn significant income from the blog, remember that it is a three-sided relationship: reader-advertiser-blogger. Only a situation in which all parties benefit should be accepted. By implementing cooperation where the blogger and advertiser gain and the reader is left unattended or pushed around, there is a risk that it will be the beginning of the end of our blog.
Readers remember moments when the blogger "sold out" by promoting something in a pushy manner or by advertising products that do not fit into the theme of the site. The consequence can be the abandonment of the blog in favor of other authors writing in this industry. In turn, a lack of respect for the advertiser as a potential client can hurt a blogger's reputation greatly. Such sensitive issues are the so-called crises in social media when the blogger comes into conflict with a sponsor of some action. Of course, he can mobilize his community against the brand, but if he isn't plain right, subsequent advertisers may have concerns about establishing cooperation.
Professionalism= monetizing your blog
Profitable blogging is a business like any other. The customers are readers on one hand, but advertisers on the other. Therefore, when dealing with marketing agencies or individuals looking to collaborate, you should also take a similar approach. It is no longer surprising that a blogger has his company business cards with a layout similar to that of a blog. But he should also have a page dedicated to the blog's current statistics, opportunities and areas for collaboration, as well as projects he has worked on in the past. Here are some tips how to take care of your brand.
This not only presents the potential client with an offer, illustrating what can be accomplished and for what money, but also shows your portfolio. You should also present yourself as a reliable partner for doing business, and not a young person who, in addition to reviewing lipsticks, can not communicate in other fields. For example, regular replying to emails concerning ongoing cooperation. It is hard to think of a worse situation than the one in which some action is to take place on a particular day at a particular time and the client cannot reach the blogger. Similar mistakes can be made a lot.
Professionalism can be shown at the very beginning. Much depends on whether the blogger will come to the company with the slogan "let's do something together", or will present a specific offer including data about the popularity of the blog, the planned range of activities, the expected remuneration and above all the benefits that the brand will get by presenting itself on the blogger's page. Who do you think will start earning on a blog? Can you see the difference in approach now?
Every action is marketing
Having set off cooperation in all parties, it is worth knowing that they will have far-reaching effects and will not be limited to the provisions of the concluded agreement. Relying on dry sponsored posts shows that the blogger has no idea how to captivate his readers. A much better impression will be made by a non-standard marketing action that will resonate in the Internet marketing world. Others will present it as an example of successful creation, realized with an idea and taste. That is why cooperation with a brand is never limited to the "here and now".
It is always an action that testifies about us and will be our business card in the future. It is important to consider whether we want to be known for our templated actions and campaigns that are met with a bored "aha", or whether we can positively amaze the audience by presenting our sponsor's offer while simultaneously increasing the blog's popularity by leaps and bounds.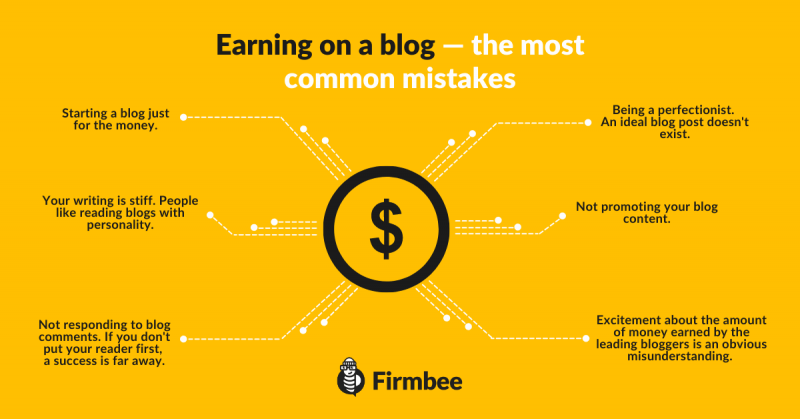 Money will follow
Earning on a blog is not an easy task. Seemingly anyone can run a blog, but times have changed and it is no longer enough to have a shabby-looking website. The industry is professionalizing and to compete for a share of the marketing pie, we have to pay a lot of attention to even the smallest things. Otherwise, you will not be able to stand out to a wider audience with our message, and thus also miss the attention of advertisers. However, if you are ready to take a serious approach and always put your reader first, a howling success awaits.
Radosław Chodkowski: Individual investor, publicist and blogger. Author of services: Humanista na giełdzie and OpcjeNaAkcje.pl. In his approach, he follows the indications of technical analysis, showing his readers how to achieve long-term success in financial markets using simple long-term methods. He focuses on promoting financial markets to people looking for high returns.