Although it may seem that crowdfunding and crowdlending are the same concepts, they are often confused by the public. Loan-based financing is one form of crowdfunding. Nowadays, both terms are very popular when it comes to investing and crowdfunding. How do they work, and what benefits and risks do they bring to the investor? It's worth taking a better look at them, as they can bring in a significant profit while supporting an ethical campaign.
The difference between crowdfunding and crowdlending – table of contents:
Crowdfunding – what does it mean?
Crowdfunding is a type of financing in which an individual or a company raises funds with the help of a group of people (the so-called crowd), which they later use for a purpose of their choice. This method of funding is associated with mass access to the Internet.
Crowdfunding is a general term that also describes group funding based on pre-sales, rewards, donations, investment or crowdlending (discussed today). Financing your own business with the help of users most often takes place on online platforms that are specialized in one specific type of crowdfunding.
Crowdlending – what is it?
Crowdlending is a combination of two words (crowd= crowd and lending= lending money). It allows different entities to finance their ventures and, thanks to numerous funders, not have to use loans from banks, as not every person meets all the conditions to get a one. It works differently than a classic loan from a financial institution or incurring debts from an individual. In contrast to other forms of crowdfunding, crowdlending does not offer any additional benefits such as shares in the company, various bonuses or a finished product. In this funding model, the only thing we can expect is a high rate of return on the loan given to the person interested.

Loan financing – how does it work?
The whole process takes place on the website between individuals or companies who are interested in taking a loan and giving it. The first platform of this kind is the British "Zopa" (Zone of Possible Agreement). Its business model assumes that people with surplus cash and spare funds can offer it to people who are willing to use the money for a definite purpose. Thanks to such actions, it is possible to bypass traditional financial institutions.
People who are ready to lend their funds to others have to reckon with some kind of investment, which after some time will come back in the form of interest. The parties involved are the borrower and the investor. This form of fundraising has no limitations.
The parties involved sign a social loan agreement with each other, which protects both parties from any unpleasantness (from the immediate requirement of early repayment or unlawful change of interest rate), and at the same time protects the investor from non-payment of the loan by a dishonest borrower.
What are the benefits and risks for the investor?
The most obvious advantage of lending to interested parties is their subsequent interest income. This happens through loan finance companies. The investor receives monthly payments of interest and principal, which they can then re-lend to increase their loan proceeds. More importantly, the investor does not have to cover the entire loan needed as pledged by the borrower, as this usually consists of multiple, smaller loans from a large group of entrepreneurs. What is also worth keeping in mind is capital preservation. As a rule, investment amounts are low, so money placed in multiple loans is safer. In this case, the risk is lower and proportional to the investment made.
An investor has a choice of 4 investment products depending on the desire for return and risk. The borrower is better protected in crowdlending sites but for the investors, the case is worse. They lend their own money to strangers without any guarantee of repayment. At this point, it is worth looking at the solutions offered by the platform that mediates this process and the mechanisms it adapts to check the credibility of both parties. This is important because not every party decides on the same methods.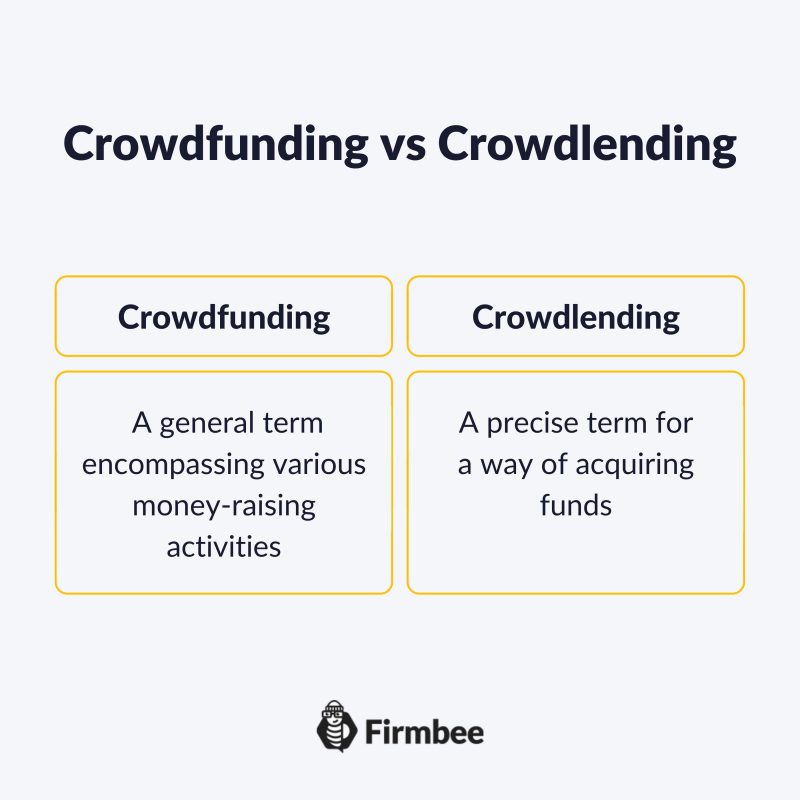 Crowdlending platforms
The pioneer site of a social-lending nature is Zopa, founded in 2005. On this platform, borrowers could ask for sums between £1,000 and £25,000. We should add here that from each successful transaction the company takes a corresponding percentage while making money on it. It was the first in the world to offer peer-to-peer crowdfunding. With a few clicks, Internet users from all over the globe can enter the world of investing and earn interest accordingly. The idea of crowdlending allows small investors to get into a rather challenging market, but without having to put in large amounts of money.
Summary
Crowdfunding is a general term encompassing various money-raising activities, while crowdlending is the precise term for a way of acquiring funds. The purposes range from organizing a wedding to buying a dream car or growing your own business. Whatever the case, crowdlending comes out as a better idea than borrowing from a bank to improve financial problems. Moreover, crowdlending avoids a lot of unnecessary paperwork and complications on the way to obtaining funds.
If you like our content, join our busy bees community on Facebook, Twitter, LinkedIn, Instagram, YouTube, Pinterest.