What is CPA affiliate marketing? The main difference between CPA marketing and affiliate marketing is that affiliates get a commision for a specific action, not for a sale. CPA affiliate marketing can be a great way to promote a business with relatively low risk. Read our article to find out more.
CPA affiliate marketing – table of contents:
What is CPA affiliate marketing?
CPA affiliate marketing is a type of affiliate marketing that companies use to boost their marketing efforts. More and more businesses partner with influencers and publishers to raise their brand awareness and drive sales for their products. How does it work? In the CPA model, affiliates get paid for a specific action taken by a prospective customer, for example:
viewing an advertising video
downloading an application
creating an account in an online store
providing personal details
downloading an ebook
making an appointment through a form
filling out a satisfaction survey
using an individual discount code
contacting the company
The rate might be a flat rate or a percentage of profits.

Best practices for CPA affiliate marketing
build a thorough CPA marketing plan
join a suitable CPA network
hire an affiliate manager to help you optimize your marketing strategy and build positive relationships with publishers
do market research and define your desired audience
provide support for your affiliates
use social media to expand your website's reach
create content for your website that builds your credibility
track your campaigns
use click fraud software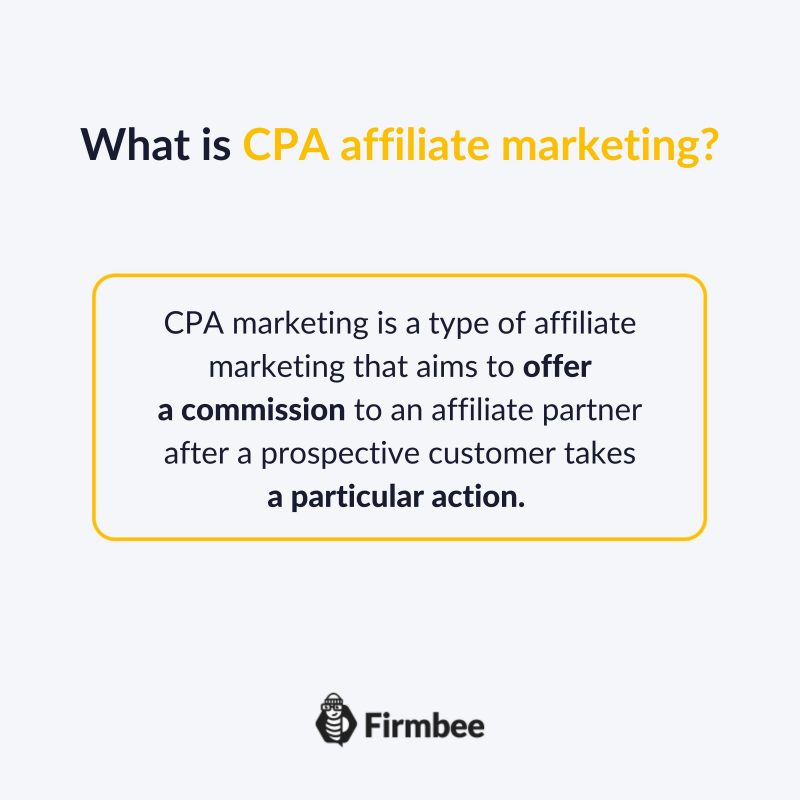 Benefits of CPA affiliate marketing
CPA affiliate marketing can be beneficial for a number of reasons:
It's easy. CPA marketing requires only a website and a CPA network. Join a CPA network and start looking for offers within your industry.
It expands your audience. Your brand can become more recognizable and reach a wider reach faster when partnering with influencers.
It's profitable. Such a cooperation may be highly profitable for both affiliates and advertisers. For example, a travel blogger forming a CPA marketing partnership with a travel agency could be a successful collaboration since their target demographics are similar.
It boosts your brand reputation. Promoting your products on a publisher's site that has an established audience can help you reach a customer base you haven't had access to before, and thus increase your brand awareness.
It's safe. CPA affiliate marketing isn't risky since you only pay when you receive a conversion.
Other affiliate pricing models
When entering the world of affiliate marketing, sooner or later, you will come across a number of new terms. What do the affiliate abbreviations stand for? What are the most common billing methods?
Cost per lead (CPL) is a pricing model where an advertiser pays a price for every generated lead, e.g., for a singup to a newsletter. CPL is also known as cost per acquisition as the customer stays in touch with the seller.
Cash on delivery (COD) is a commission on orders when a payment is made on delivery rather than in advance.
Cost per sale (CPS) refers to the commission an affiliate gets paid whenever someone buys a product or service through their link.
Cost per click (CPC) is an online advertising model in which an advertiser pays a publisher every time an ad is clicked on (e.g., an image that redirects to an advertiser's website).
Cost per thousand (CPT) refers to the cost an advertiser pays for every thousand impressions of an advertisement.
In some situations, a flat fee (FF) to the publisher's account is also involved.
CPA marketing – summary
CPA marketing is an increasingly popular strategy used by both advertisers and publishers. When done correctly, it can be an extremely effective way to grow your business.
Other resources: What is EPC in affiliate marketing?
If you like our content, join our busy bees community on Facebook, Twitter, LinkedIn, Instagram, YouTube, Pinterest.