6 MB
HTML
Licence:
Attribution 3.0 (CC BY 3.0)
You are free to:
Share — copy and redistribute the material in any medium or format
Adapt — remix, transform, and build upon the material for any purpose, even commercially.
This license is acceptable for Free Cultural Works.
The licensor cannot revoke these freedoms as long as you follow the license terms.
Under the following terms:
Attribution — You must give appropriate credit, provide a link to the license, and indicate if changes were made. You may do so in any reasonable manner, but not in any way that suggests the licensor endorses you or your use.
No additional restrictions — You may not apply legal terms or technological measures that legally restrict others from doing anything the license permits.
Are you looking for the perfect template for your website? We have something for you. The Blue and Red Business Website Template combines clarity with minimalism. It will work for any type of business.
PSD Version: Blue and Red PSD Website Template
WordPress Version: Blue and Red Business WordPress Theme.
Blue and Red Business Website Template – what exactly:
Marketing Agency Website Template
Fully Responsive Website Template
Free Responsive Website Template
Free Website Template
Free Bootstrap HTML Template
Robust HTML Template
HTML Website Templates
Digital Marketing Agency Website Template
Mobile Friendly Layout
Free Business Template
The first impression can only be made once, so try to make the best possible impression. Surprise your visitors with an unusual website. However, we know that you should be moderate, so our template has only the most important functions.
If your goal is to reach clients, then Blue and Red Business Website Template is perfect for that.
Home Page
Let's start with the home page. The user immediately knows what to do, because you offer him access to the "How we work" and "Portfolio" sections. This way you shorten the path of acquiring the client. There is also a place for short information where you can tell what your business does and what benefits you can bring to the company.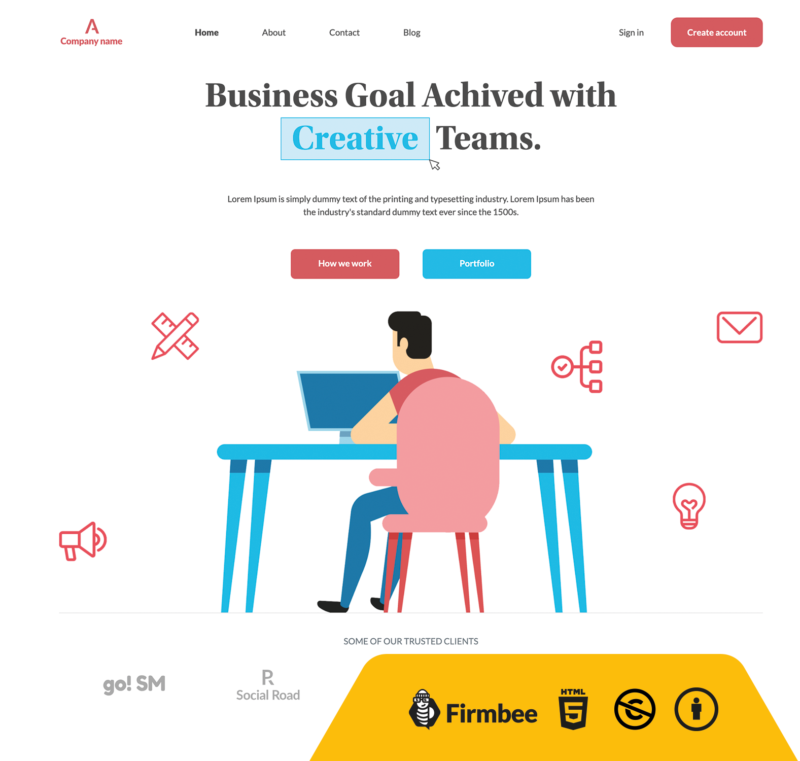 Let's scroll down the main page. We have separated a section divided into categories so that your potential business partner can find the one that interests him. For example, suppose you run a marketing agency. You can specify your offer by categories, e.g. SEO, SEM, Copywriting, Websites, PR or Social Media.
Is it not enough to convince the client to your offer? In the following sections, you can encourage to read about your previous collaborations and to read the detailed offer.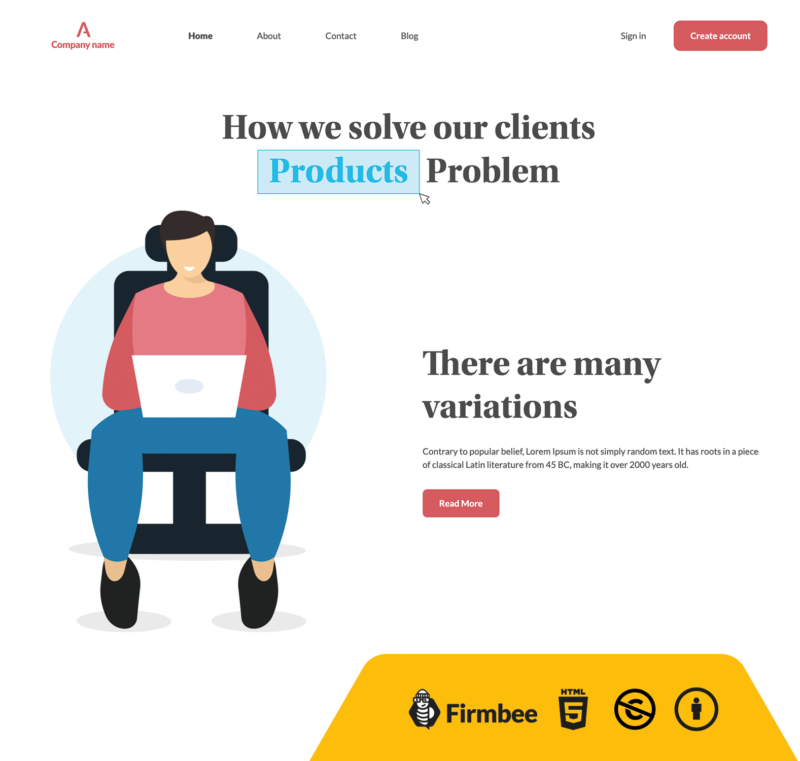 About Tab
Each website should have an "About" tab. If the user wants to learn something about your company, business, history or values, this is the section that will be selected.
It may seem insignificant, but believe me, people like to cooperate with transparent business partners. If you don't know how to present yourself, how do you want to convince your customers?
There is one more way to build trust. Introduce your employees (add their photos and job titles). It is also a great honor for your employees who will feel more belonging to the company.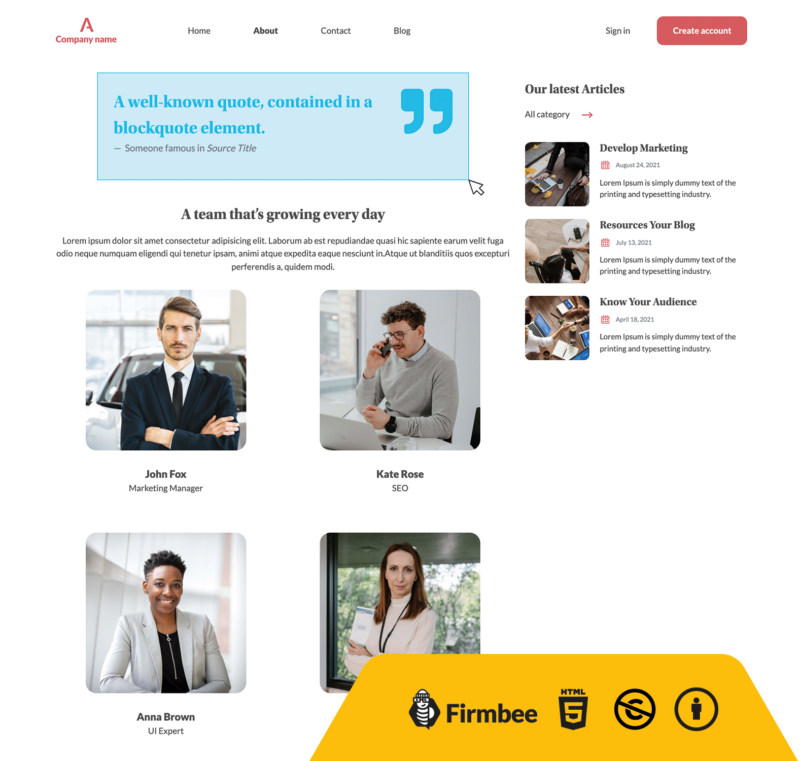 Contact Tab
Okay, you've convinced a client who wants to work with you. And what's next? You must have a "Contact" tab so that he can leave you a message. Without it, all your previous work could be wasted.
Blog
"Blog" tab. You will probably ask what do you need this for? Well, to gather traffic to your website. In addition, you gain in the eyes of customers because you prove to them that you know what you are doing. Also, sometimes potential business partners may hesitate as to whether a couple with you will benefit them. You can then prepare articles on why what you do is important and how it affects the activities of the companies you work with.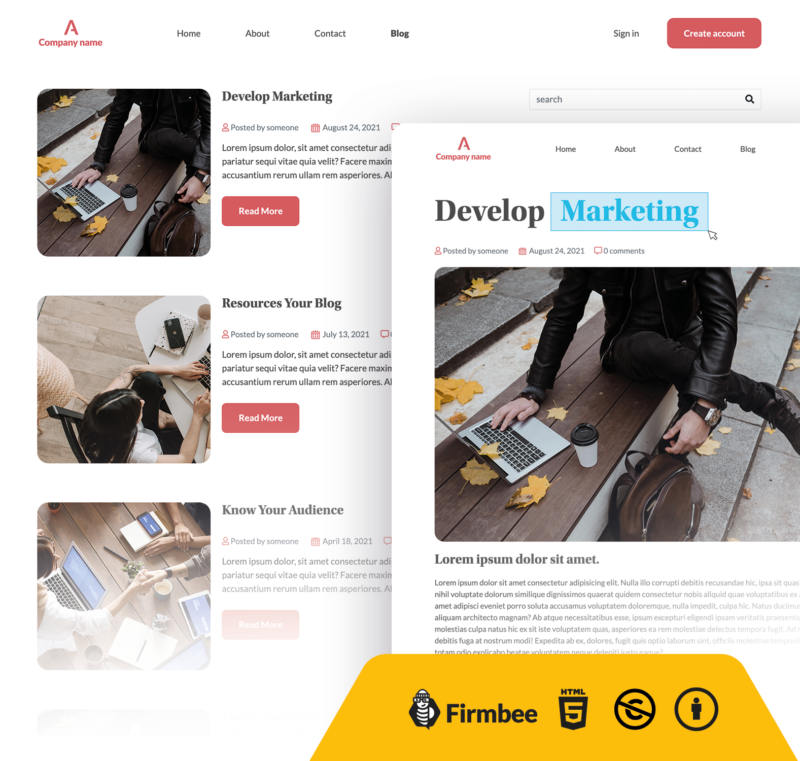 Blog Posts
How your blog article presents itself is also important. It must be clear and pleasant to read. If the user finds the text worth sharing, he will be able to do it with the appropriate button at the end of the article.
Top Menu and Footer
What else is important on the website? Certainly the top menu and the footer, and more precisely their content. The customer may need to create an account or login. In the footer, however, it will look for important tabs, such as, for example, price list or privacy policy. From here, he will also be able to subscribe to the newsletter or visit your social media.
Don't forget that our free template looks great on phones. It is fully responsive and adapts to the width of the screen.
What are you waiting for? Use our Blue and Red Business Website Template.