Nowadays, Instagram is insanely popular. Therefore, it gives a wide range of opportunities for marketers. Recently, many publishers have run successful campaigns and earned money using various techniques. Read our today's article and learn how to do affiliate marketing on Instagram.
Affiliate marketing on Instagram – table of contents:
Why Instagram? Instagram statistics
Numbers don't lie.
Check what the statistics say about one of the most powerful social networks:
more than 2 billion monthly active users,
4,2 billion likes per day,
images on Instagram generate a higher engagement rate by as much as 23% when compared to Facebook,
the median engagement rate for Facebook is 0.27%, and it is 1.16% for Instagram,
more than 500 million users log on to Instagram a day,
59% of Internet users between the ages of 18 and 29 use Instagram,
over 60% Instagram users log on Instagram every day.
Considering the above data, Instagram can be a powerful tool for your affiliate marketing efforts.

Where to put affiliate links on Instagram?
Affiliate marketers on Instagram get a commission when their followers buy products they've recommended. Where to put affiliate links? The answer is quite optimistic. Everywhere. The methods of adding affiliate links to Instagram are given below.
Adding affiliate links in your bio. Your Instagram bio is one of the most attractive locations to add affiliate links. When users land on your profile, they are usually interested in getting to know more about you. This way, they will certainly come across the affiliate links. Intrigued to see what you are promoting, they will finally click on the link and be redirected to the original website.
Adding affiliate links in stories. In order to add affiliate links to your stories, you must meet two requirements. Namely, you need to have access to the Facebook business account and at least 10 000 followers.
Adding affiliate links in Instagram ads. You can easily insert affiliate links in Instagram ads. As it is a paid solution, make sure that the costs don't outweigh your earning potential.
Adding affiliate links in posts. When promoting products or services from the affiliate program in your posts, you can add affiliate links in their captions.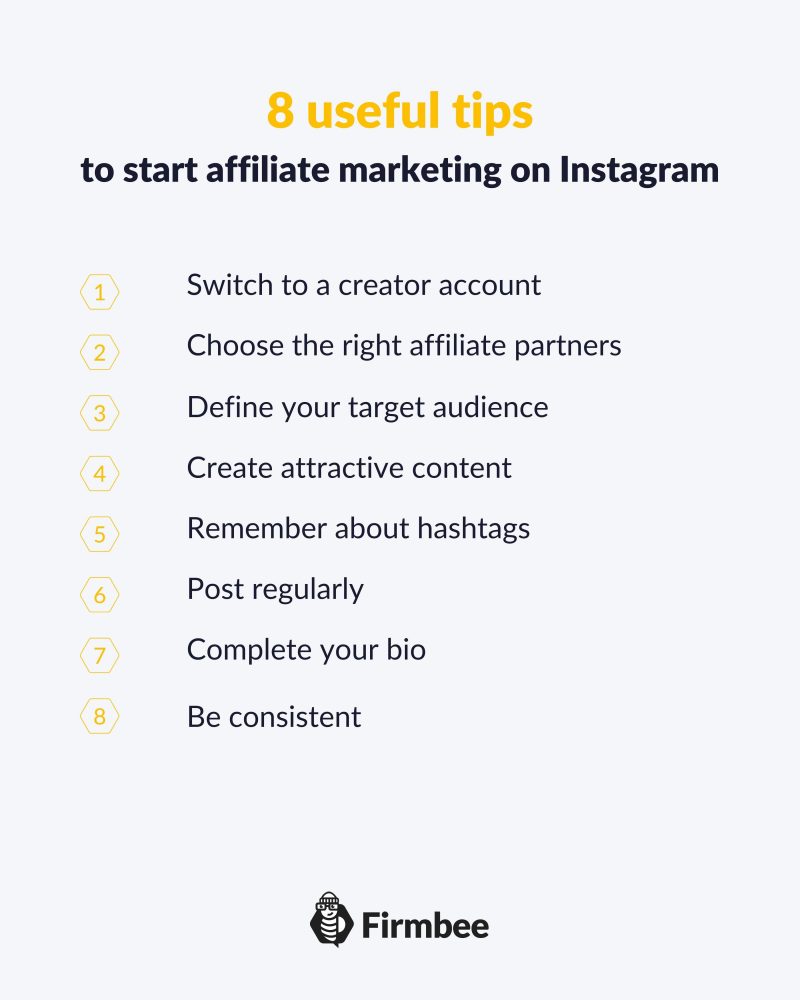 8 useful tips to start affiliate marketing on Instagram
Do you like Instagram? Do you like browsing current accounts and scrolling through the numerous photos users add? If you know the medium from your own experience, it will make it easier for you to work with it. Follow these useful tips to start affiliate marketing on Instagram and build your influence there:
Switch to a creator account. Select settings, go to Account, tap Switch to a professional account, and choose Creator.
Choose the right affiliate partners. To earn money on Instagram with affiliate marketing, you need to find companies that pay a commission on sales you make.
Define your target audience. Is Instagram a portal where your target audience spends time? This is a basic question you need to ask yourself in the very beginning. The key issue here is an engaged community.
Create attractive content. It's quite obvious. Without high-quality content, you won't be able to increase the number of your followers.
Remember about hashtags. Using relevant hashtags will expand your reach. Pay attention to their quantity and quality. The most popular ones are: #love, #instagood and #fashion. Keep in mind that original hashtags are also in demand. Before adding a hashtag to your shortlist, double check if it's not banned.
Post regularly. Don't let your followers wait and don't disappear for a long time. Posting regularly will boost your visibility.
Complete your bio. Introduce yourself with an interesting emoticon or a quote to make a great first impression and attract your ideal audience.
Be consistent. When joining an affiliate program or forming a partnership with a specific company, make sure the promotion is consistent with your overall profile and values.
Summary
Affiliate marketing on Instagram has opened up new possibilities for brands and creators to collaborate with each other. While businesses use it to drive sales and boost their brand awareness, influencers get involved in it to generate extra income.
Want more advice? Read also: Affiliate marketing on Amazon.
If you like our content, join our busy bees community on Facebook, Twitter, LinkedIn, Instagram, YouTube, Pinterest.