The vision of making money online attracts a whole lot of people. Affiliate marketing is becoming an increasingly common trend. The decision to become an affiliate is one thing, and the question where to start the cooperation is another. Today, we are explaining what Amazon has in common with affiliation. How to do affiliate marketing on Amazon? Read on.
Affiliate marketing on Amazon? – table of contents:
History of affiliate marketing
The popularity of affiliate marketing on Amazon is not a coincidence. The precursor of the Amazon Associates Program is the company founder, Jeff Bezos. A spontaneous meeting of one writer with the owner of the website has brought astonishing results. A trivial exchange of business cards has led to the emergence of the world's largest trading platform.
Similar marketing strategies appeared on the market in the 80s of the last century. However, it was Bezos who has taken the idea to the next level. Do you believe in the effectiveness of his business activities? Repeating the Amazon's success is quite a challenge.
Amazon publishers
Amazon started as an online bookstore. Today, however, things have changed . The platform offers not only the sale of products, but also allows you to set up your own online store. The target audience here are no longer poets and readers. Amazon publishers can not only be authors of best-selling novels, but also baristas, graphic designers, and even nail stylists.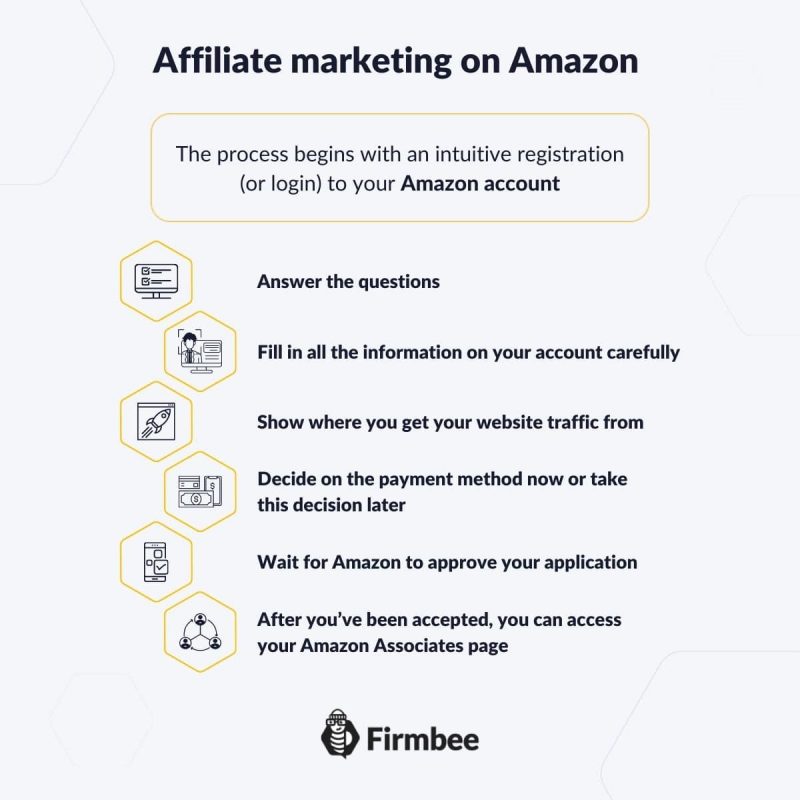 Affiliate marketing on Amazon
Getting started with the Amazon Associates Program is extremely easy. The process begins with an intuitive registration (or login) to your Amazon account: link . In order to run your campaign, you will need a blog, a website or a YouTube channel. Once you are prepared, take the following steps:
Answer the questions: What do I want to promote? What is my niche? What can I offer to my audience? Why is it worth cooperating with me? Clarifying your purpose will be useful to you in the application process.
Fill in all the information on your account carefully. Verify it and enter the store ID of your choice (it usually corresponds to the name of your primary site).
Show where you get your website traffic from. What are your current traffic stats?
Decide on the payment method now or take this decision later.
Now just wait for Amazon to approve your application. If your website meets the requirements, you should be accepted into the program shortly.
After you've been accepted, you can access your Amazon Associates page. Through the dash, you'll see more details such as monthly summaries and commission overviews. At this moment, you can start creating affiliate links.
Amazon affiliate commission
Your partnership with Amazon is in full swing. You've attracted more traffic to your website. When will the commission reach your wallet? Unfortunately, you won't make any money if a buyer cancels an order before shipping it. The same is true if the product is returned. If the final goal isn't reached and the customer is not satisfied with their investment, the commission will be deducted from your earnings.
Take action!
Joining the Amazon Affiliates Program is a sort of commitment. There is a new opportunity ahead of you, but you have to use it effectively. After joining the program, you have 180 days to prove that working with you makes sense.
There's no catch here. This is a trial period during which you must make at least one sale. If you fail to meet this condition, your account will be cancelled. However, Amazon doesn't burn bridges behind you. If you continue to work on your website, you will get a chance of collaborating with Amazon again.
Amazon affiliate salary
Everything has gone as you expected, and your salary is on its way. The money will automatically go into your account. Amazon pays the author or publisher 60 days after the end of each month's sales by direct deposit, Amazon gift card, or check.
Amazon affiliate cookie
Affiliate links help you determine where your traffic is coming from. An Amazon affiliate cookie lasts for around 24 hours. It means that you can only earn commission from sales that take place within 24 hours after users have clicked on the affiliate link. Try to get a customer. Don't waste this time!
Summary
Don't be fooled into thinking that you'll make millions effortlessly. Don't expect huge profits in the first few months of your activity either. Give yourself time and space to take action. Check out the the Amazon Associates Program and get information on how to create a world-class business using basic tools.
After you've read about affiliate marketing on Amazon, you might be interested in learning how much you can make with it.
If you like our content, join our busy bees community on Facebook, Twitter, LinkedIn, Instagram, YouTube, Pinterest.