Let's answer the question why outsourcing is important for companies and read about 4 essential advantages of outsourcing in business. In our previous article, we mentioned that outsourcing as a business model is a growing trend. It is an effective solution for companies which are willing to increase their productivity and reduce administrative costs. With professional outsourcing, you can commission a wide range of services. It can be either creating a graphic design or signing a contract with a security company.
Outsourcing in business – table of contents:
Focus on core tasks
Outsourcing in business is a great opportunity for the company to grow. Commissioning mundane yet important tasks will let you focus on doing what you are good at. Running a company does not mean that you must do it all by yourself. Delegating time-consuming duties to freelancers and using your in-house resources to concentrate on core areas will free up your time and save money.
Access to new resources
Another advantage of outsourcing is the possibility of getting access to skilled resources. For example, when hiring a new employee, you have to reckon with recruitment and training costs. It may also turn out that the employee doesn't meet your expectations. If an outsourcing company has an extensive talent pool, you can be sure that they will provide professional services when you need them. If you decide to use your internal employees only, extra training to improve their skills may be necessary. However, this would involve additional costs.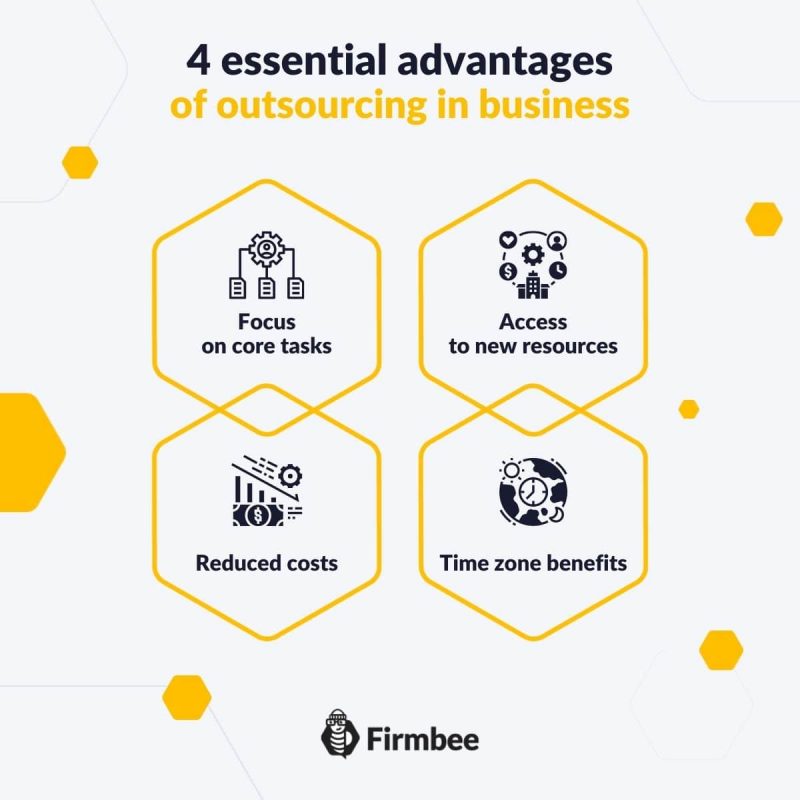 Reduced costs
The most obvious and visible benefit of outsourcing is cost reduction. With a large amount of work, business owners have to hire additional employees. This increases costs associated with recruiting, selecting and training a new staff member. You can entirely avoid them when using services of external providers. What is more, this solution allows you to reduce overhead costs, i.e. business expenses including items like rent, utilities and office equipment. By outsourcing tasks, you pay only for the work done.
Time zone benefits
With good time management, working with an outsourcing company located in another time zone can also provide an incredible advantage. In case of any problems, such as network failures, they can quickly react and repair the fault. Thanks to outsourcing across multiple time zones, you can also get your projects finished faster and provide 24/7 service to your clients. In this way you keep your customers happy, increase your company's productivity and make your business run smoothly.
Outsourcing in business – summary
There are several advantages of outsourcing. In most cases, outsourcing involves cost reduction and increased efficiency. As your business develops, outsourcing can become one of the main strategies to promote it, and the fastest way to access new skill sets and technologies.
After you read about the main advantages of outsourcing, you might be interested in learning more about managing freelacers.
If you like our content, join our busy bees community on Facebook, Linkedin and Twitter.