A Learning Management System is an application created for educational purposes. It usually contains several modules of different function, but the core of the system is its ability to deliver educational courses online. Each Learning Management System should also have modules for data management, progress tracking, and reporting. Learning Management System can be used in corporate training, online education, both in public and private sector.
Learning Management System – table of contents:
Online learning
Thanks to rapid advancement of technology, digital transformation of the workforce has become a fact. We communicate, work, date and socialize remotely, while our online activities take up more and more of of our time and attention.
We don't have to leave our home to see the movie, listen to a concert of attend a lecture, all intellectual endeavors of humanity can be channeled with the use of the modern technology.
All this would not be possible with the constant effort of numerous programmers, computer scientist, technology specialist, geeks, and designers, to name just the few. As their focus goes into all possible fields of human engagement, it has to move towards educational field as well.
Currently, it is hard to imagine our world without online courses, all offered both by world' top-ranked institutions and knowledgeable individuals, who wish to share their passion, interest and dedication.
Any person having the computer and the internet may study the subject of their choice and get almost all possible diplomas such as: certificates, licenses, master diplomas, PhDs remotely. Learning online has never been as easy as today.
Learning online is particularly good method of studying aimed at adults. We may agree, that studying online requires higher degree of attention, self-motivation and organization, hence it is generally better for more mature individuals, but there are solutions available for all age groups. Businesses wanting improve and scale their training efforts move towards online learning as well.
Currently the online marketing increases unprecedentedly each year and is very likely to exceed a value of 376 billion dollars by 2026. Since more and more people work and study remotely learning management systems with online course platforms are the most profitable and searched for applications.
How to choose a Learning Management System?
Every Learning Management System has at least several basic modules, and all the new systems offer even more and more options for their users. It is probably impossible to be sure that we have chosen the best system ever – there will be better options soon – but still it is good to remember about a few important features, which your system should have.
Social features, which allow communication between the provider of the training and the participants as well as communication between all individuals involved in the process. This module should also allow exchange of data, meaning it should have chat functionalities and social network functionalities (personal messages, discussion forums).
Gamification options, those may be applied to all learning processes not only those performed online. There is the whole methodology to explain the benefits for motivation and cognition of gamification systems. Elements such as: levels, points, badges, awards are parts of this concept. Generally, gamification improves training outcomes and increases engagement and satisfaction of trained individuals. It can be applied in situation of training during the recruitment, evaluation or for other business needs.
Customization for business users can be an option in your chosen Learning Management System you could opt for. Adding your own logo, themes, banners or other brand symbols may be important from the perspective of credibility of your business. Learning Management System may be one of the few outlets of contact with your remote workers, you may decide that having your system visually customized is worth the price.
Variety of training modes based on the different teaching methodologies could be a part of the Learning Management System as well. The uses should have the choice between Instructor-Led Training (ILT) mode and eLearning, which could be delivered in a form of documentation, movie, recording or other, where personal involvement of the lecturer is not needed.
Options for different media should be a concern while choosing the Learning Management System for your company. Your training team may create really engaging courses, but your system have to be fully compatible with all the formats you may wish to use. Good Learning Management System should read files of all formats of audio, text, video, zip, pdf, html, and moreover it should definitely be able to read SCORM/AICC packages.
Analytic features for reporting and scalability are usually one of the crucial models of each Learning Management System. Without this module tracking the effects of the training programs would not be possible. While assessment and measurement is one of the most important parts of the teaching process, it is crucial in Learning Management System as well.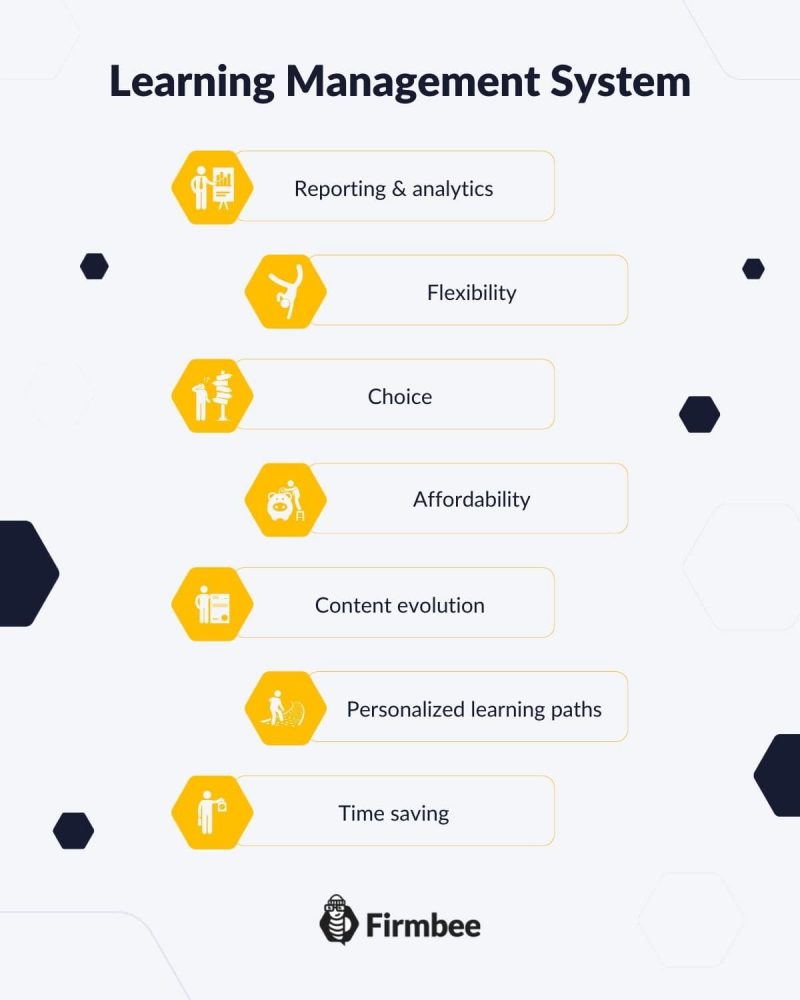 Benefits of Learning Management System
People change their habits and it is a fact. Online learning is the trend of the future and it is not going to change. And there are many benefits of having your own Learning Management System in the company, some of them are closely related to the gain the whole society gets from learning online.
Here are several reasons to consider LMS for your company:
Flexibility – learning from anywhere, anytime, at own pace, balance between learning and other duties.
Affordability – training content once purchased or created may be used several times by many users with no additional cost.
Online communication – no need to be together in the same room to teach, learn or collaborate on educational projects, each part of the training may be created step by step, by different specialist, and delivered in parts to those interested in the given content.
Stress reduction – learning at own pace, without the need to keep up with other more knowledgeable or skilled learners.
Rapid content updates – not only the access to your training content is instantaneous, but the content itself may be modified, replaced or added in a very short period of time.
Summarizing, Learning Management Systems have many advantages and companies may use them to design and deploy valuable eLearning experiences. It should be noted that Learning Management Systems are a part of bigger vision in which eLearning concept is a major element. Learning Management System may be right for all types of business; for companies with huge employment it proves to be quintessential.
Read also: Best 5 online training platforms
If you like our content, join our busy bees community on Facebook and Twitter.