No matter what role you currently play in the labor market – an independent entrepreneur, an employee in a managerial or specialist position or a person just taking the first steps in your chosen profession, you need to find your way to function properly in the industry environment and climb the career ladder.
Business skills – table of contents:
With dynamic changes in the market, and constantly evolving competition accompanied by the emergence of new technologies and trends, highly developed business skills will surely come in handy. Today, we'll focus on the 5 key business skills that are critical to success in any position.
What are business skills?
Business skills are the practical abilities, knowledge and competencies that enable people working in different areas to perform their tasks effectively, execute processes efficiently and achieve goals to contribute to the overall success of the organization. They can be both soft (e.g., personality traits) and hard (technical knowledge, practical abilities). A person who wants to succeed in his or her field should have both at a high level.
Business skills are usually developed through a variety of activities: gathering practical work experience attending training courses and industry events, reading relevant books and articles, as well as daily contact with others (learning from each other).
What business skills are essential?
Business skills can vary depending on the industry, job role or specific situation. Below we list the 5 most crucial that are relevant to any employee – whether at a lower or higher level.
Communications

The ability to convey information clearly and concisely, in both written and oral form, is decisive in any position. It helps in building relationships with customers, day-to-day contact with co-workers or implementing joint activities with partners and contractors. Expressing one's own opinion, sharing one's ideas and providing guidance on actions for team members are indispensable traits. In their absence misunderstandings arise, and these may cause serious hardships (such as delays in the ongoing project).

Data analysis

Gathering, processing and interpreting the information received – both internal and external – are processes that lead to valuable conclusions that in turn allow making good decisions for the company. Individuals who demonstrate a high level of this business skill can detect market trends, identify areas of the company in need of improvement and effectively assess whether the implemented strategy has yielded the expected results. In this way, they learn from their mistakes and propose new actions with a higher probability of improving the company's market situation or internal processes.

Managing your own time

Planning, prioritizing, and effectively putting time into achieving results within the indicated timeframe (e.g., according to established KPIs) are other processes that are essential for success. Within the framework of managing one's schedule, it is particularly fundamental to eliminate factors that can negatively affect productivity and delay the completion of tasks within the established agenda. In this way, productivity can stay at the expected level, while the level of perceived stress drops.

Negotiations

In various industries, there is often a need to agree on terms of cooperation through sometimes lengthy discussions that lead to compromise. For this reason, to succeed you also need to excel at negotiations. This requires the ability to listen, influence, effectively identify the interests of all parties involved and build relationships. This business skill becomes indispensable both in relationships with customers, suppliers or partners, as well as during discussions with your employer (e.g., about a raise or a change in position and nature of duties).

Hard knowledge

Business skills also include acquiring specialized (professional) expertise specific to a particular field or profession, such as the knowledge of foreign languages, analytical tools, programming, or operation of various types of software and solutions. Without hard skills – in any position and any industry – it is not possible to adequately fulfill tasks related to the chosen field of operation. By the same token, it is also impossible to benefit from the other abilities mentioned above.
Develop your business skills with Firmbee
Firmbee is a tool for managing projects and teams, but you can also apply it to develop your communication skills and manage your own time. In the first aspect, you will be helped by platforms integrated with the system, such as Skype, Zoom, or Slack, through which you can exchange information with your colleagues in real-time. You can also provide your insights in the form of comments on specific tasks.
In terms of managing your own time, you can create your to-do list, mark and modify task statuses and priorities, and set deadlines. The time logging feature, on the other hand, will allow you to keep track of the time spent on a given job.
Try Firmbee for free and develop your business skills!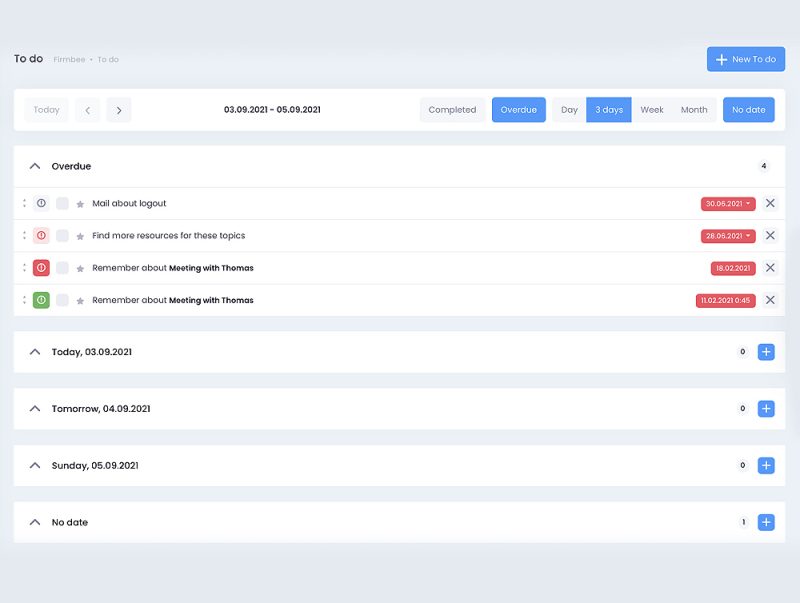 Business skills – summary
It is possible to list several business skills that are essential for success – above we have only pointed out the key ones that are relevant to every position and unchanging by industry. However, the most basic thing to remember is that their acquisition and improvement is a process that never ends. After all, changing market trends, continuous development of technology together with implementation of new ways of executing existing processes require constant adaptation to what the current market needs are and anticipation of capabilities that will be necessary in the future.
If you like our content, join our busy bees community on Facebook, Twitter, LinkedIn, Instagram, YouTube, Pinterest, TikTok.