It's hard to imagine a thriving company today that doesn't have an office suite. This type of software is useful in every branch of business to create and edit documents, prepare estimates, handle correspondence and much more. If you're wondering which free office software will be best for your business, check out our list. We have prepared some practical advice and a list of 5 recommended and free packages for your office.
Office suites for business users – table of contents:
An office suite is essential for your business
Are you still thinking about the decision whether to install an office suite in your business? If so, take into account that its features make the dedicated software one of the most important work tools in a company. This is especially true nowadays, in the era of modern solutions, many traditional documents, correspondence or analyses are transferred to the digital domain.
Who can use office suites?
As a matter of fact, office software is useful for every entrepreneur. Even if you run a one-person business, you can find gripping free solutions. Office applications will help you write a formal letter or a contract to be concluded with a client. Correspondence or legal acts prepared with the help of a good office software program will look professional and will certainly affect the image of your company in the eyes of your clients.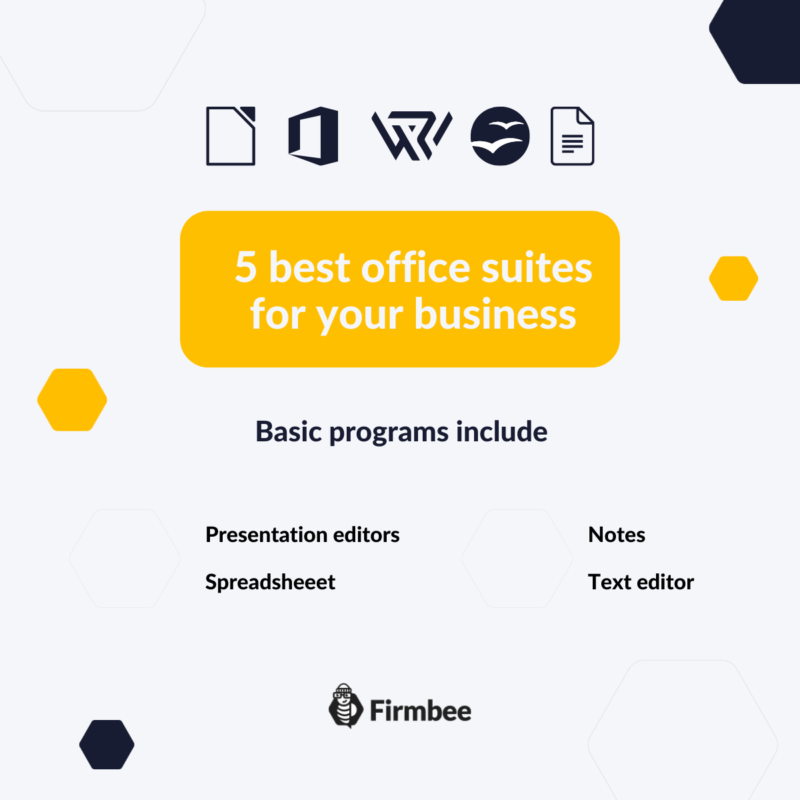 What tools does an office suite contain?
Free office suites are sets of tools to help you run and grow your business. Basic programs include:
Text editor – for creating e.g. letters and contracts
Spreadsheet – for making calculations or generating cost estimates
Presentation editor – to display slides with their descriptions
Notes – to quickly write down important thoughts or reminder lists
In addition to the basic applications listed above, many office suites offer specialized tools that may come in handy in certain branches of business. When deciding which one to choose, you should be guided primarily by the profile of your business. In our list we have included a description of the 5 best, yet free programs for your business.
Best free office suites
LibreOffice

The first place in the list belongs to the most popular alternative to the expensive Microsoft package – LibreOffice. This collection of free programs is dedicated to individual users and offices. It contains all the applications that can be utile in your business. In addition to its powerful features and intuitive interface, LibreOffice can easily read files saved in formats common to MS Office. Another advantage is the ability to quickly create PDF files. Unfortunately, it lacks the functionality of real-time access to a document.

GoogleDocs

The free office suite from Google was quite an innovation when it appeared in the online world. The access is directly from the browser window, so there is no need to install it. This is a huge advantage since you can access the documents you create from virtually any device. This online office suite has everything you need for your business. Both a word processor, spreadsheet, notepad and other helpful features – all completely free, based on your Google account.

Office Online

This application is a free alternative to the well-known MS Office offered by Microsoft. It includes its most important features and a well-known, popular and very intuitive interface. To have Office Online, you need to sign up for a Microsoft account, but as with the office suite from Google, installation is not required. Unfortunately, compared to its paid counterpart, this office suite is somewhat cut short in its functionality.

WPS Office

Another interesting proposal is WPS Office – a free office suite with superb functionality. It contains many practical applications that help not only in word processing or creating spreadsheets, but also in managing databases and handling e-mail. WPS Office is characterized by a modern interface (based on the well-known MS "ribbon") and offers, completely free of charge, a large database of templates, ready to use. It's only, although quite a big drawback, is the language version – at the moment the office suite is available only in English.

Apache OpenOffice

The last, fifth proposal is an office suite, which has been present on the market for many years – Apache OpenOffice, formerly known as OpenOffice.org. Many used it at the beginning of their office journey. The package is free, and its use will certainly improve the work of your company. It is a powerful tool that supports the most popular file formats (including MS Office) and although it has a slightly outdated look, it is still valued by scores of users.
Choose a free office suite for your business
Office suites are the foundation of every business, so don't be left behind – choose the best solution for your business. With powerful applications, you can easily handle documents, spreadsheets, and even prepare visually appealing presentations. So if you are wondering which office suite to choose, use the list above and try our 5 suggestions.
Read also: Top 21 productivity apps in 2021
If you like our content, join our busy bees community on Facebook and Twitter!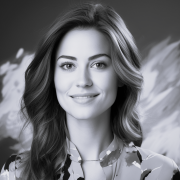 The most important questions
In which companies will an office suite be useful?

Virtually every business will benefit by using the tools included in a free office suite. Creating and handling documents becomes easier with professional solutions.

How much does an office suite cost?

In our list we presented 5 completely free programs for the office – you can use them in your company without any worries of hidden costs.

Is it difficult to use an office suite?

The first steps are always more difficult, but the office suites we present have an intuitive interface – you will quickly learn how to use them efficiently.