According to Applover, the outsourcing market was worth 85.6 billion dollars in 2018, and a year later this figure rose to 92.5 billion dollars. Read the article to find out why outsourcing is a growing trend.
Why outsourcing is a growing trend – table of contents:
What is outsourcing?
The idea of ​​outsourcing, i.e. hiring an external company to perform services for it, appeared in the business environment at the end of the 20th century. Outsourcing is mainly about delegating specific tasks to entities specializing in them. For example, a furniture manufacturing company, instead of hiring IT specialists to set up an online store, may delegate this task to a company which provides this kind of services to implement the idea. Obviously, such jobs don't have to be performed by outside firms. Temporary workers and freelancers can do them as well.
Reduced costs
In the age of rising inflation, most companies look for ways to reduce costs. One of such methods is outsourcing. A large number of service providers are based in countries with lower wages (compared, for example, to the USA or Western Europe). These are, for example, Poland and India. Outsourcing to such countries allows companies to reduce their expenses. Administrative and HR costs are now on the side of the contracting company. What is more, organizations using outsourcing don't have to invest extra money in facility infrastructure.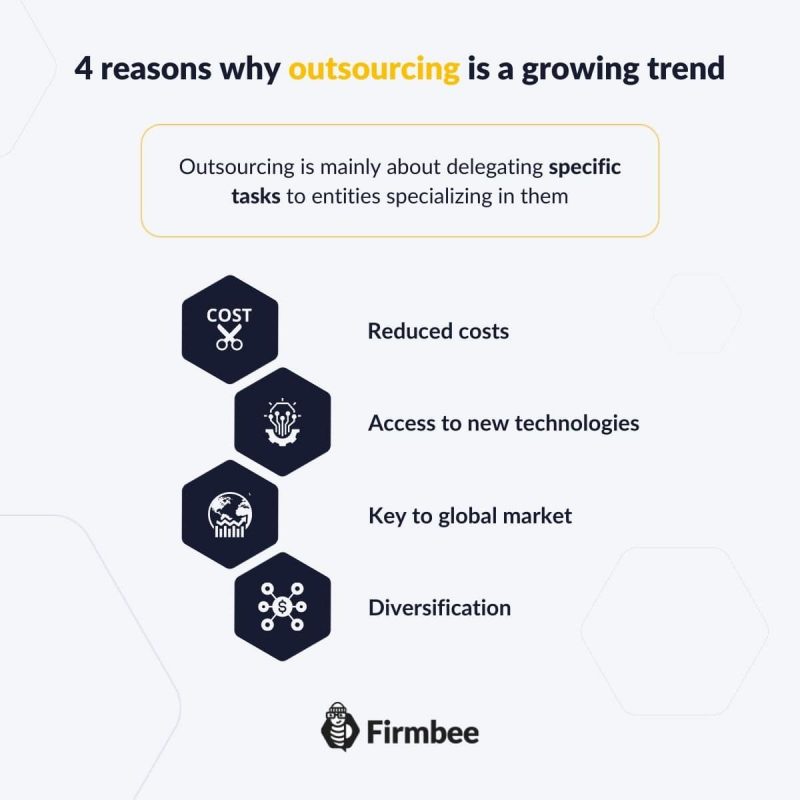 Access to new technologies
By hiring an external company to carry out a given project, the organization gets access to experts and technologies they use. New technologies allow the company to gain a competitive advantage on the market, among others, by increasing the quality of offered services. This lets the organization attract more customers, and thus increase profits.
Key to global market
The popularity of outsourcing is growing since it provides access to wider global markets. Smaller companies, thanks to delegating tasks, have a possibility to scale their business faster. As a result, they are able to enter global markets in a much shorter time, where they have a better chance of improving their financial results and promoting their brand.
Diversification
By using external companies, organizations diversify the responsibilities imposed on employees in their ranks. Since they start using outsourcing services, their internal employees can focus on the most important tasks. Such duties as bookkeeping and HR processes are then delegated externally. This practice is particularly popular among people starting their own business.
Why outsourcing is a growing trend – Summary
As the examples above show, the use of outsourcing can turn out to be a great method of achieving considerable savings for several businesses. Outsourcing allows companies not only to use the expertise of external providers, but also their technology. Thanks to this, enterprises can gain a competitive advantage on the market, and thus increase their profits.
If you like our content, join our busy bees community on Facebook and Twitter.