Whether you're a self-employed entrepreneur, a regular employee, or a manager leading a team, you certainly need to be able to think strategically to make wiser decisions. In today's post, we will discuss four simple steps that you can follow to develop your strategic thinking skills. Let's get started!
Strategic thinking skills – table of contents:
What are strategic thinking skills?
Strategic thinking is the ability to analyze a situation and make decisions that contribute to achieving an organization's goals and vision. It seems to be an ability that is particularly important in a dynamically changing and extremely competitive market. It allows managers to properly guide the development of the company and adapt it to the changing stakeholders' needs. However, it is a skill that is useful not only in business but also in other areas, such as education, sports, or politics.
Building a strategic thinking skill set involves:
Understanding complex systems – this skill lets you understand how different parts of the system affect each other, which means you can anticipate the consequences of your actions and make decisions that will have a positive impact on the entire system,
Setting objectives – allows you to focus on what's important and make a decision that aligns with your goals,
Planning – both short-term and long-term planning according to the set goals (including prioritizing tasks and activities),
Solving problems – thanks to knowledge and creativity, you can find new solutions to even the most complex problems,
Making decisions – this skill, combined with theoretical knowledge, practical experience, and intuition, allows you to choose the best course of action.
How to develop your strategic thinking skills?
You can constantly hone your strategic thinking skills through self-improvement, learning from your own and others' mistakes, broadening your experience, and experimenting to find unique solutions. Here are four simple steps to boost your strategic thinking skills:
Always learn

Self-educate by reading professional magazines. Attend courses led by experts in your field. Proactively seek out information and educational resources to gain both practical and theoretical knowledge.

Seek advice from others

Participate in conferences and other industry events, analyze case studies, attend networking meetings, exchange experiences with others, seek advice from mentors, and join discussion groups – all of these will help you develop your strategic thinking skills. In this way, you will gain valuable insights from those who have already achieved success in the given field.

Experiment

If you want to hone your strategic thinking skills, you should be ready to experiment with various scenarios, test new solutions, and most importantly, evaluate their effectiveness. This will let you adapt your approach to changing conditions and learn from your mistakes. It's also a chance to discover your own course of action or a unique approach that hasn't been used before but may bring the desired results.

Practice

However, there is no better way to develop your strategic thinking skills than through experience – making decisions, solving problems, executing projects, managing teams, and above all, observing the results and learning from them. So be willing to try different approaches, learn from your mistakes, and adjust your strategies as you go. After all, the more you practice, the more you develop the skills you need.
Use Firmbee to develop your strategic thinking skills
Firmbee, a project and team management system, will also help you develop your strategic thinking skills. It will let you assign tasks, set priorities, identify risks, attach the necessary documents, monitor the budget, and then make rational decisions.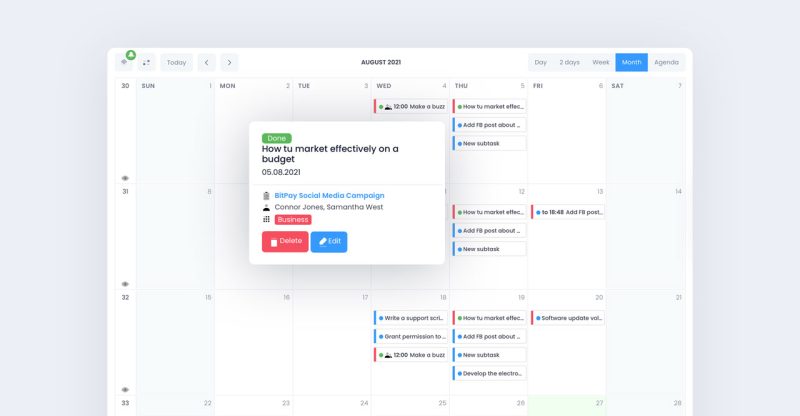 Summary
People with highly developed strategic thinking skills are far better prepared for making difficult decisions, solving problems, and anticipating the future, which makes them more likely to achieve their goals. Remember, however, that critical thinking requires a range of skills, such as data analysis, creativity, and planning, but it won't be useful without remaining flexible. After all, in a dynamically changing landscape, the ability to adapt your actions and decisions to the current situation in the market is crucial to your success.
If you like our content, join our busy bees community on Facebook, Twitter, LinkedIn, Instagram, YouTube, Pinterest, TikTok.