What are the best apps for creating graphic notes? This question can be asked by anyone who would like to manage their tasks effectively. Noting down the most important information about a topic enhances the process of its comprehension, delivery and display. Also, creating tangible mind maps, sketches, and bullet points of tasks or ideas helps organize the data in a way that is easily acquired and processed by our minds. Some people prefer written notes, while others use computer tools. Today, we would like you to take a look at the review of the best free programs for creating graphic notes in 2021.
Creating graphic notes – table of contents:
What is a graphic memo and how does it differ from a standard memo?
An accessible visual form, which makes memorizing and prioritizing tasks easier, characterizes a graphic memo. It is much better to acquire information if you have effectively outlined it beforehand. The human brain more effectively comprehends text that is embedded in an interesting graphic design. However, not everyone can make pretty sketches or create precise tables.
Creating graphic notes by hand is time-consuming and difficult, especially for those that don't possess superb artistic skills. An alternative is an intuitive software that maximizes the time to make notes in graphic form. This tool is especially suitable for:
pupils and students,
people preparing for exams,
teams working on a joint project,
entrepreneurs planning tasks,
freelancers.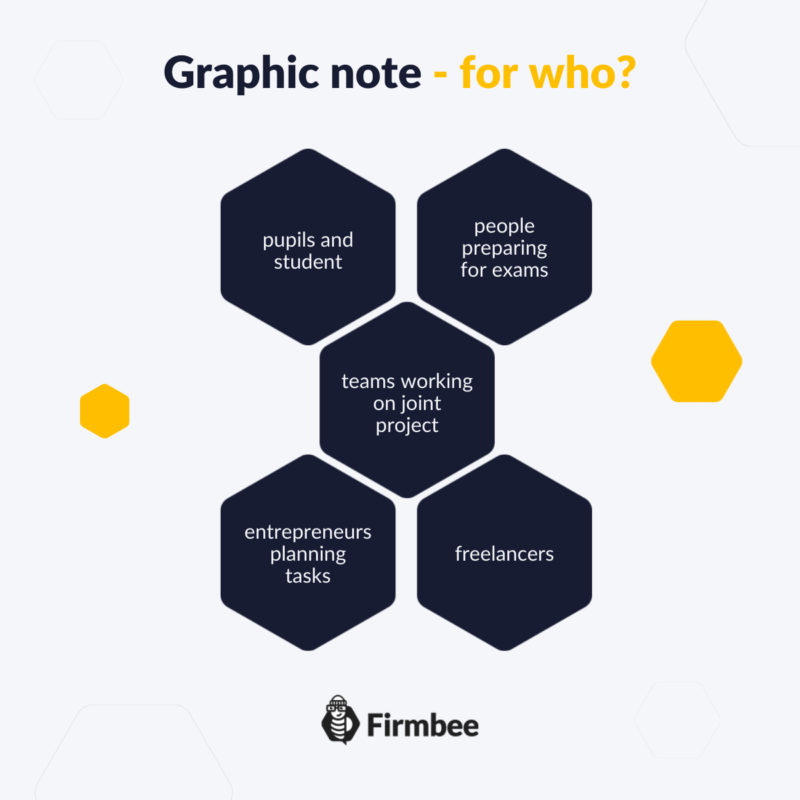 Free graphic note-taking software, which one is the best?
Decide for yourself. Here's the list of the top 14 apps for graphic note-taking:
Zoomnotes – an app to make notes online for free on your iPad/iPhone. The program helps you design sketches, handwritten notes and customize the style of the note.
Lucidchart – enables you to put down graphic concepts, design ideas and many other creative visual forms. The free version of the program lets you generate up to 3 editable documents.
Evernote – is a popular program for taking graphical notes. The software synchronizes notes across multiple devices. Evernote cuts out web pages, adds photos, images and graphics to text forms.
Bear – an application for devices with the iOS operating system. The program has the function of full support for images, so each note can vary by selected graphic elements.
Simplenote – is a multi-system note management software. The program has limited functionality for adding graphics and drawings, however, it is an extremely versatile application. We update automatically notes on all assigned devices.
Microsoft OneNote – enables you to hand-draw, sketch, and annotate selected shapes on the screen of Windows devices. Creating notes is extremely simple and intuitive – it does not require complicated mouse or stylus movements. The free version lasts for 30 days, after which time the free period expires.
Google Keep – a simple note-taking site from Google to initiate text, graphic and audio notes. Google Keep is available from the browser, but also as an app for mobile devices.
Zoho Notebook – described as the most beautiful application for creating modern notes. The software enables sketching, implementation of photos, audio files and other additional forms, increasing the clarity of the text.
Noteplan 3 – software that combines the functions of a notepad, calendar and organizer. With Noteplan 3 you can make notes (including graphic ones) and combine them into network links. A significant advantage of the application is the seamless synchronization between devices on which you write notes.
Squid – a program to set up varied notes with additional graphic embellishments. You can export the finished file can to .pdf, .png or .jpeg format. The software gives you a chance to set up a virtual whiteboard and also to share notes in real-time in the form of a multimedia presentation.
Keep My Notes – a purposeful notebook for mobile devices with an Android system. It allows you to fully create notes in offline mode. The user can also protect the created documents with a password. The program has a function to add picture attachments and change text color and background themes.
Noteshelf – designed for digital creation of graphic notes. You can attach sounds, PDF files, photos and self-drawn shapes in the editor. The application can add annotations in the form of clear underlining, highlighting and other graphic text highlighting.
Joplin – an open-source application for creating documents. It features designing multimedia notes containing diagrams, mathematical expressions, photos and videos.
ColorNote – a simple online notepad that to devise aesthetically pleasing lists, write timetables or highlight things to do. The advantage of the program is its colorful, distinctive interface that helps you separate the different parts of your notes.
Read also: Why do you need a time blocking app? Top 8 apps in 2021 Do you like our content? Join our Facebook and Twitter community!

Author: Caroline Becker

As a Project Manager, Caroline is an expert in finding new methods to design the best workflows and optimize processes. Her organizational skills and ability to work under time pressure make her the best person to turn complicated projects into reality.

The most important questions

What is a graphic note?

It's a note that is either in the form of a graphic or supplemented with additional graphic elements to make the text easier to digest.

What are graphic notes for?

The message recipient or client will be able to see and visually understand the text. Graphic notes allow you to organize tasks, create useful lists, or sketch out ideas.

Why apply a graphic note-taking program?

Graphic note-taking applications are a way to save time. Manually creating tables, graphics and drawings take much more time than implementing ready-made objects in multimedia form.