Check out our 10 tips for effective remote networking. Remote work is connected with flexibility and versatility, but also with some limitations. Feelings of isolation, a strong need to socialize, and a lack of motivation – these are some of the challenges that remote employees need to grapple with.
Remote networking – table of contents:
Embrace social media
Social networking sites are the most important tool to build relationships and expand your contact list. LinkedIn, the world's largest professional network, brings together over 800 million users from all over the world. It is a perfect place to connect and present your skills. In order to use its potential, make sure that your LinkedIn page is clear and attractive. Why? Your profile is 21 times more likely to be viewed if you upload a photo.
Make professional connections
New relationships should be tailored to your specific job and passions. Remote work creates barriers for face-to-face conversations , which at the same time opens up completely different opportunities. How to find people with similar interests?
For this purpose, you need to use innovative solutions. LinkedIn has created a proprietary tool to identify the right people. LinkedIn Sales Navigator allows you to reach out to ideal employees and companies, which creates an opportunity for mutual business transactions.
Apply software tools
LinkedIn is just one example of several available means of virtual networking. To ensure that the whole process runs smoothly and efficiently, it is important to take care of technological conditions for professional and private communication between employees. Here is some software that will help you with it.
Slack
A multifunctional instant messenger that enables skillful dialogue and data exchange. Slack's popularity stems from its broad suite of features such as setting reminders, video conferencing, and screen sharing.
Basecamp
The app is a great option for setting and commenting on project activities. Basecamp offers creating clear and intuitive to-do lists, preparing automated check-in questions, as well as provides a video chat service and a special board for announcements.
Microsoft Teams
The software is dedicated to video conferencing, but its usability is much more extensive. Meeting participants are provided with various communication channels, integrations with many applications, quick task commands, and all this with the help of a simple mobile device.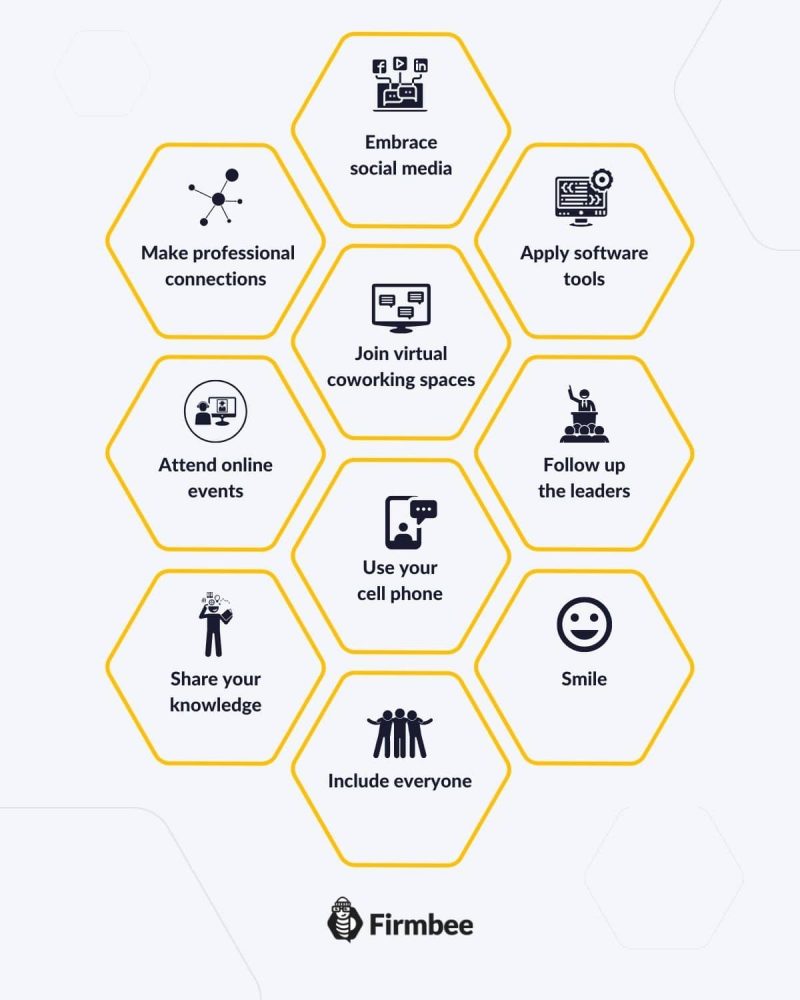 Join virtual coworking spaces
Co-working has moved into the digital world. A number of online portals where people come to work together prove it. Working in an atmosphere of community and solidarity prevents the risk of burnout, feelings of isolation and lack of motivation. Moreover, remote work allows you to interact in a multicultural environment. Such conditions inspire new ideas, initiatives and extremely interesting acquaintances.
A virtual space can be used by a complete team or single company departments. All staff members are located in one place, so the solution effectively imitates a traditional office.Digital co-working offers much more than a simple conference call.
Professional platforms provide support for employees in the form of webinars, meditation and coaching sessions. An interesting example of such a site is Remo. The software features a special e-office map that makes it easy to locate individual group members and join conversations intuitively.
Attend online events
Corporate events, business breakfasts, and job fairs are a great way to make fascinating connections. What if remote work makes it impossible to be physically present? Then, it is worth using online and teaching methods. All kinds of webinars, courses and trainings guarantee substantial benefits.
Participation in online events allows you to regularly improve your skills and increase your value as an employee. Another advantage is the opportunity to make new business relationships. Quite many events enable interaction between participants, and thus promote effective networking.
Follow up the leaders
Continuous development and acquiring new competences provide access to real specialists. Ambition and serious interest in the topic of training certainly won't escape the instructor's attention.
Contact with an expert can be a great opportunity for cooperation in a professional context, and even a chance to continue the relationship in a private life. Each workshop should be treated as an introduction to future, more advanced relationships.
Share your knowledge
Information is of no value if it is not properly used and implemented. A great way to practice networking is hosting internal webinars and online courses. Such a challenge generates enormous benefits for presenters. First of all, they position themselves as leaders in their field of expertise.
Company lecturers gain experience that can be later used during audits in external companies, which affects their status and income level. What is more, regular workshops help to strengthen bonds within the team, as well as to improve viewers' skills. Online courses can be also organized in relation to corporate events and remarkable achievements.
Use your cell phone
Remote work involves modern ways of contact such as intuitive instant messaging and email. They have a fundamental flaw, though. They are easy to ignore. Therefore, it might be a good idea to reach for a traditional cell phone. A real conversation can clarify any misunderstandings. The sound of human voice is an especially important factor as it desn't let you forget about natural characteristics of the person you're talking to.
Smile
Remember that every business is about people. Stress and tension can lead to unnecessary conflicts, so it is essential to release negative emotions. Virtual work tools are a great medium for funny messages, videos and jokes. Occasional games also reduce stress and allow employees to build stronger bonds.
Include everyone
Effective remote networking should involve the whole company. Taking a joint initiative that includes all staff members might be an interesting idea. The project can address professional issues or go beyond business.
Remote networking – summary
According to many statistics, the importance of remote networking should not be underestimated. Research conducted by LinkedIn reveals that for 80% of employees, remote networking has significantly contributed to the development of their professional careers.
If you are interested in remote networking, read also about remote work challenges for project managers.
If you like our content, join our busy bees community on Facebook, Twitter, LinkedIn, Instagram, YouTube.