One of the most popular and dynamically developing branches of marketing is event marketing. It deals with the organization of various events whose purpose is to fulfill the company's goals.There are several types of events, and one of them is a corporate event. What is it? How to organize it well? Read the article to find out more about corporate event planning.
Corporate event planning – table of contents:
What is a corporate event?
A corporate event is an event organized by a company for its employees, clients or business partners. Depending on who the event is addressed to, it may have various objectives. For instance, the purpose of an office party may be to reduce work-related stress, strengthen collaboration, improve employee relationships, and build a good team. On the other hand, the main goal of events organized for business partners is frequently the presentation of a new product.Organizing a corporate event is a complex project. In order to plan it well, you need to remember about a few things.
Define goals
The entire course of the event depends on its aims. The first thing to think about when organizing it is to define who it is for and what its goal is. This might be a brand promotion, making new business contacts, improving communication and increasing employee motivation. When defining your goals, it is helpful to ask yourself the following questions: Why am I organizing an event? What should participants make out of it and what should they remember? How exactly will I measure its success?
Think about a target group
When organizing a corporate event, we should always keep in mind who we are planning it for. Satisfaction of its attendees is key to your success. Think about their needs and expectations. Take them into account when choosing the right date, venue and attractions.
Choose time and place
Choosing the right time and place is also an important thing when it comes to corporate event planning. It is worth taking into consideration such elements as easy access to the event venue and adequately large space to fit the number of your quests. If the event is organized outdoors, remember about the weather and plan what to do when it suddenly changes. The date of your event should be adapted to the invited people. Check if it doesn't collide with other celebrations which might be a distraction for your quests.
Set a budget
The next step is to check what budget you have. Plan your expenses carefully and create a cost estimate. Think about whether it is worth cooperating with sponsors. Such a solution will reduce your costs, bring a significant added value to your event and make it even more attractive.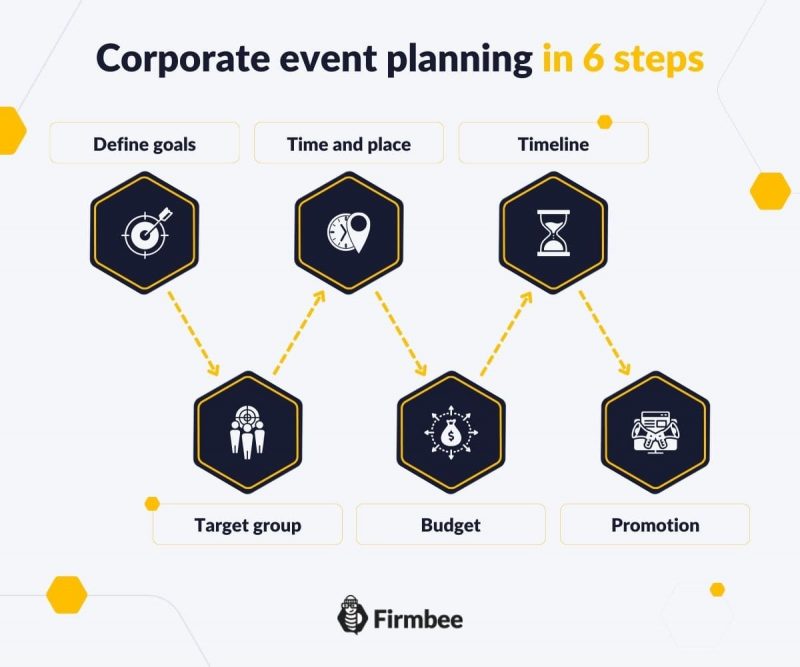 Create a timeline
Accurate planning of corporate events is key to their success. Prepare a detailed checklist that will allow you to keep everything under control. Keep in mind both the event timeline and things that should be organized in advance, e.g. visits to the venue, invoice payments and sending out invitations. A good idea is to you use a timeline maker to help you keep organized.
Promote your event
Attendees are the most important element of your event. After all, it is for them that you organize it. That's why you should devote some time to promoting it. There are many ways to inform your guests about it. You can send out invitations either by traditional post or e-mail. In order to encourage employees to participate in the event, take a more creative approach. A common practice is to send small gifts, i.e. gift boxes, along with the invitation. If your project has an open formula, create the event on Facebook. Thanks to this, the message will reach a large group of recipients. You should also remember to share information about the event on other social networking sites.
Corporate event planning – summary
Corporate event planning can get complex. It is a challenging task which requires a lot of work and dedication. However, there are software tools which can streamline this process. One of them is Firmbee.
With Firmbee you can easily plan every detail of your event. A kanban board will help you plan tasks and distribute them among your colleagues. Thanks to setting task statuses and exchanging comments you can stay up to date and check if work on the event is going forward.
Another useful feature that you will find in Firmbee is a contact database. Using it, you have access to all relevant data on event attendees. You can store them in one place, so nothing important escapes your attention.
If you like our content, join our busy bees community on Facebook, Linkedin and Twitter.