Managing employees is a juggling act. It requires mastering and multitasking plenty of skills, methods and know-hows to supervise workers and creative thriving conditions for their growth and development. One of them is workflow. What is it and how to benefit from it are matters we covered in today's article, so if that's what you were looking for search no more, relax and have a read!
Workflow – table of contents:
Workflow – the definition
What is a workflow? To put it simply, workflow is one of the ways to manage human resources. Managers delegate tasks to employees taking into account several predetermined guidelines.
Main principle of the system is to assume that an employee who is given a task to perform by a supervisor does not need to be "privy" to it. Knowledge of the essence of the task, its broader angle and bigger picture aren't the employee matters.
However, referring to the semantics of the phrase itself, "workflow" simply denotes activities that progress as in a stream. This is also, in essence, how it happens. Information flows between individual employees. Tasks are delegated to supervisors for completion as quickly as possible. By its principle, it's not the employees' responsibility to consider their importance. What matters is getting them done efficiently.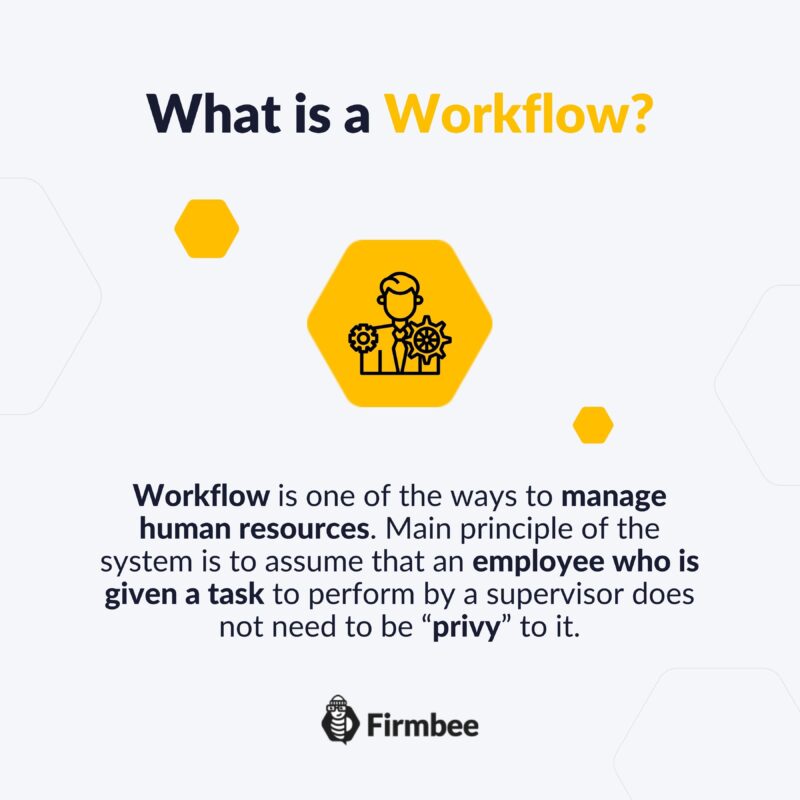 Workflow as automation of digital processes
By using workflow, you can develop certain automation not only in yourself but also throughout all your digital undertakings. Installing the right workflow software will ease the entire team to gain a smoother adherence to procedures and perhaps most importantly, proper communication.
The most important elements and stages of workflow
There are three most important elements relating to the workflow system:
A single defined task to accomplish,
Activity in the area of designed performance,
Transition, or the conditions to attain to switch smoothly from one activity to another.
How, on the other hand, do the stages look?
Deciding on the use of specific human resources
Finding distinctions specific to a project
Detailed division of responsibilities
Once the implementation of the system and training of the staff has taken place, you can confidently take up the consecutive responsibilities. Workflow software functions as a platform to provide individual team members with tasks to complete.
Workflow – reasons for using the method
Streamlining work is a particularly desirable process in today's world. The flow of information requires proper structure. In this way, it's a win-win, both superiors and subordinates will gain and targets get met much faster and more efficiently.
Check out Popular management styles.
If you want to stay in touch, join our Facebook community.