Why is the Great Resignation happening? The Great Resignation, also known as the Big Quit and the Great Reshuffle, is a phenomenon resulting from the Covid-19 pandemic. The novel coronavirus SARS-Cov-2 has contributed to one of the greatest global socioeconomic crises in recent years. It has not spared the labour market, which has undergone a total transformation during this period. The threat posed by the coronavirus and the introduction of lockdown forced employers to implement and organize remote work.
Great Resignation – table of contents:
What is the Great Resignation?
Nobody could have ever predicted the consequences of social isolation, remote work, and loneliness. The pandemic has negatively impacted people's sense of security and emotional connection. Many people have realized how thin a line between life and death is, and have reevaluated their current priorities. As a result, a phenomenon known as the Big Quit has appeared in the job market. What is it?
The Great Resignation is a term which was first used in 2021 by Anthony Klotz, a management professor at the Mays Business School in Texas, who found that the pandemic period combined with job burnout contributed to mass employee departures and resignations. The pandemic has caused a drastic change in lifestyle. The daily rituals of going to work, driving and picking up children to and from school, and waiting to spend quality time together have disappeared.
The boundary between private and professional lives has muddled, and all previous values and social norms have been disrupted. Looking for help, people began to make decisions about changing their lifestyles, starting with a change of employment.
The Big Resignation first took root in the United States, with 4.53 million Americans quitting their jobs in November 2021. In the United Kingdom, 4.4 million people left their jobs in September 2021. European Union countries have also seen recruitment and retention difficulties. Those who quit their jobs are most likely to change their career profile, start their own businesses or withdraw from the labor market.
Why is the Great Resignation happening?
Why is the Great Resignation happening? After the lockdown ended, employees were afraid to return to work. According to the recent study, some of them felt anxious about coming back to the office for health reasons, some preferred to work remotely, and others had to stay at home because of young children. The survey also shows that low pay and a lack of opportunities for growth were the top reasons why they quit their jobs.
In this difficult time, employees worked at full capacity and did their best. A lack of support combined with a significantly increased workload have largely contributed to the employee burnout. Moreover, limited opportunities for physical contact with more experienced employees have seriously slowed down the process of acquiring new skills, and disrupted the sense of belonging to the organization.
It is important to note that job burnout is not a new term, and has not appeared because of the pandemic. It is a serious psychological condition that can considerably affect your health. According to psychologists, the first symptoms of employee burnout are continuous fatigue and a lack of energy. People suffering from employee burnout lack motivation to do anything, and just do not care about what's going on around them. They feel emotionally drained and mentally exhausted.
Contemporary employees want to build meaningful careers. People who find no purpose in their work perform below their potential, are less productive, and are more likely to quit than those who work in purpose-driven companies.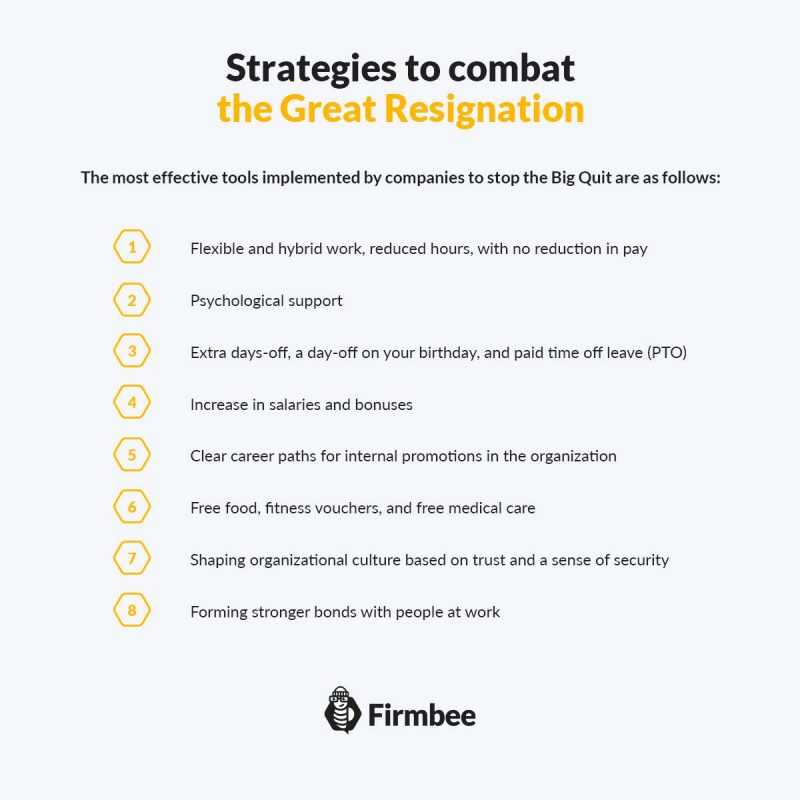 Tackling the biggest risks in the Great Resignation
A major threat associated with mass resignations is the increasing number of vacant positions. The process of recruiting and training employees to perform tasks in a new job is extremely costly. Several companies cannot afford such a large financial burden. The effect of high turnover is a deterioration in the quality of services, produced goods, problems with meeting deadlines, and consequently, a decline in income, a threat of bankruptcy and recession.
The Big Quit has weakened many industries, essentially hotel business, gastronomy, and retail. The effects of mass churn are felt most acutely by companies that don't have the possibility to reorganize their work systems to hybrid or remote work.
A survey conducted by Tessian, a US security firm, showed that the Great Resignation has also led to an increase in cyber security risks. The reason for this is that employees who change employment may take internal data and sensitive commercial information to a competitor company.
Strategies to combat the Great Resignation
In order to prevent employees from leaving their jobs in mass numbers, organizations should first thoroughly analyze the causes of such decisions. Companies acting in good faith, but taking shortcuts usually offer higher salaries or better perks without changing anything in the organizational culture and interpersonal relationships. As a consequence, employees feel treated as objects rather than subjects, which does not satisfy their need for a sense of belonging and does not change their decision to leave.
After a long time of the pandemic and isolation, people seek social contact and a sense of common identity. Although a higher salary may be an incentive to stay in the current job, employees first of all want better treatment and recognition by their superiors. The most effective strategies implemented by companies to stop the Big Quit are as follows:
flexible and hybrid work, reduced hours, with no reduction in pay,
psychological support,
extra days-off, a day-off on your birthday, and paid time off leave (PTO),
increase in salaries and bonuses,
clear career paths for internal promotions in the organization,
free food, fitness vouchers, and free medical care,
shaping organizational culture based on trust and a sense of security,
forming stronger bonds with people at work.
In order to improve employee retention in the organization, managament teams need to change the way they think, and take a new approach to problems employees have at work. They should thoroughly analyze their company's retention situation and implement an effective corrective action plan, choosing the right strategies and solutions.
Why is the Great Resignation happening? – summary
The Big Quit has primarily affected the labor market in the United States and the United Kingdom. However, the vision of mass resignations also hangs over Europe. The Great Resignation is mostly identified with a huge economic crisis, but it cannot be considered only in such terms. Some American researchers argue that the phenomenon has also its positive side. For example, entrepreneurs, in order to reduce turnover, are forced to provide decent wages and social facilities to their staff. This is an opportunity for regular employees to be noticed and to strengthen their position on the market.
If you like our content, join our busy bees community on Facebook, Twitter, LinkedIn, Instagram, YouTube, Pinterest.