Every organization – be it a smaller company, a medium-sized enterprise or a multinational corporation – is constantly striving to achieve the greatest possible efficiency. This becomes especially important in the current digital age when the competition is fierce. For this reason, entrepreneurs are looking for ways to streamline the company's day-to-day operations – one of which is to create workflows. Why is it so important for organizations to comprehensively design the way work moves from one person to another?
Workflow – table of contents:
What is a workflow?
Over the past few years, a workflow has become a kind of buzzword in the business world, which you often hear about (e.g. at job interviews), but don't necessarily see implemented in practice. Business workflows are repetitive procedures consisting of a series of tasks that must be performed routinely in a specific and consistent sequence. They can be designed to work for both an individual person and a group of dependent individuals.
Properly designed, they allow to perform cyclic and repetitive tasks. Such a procedure translates into more efficient work of the entire team, and consequently, better productivity and efficiency of the whole company, as well as a lower risk of making mistakes. Workflows also support cooperation between departments, speeding up the process of completing individual activities. What's important, the use of automated solutions provides greater control over the current status of tasks.
Why is it worthwhile to introduce workflows?
Properly structured workflows ensure that important processes are done the right way every time. They allow you to achieve a number of benefits that are important from a business perspective, such as:
speeding up the execution of tasks thanks to establishing standards to be adhered to in the course of work,
more efficient achievement of set goals thanks to the implementation of the management-by-objectives approach and more effective execution of tasks,
better communication in the team due to assigning specific role to each person (better understanding of the role in the team),
constant exchange of knowledge and information between individual employees
greater commitment to work due to increased responsibility,
better task performance due to the selection of the best people for specific activities, which consequently guarantees greater satisfaction of the end customer,
less risk of making a mistake through the use of task automation,
streamlining of ongoing processes and focus on important activities by detecting and eliminating redundancy (unnecessary activities),
continuous work to improve the product by ensuring that each subsequent workflow is better executed.
What's more, implementing a workflow provides employees with greater insight into individual business processes, allowing them to see the full picture and ensure that the tasks being performed let them achieve the expected goals. It also eliminates the problem with transparency when it comes to activities performed by individual departments. Meticulously documenting and sharing all the necessary information on a common platform is the easiest way to make work more efficient and minimize the risk of mistakes.

How to implement a workflow?
To implement a workflow in your organization, you can use solutions such as Firmbee to better manage your projects.
A well-planned workflow can take the form of a kanban with carefully selected project sections, tasks and task statuses.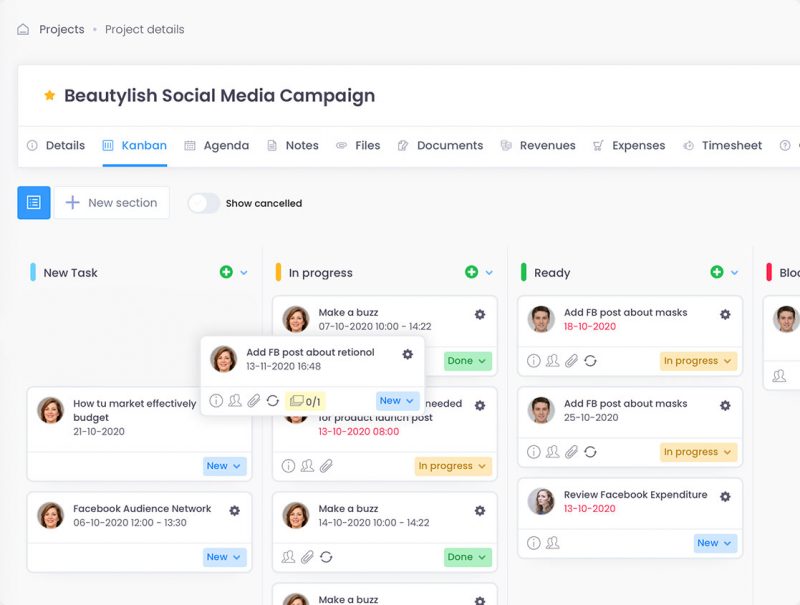 Source: kanban board from a free project management tool: www.firmbee.com
However, make sure that the option you choose is tailored to the needs of your business and your employees. Choosing the right workflow automation tool can be challenging at first, but making a good choice will allow you to see a number of benefits in the long run.
Summary
Automating the process of performing certain tasks will let you see significant changes in the work of employees and entire departments. In the long term, in turn, it will translate into achieving higher efficiency, which will consequently lead to increased opportunities for the company to grow, implement new solutions and build its innovation. So if you want to see considerable changes in the most important business processes in your company, consider creating workflows for your employees.
Read also: What is asynchronous communication?
If you like our content, join our busy bees community on Facebook, Twitter, LinkedIn, Instagram, YouTube, Pinterest, TikTok.