What is unlimited PTO (Paid Time Off)? It is an innovative approach to HR policies on annual leave. The number of vacation days is regulated by law in each country. The exception is the USA, where the law does not guarantee a paid leave. Leave policy remains the employer's responsibility. Therefore, most American companies resort to a modern tool, such as PTO, in order to build flexible rules of granting days off. This is one of the elements of HR management policy, which is not only aimed at attracting new employees, but also at retaining them in the organization. Read our article to find out more.
Unlimited PTO – table of contents:
What is unlimited PTO?
In the case of the USA, employees do not have a set number of paid days off. Instead, PTO offers the freedom to take an unlimited number of vacation days at times convenient to employees. For other countries, the PTO provides additional paid days off, with no limits, in addition to the leave guaranteed by law.
What is unlimited PTO? The idea is to trust employees who organize their own working time. If they complete all the planned activities for four days in a week, they can take the fifth day off. This day will be paid and will not reduce the pool of days off for their vacation leave. In practice, this means that if the employer is satisfied with the tasks performed by the employee, the days off are consulted with the entire team, and the employee's absence does not interfere with the normal operation of the organization, the employee can take full advantage of a flexible leave.
How PTO works
Each organization sets its own Unlimited Paid Time Off policy. It is crucial to understand its rules regarding the use of days off. Usually, a formal leave request from the employee and approval from the immediate supervisor is a necessary requirement. The undeniable advantage of PTO is that the number of extra days is not counted. All employees are eligible for an unlimited leave.
Also, using PTO does not mean resigning from extended periods of absence. However, it is essential to complete current and urgent tasks, and to communicate with your supervisor and your team. The workflow must not be disrupted during your absence.
It should be noted that you are still asking for time off, and it is not a request. When several employees schedule their time off simultaneously, some of them must resign from it. Free access to days off requires self-discipline and a responsible approach. PTO should be implemented so that the employee fully enjoys their time off, and the employer does not have to worry that the employee's absence will have a negative influence on the business.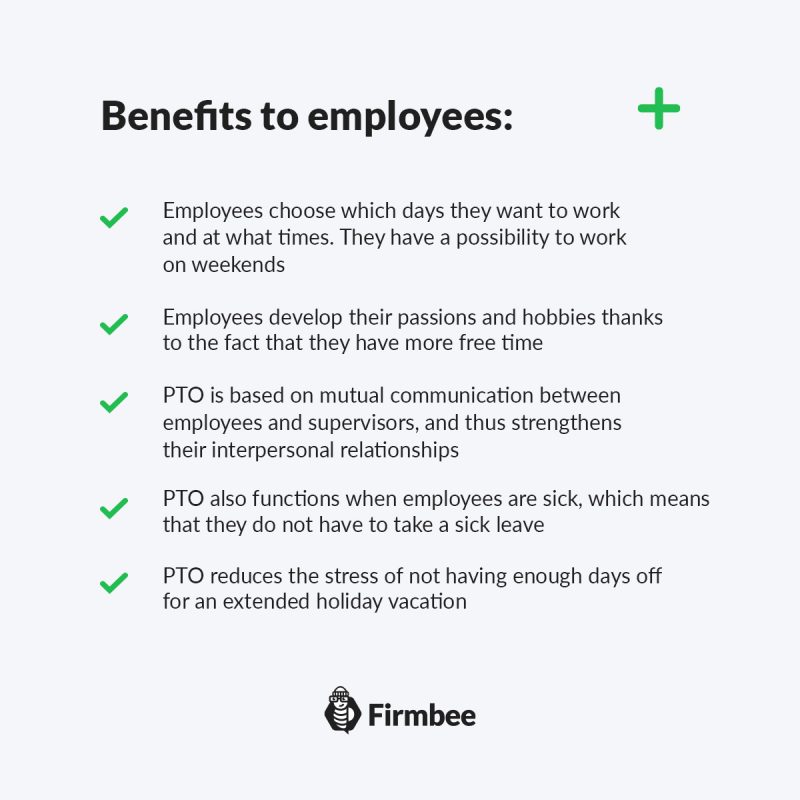 Benefits of PTO
Benefits of PTO to employees:
Employees choose which days they want to work and at what times. They have a possibility to work on weekends.
Employees develop their passions and hobbies thanks to the fact that they have more free time.
PTO is based on mutual communication between employees and supervisors, and thus strengthens their interpersonal relationships.
PTO also functions when employees are sick, which means that they do not have to take a sick leave.
PTO reduces the stress of not having enough days off for an extended holiday vacation.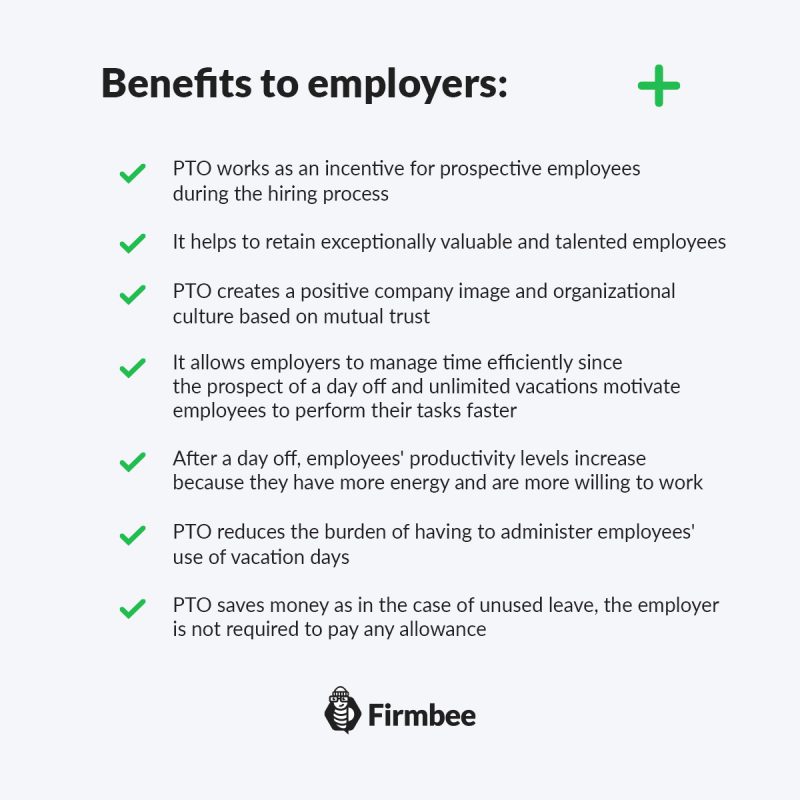 Benefits of PTO to employers:
PTO works as an incentive for prospective employees during the hiring process.
It helps to retain exceptionally valuable and talented employees.
PTO creates a positive company image and organizational culture based on mutual trust.
It allows employers to manage time efficiently since the prospect of a day off and unlimited vacations
motivate employees to perform their tasks faster.
After a day off, employees' productivity levels increase because they have more energy and are more willing to work.
PTO reduces the burden of having to administer employees' use of vacation days.
PTO saves money as in the case of unused leave, the employer is not required to pay any allowance.
Threats of PTO
Threats of PTO to employees:
Employees may fear that if they take, for example, three months of vacation a year, the employer may think that they do not have enough work and will overburden them with extra tasks.
PTO may cause conflicts between employees when days off are distributed unevenly, e.g., one employee uses 15 days, and another employee uses only 10 days.
If the workload is heavy, the employee may not be able to take any extra time off.
Threats of PTO to employers:
Employees may potentially overuse PTO.
Restrictions imposed by trade unions may have influence on the ineffective implementation of the PTO.
PTO limits the opportunity to use additional paid leave as a reward for loyalty and performance.
It impedes planning related to work schedules.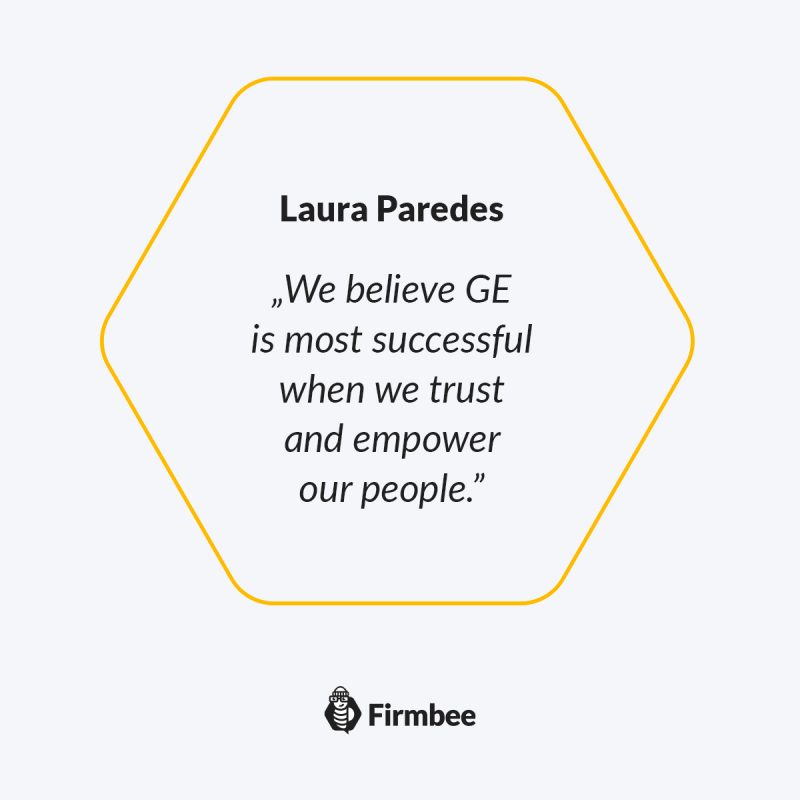 Examples of PTO policies
Flexible leave policies are already used by several companies. Most of them operate in the USA. However, European organizations have also started implementing this HR policy tool recently. The precursors in this field are:
General Electric, famous for its work in the power, renewable energy, aviation and healthcare industries."We believe GE is most successful when we trust and empower our people," says Laura Paredes, GE's Communications Director.
Netflix, an American subscription streaming service and production company. "Our culture of freedom and responsibility is centered on treating our employees as responsible adults," a Netflix's spokesperson says. "We do not track vacation or sick days and also do not track working hours."
Linkedin, an international social networking site specializing in professional and business contacts. "We believe DTO, along with our new July Fourth holiday break, will give our employees the ability to better meet their personal needs, which will then allow them to bring their best self to work," says Pat Wadors, Chief HR Officer.
Grant Thornton, a company offering tax consulting services. "Our flexible time-off policy is a part of a larger effort our firm is undertaking to put people first." admits Lou Ann Hutchinson, Grant Thornton's Managing Director.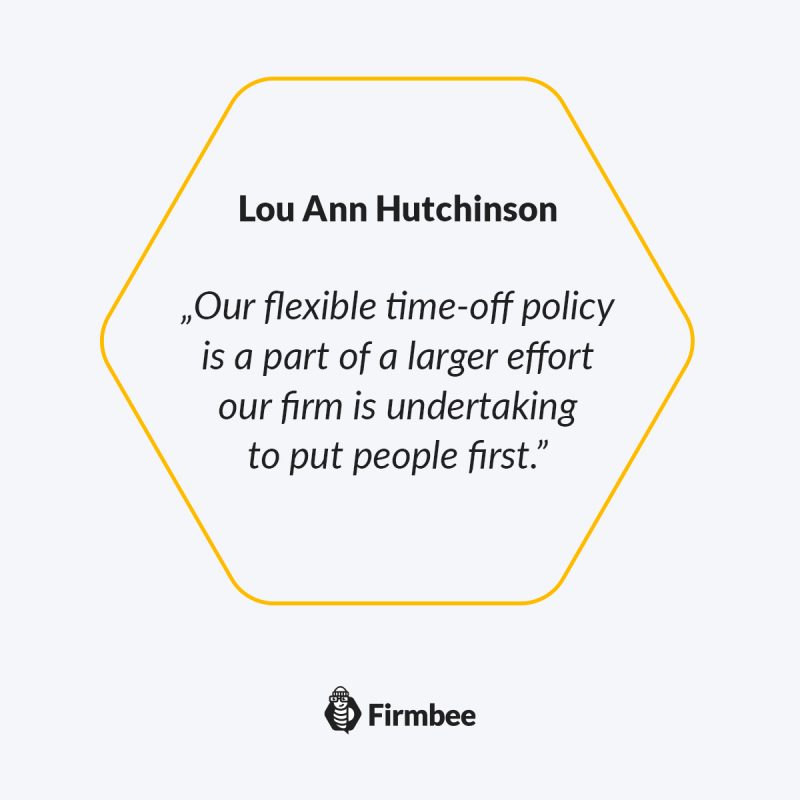 What is unlimited PTO? – summary
Acquiring and retaining valuable employees in the organization is a challenge for many modern companies. To this end, they offer decent salaries and a rich package of benefits such as gym membership cards. However, all this has been done before. In the era of globalization, contemporary employees expect special treatment, something that will be a super advantage for them.
Unlimited PTO is such a special benefit. It is a tool which builds trust towards employees, and contributes to greater employee involvement in task completion. PTO allows companies to recruit top talents, retain and motivate current employees, and improve their financial performance.
We've just answered the following question: What is unlimited PTO? Read also: What is employee termination?
If you like our content, join our busy bees community on Facebook, Twitter, LinkedIn, Instagram, YouTube.