Anyone who opens a small business has dozens of important decisions to make. Many focus on getting the first customers, a company website or choosing a form of taxation. These are important as well as necessary actions. However, when it comes to choosing invoicing software, it happens that the entrepreneur decides on the first available solution. This is not a good tactic. It is worth taking the time to pick the best online invoicing software. This will make invoicing simpler and give you more time to run your business.
Online invoicing software – table of contents:
Save time
There is the same amount of time at everyone's disposal – 24 hours a day. But it's up to you how you use it. Running even a small business is an all-consuming activity. Therefore, you need to manage your time well.
In the first place, go for those activities that will bring you the most benefit. Of course, you can delegate some of the tasks, but in the case of a small business, you may not yet have the resources to do so. In such cases, some jobs will have to remain in-house. What is worth doing with your efforts?
One such task is invoicing. Accounting specialists usually charge quite a lot for their services. Meanwhile, this is a process that you can successfully do completely on your own. Choosing a good online invoicing software will certainly save you time and resources.
Choose simple solutions
Probably no one likes to wade through the maze of functions just to issue an invoice. That's why you should opt for online invoicing software that is hassle-free to use. Issuing an invoice should be as simple as possible. A few clicks should be enough to create a document that contains all the necessary elements.
A feature that is useful for small businesses is automatic invoice numbering. In this case, you don't have to worry about correct numbering, because the software automatically assigns consecutive numbers to the invoices. It is best to choose software that does not limit the user to one type of numbering. In the best applications, if necessary, you can easily add successive series of invoices, thus avoiding mistakes.
Another convenience that will work well for small businesses concerns prompt with tax rates that apply in your country. If you have customers in different countries, a helpful option is the ability to select the currency in which the invoice will be issued. And if you are in the habit of giving your customers a discount, it should be possible to do so either as a percentage or as a specific amount.

Opt for automation
Small businesses often issue many recurring invoices. Manually issuing such documents can take a lot of time. It's also easy to make a mistake. The solution to these problems is automation. It will work especially well if you issue recurring invoices.
Just select the day on which you want to issue such a document and enter the necessary data, such as item description, price, payment method as well as deadlines. The program will do the rest for you. At the same time, it does not matter with what frequency you issue such invoices. It could just as well be weekly, as well as monthly or quarterly.
Once you enter the data into the program, it automatically issues subsequent invoices for the chosen dates. This saves a considerable amount of time. But that's not all. Automation altogether reduces invoicing costs by up to 29%.
The benefits of the Firmbee Free Invoicing App
Finding the best online invoicing software for small businesses can get tricky. That's why it's worth exploring the main advantages of the Firmbee Free Invoicing App. It is software that functions in the cloud. As a result, you can use it anywhere – not only in the office, but also at the client's place, and even on the go. All you need is access to the Internet.
Single projects are common in small businesses. Firmbee is bundled with a free project management system. This makes it easy to invoice project costs. A database of contractors is also available, which makes invoicing easy. You only need to enter customer data once to use later when issuing documents.
You can easily send issued invoices by e-mail not only to the recipient. You can share such an invoice with other members of your team, both with the option to edit the document and disable it for reading. This way you can easily delegate invoicing tasks.
Another useful feature is the ability to copy invoices, so you can quickly issue a similar document. Just edit the data on the invoice and you already have a brand-new file for the same recipient. This saves a lot of time.
With this application, you gain easy-to-use tracking of payment statuses from customers. This will make it easier for you to reconcile invoices because you know which documents to focus on first. For those whose due date has already passed, the app displays the payment date specified on the invoice in a red box. The benefit for customers is that they can split their payments into installments, and you can monitor the status of such payments. The option to periodically send reminders to pay invoices is also quite an advantage.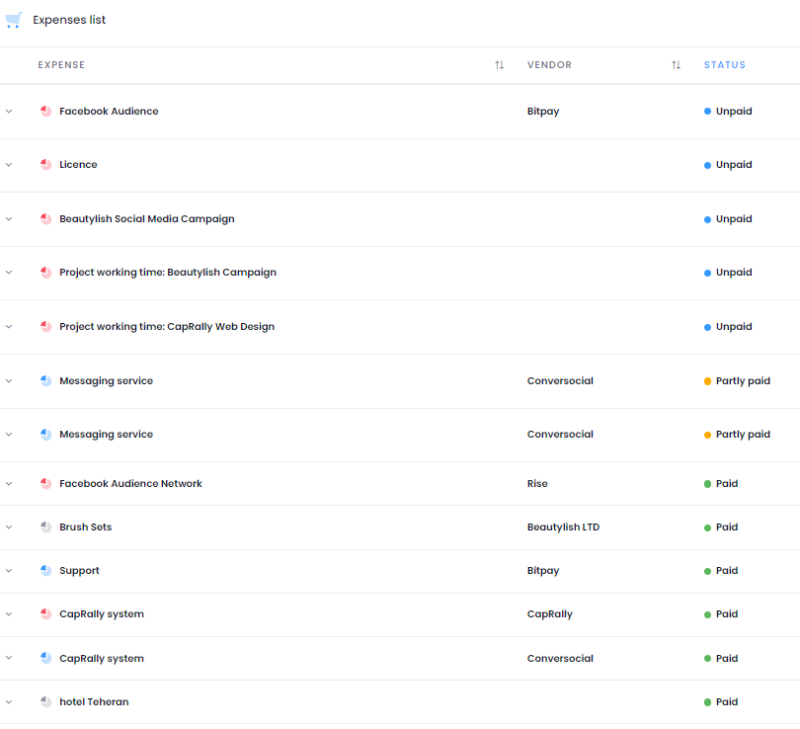 Simplicity, which is the hallmark of the Firmbee Free Invoicing App, does not mean that the app is feature-poor. On the contrary, it customizes to meet the individual needs that small businesses have. You can also take advantage of recorded tutorials that will bring you closer to the various functions of this application.
If you like our content, join our busy bees community on Facebook, Twitter, LinkedIn, Instagram, YouTube, Pinterest.