Large and medium companies with a dedicated HR department, apart from hiring HR specialists also employ HR analysts. If the organization bases its HR management on the HRIS platform then an analyst is desirable. Such an analyst is a source of processed information that is used to optimize processes and achieve the company's HR goals. What is an HRIS analyst? Read our article and find out more about the role.
What is an HRIS analyst? – table of contents:
What is an HRIS analyst?
An HRIS analyst deals with the use of information collected by the system and the analysis of performance indicators, in order to improve people management processes and increase work efficiency. This requires certain predispositions and skills. Therefore, not every employee can become an analyst. Apart from interpersonal skills, an analyst must be able to think analytically, synthesize data and draw conclusions.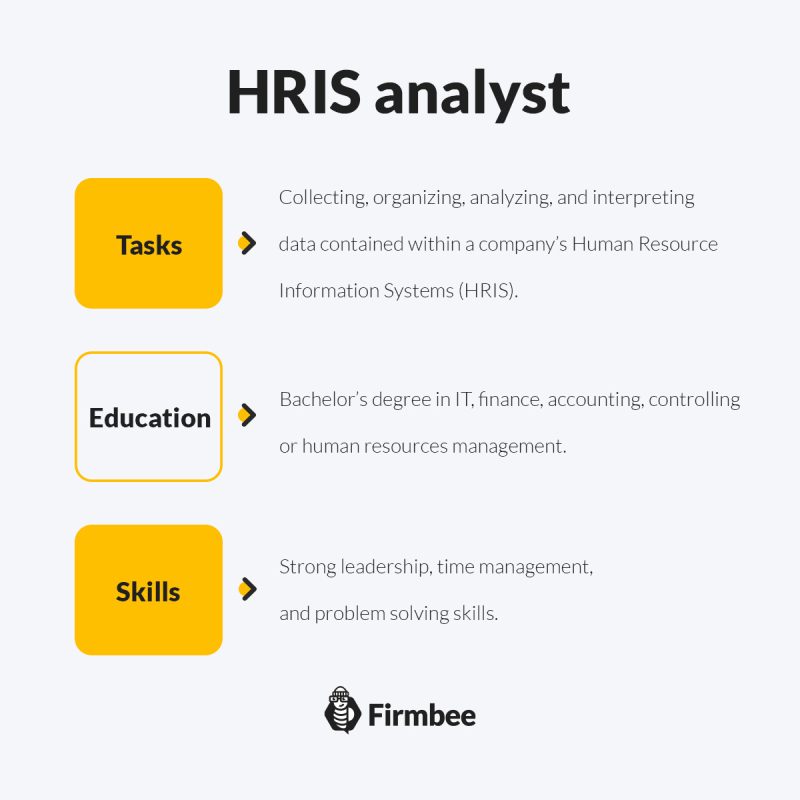 Requirements
When it comes to education, graduates in finance, accounting, controlling or human resources management are usually preferred for this position. Experience in working with an HR information system (HRIS) or a similar system, a working knowledge of MS Excel, the ability to work on large data sets, the ability to prepare analyses, reports and PowerPoint presentations, knowledge of the basics of management and financial accounting and labor law are indispensable.
As for the soft skills, in turn, the most important are accuracy, meticulousness, multitasking, creativity, planning and time management. What is more, an HRIS analyst should be resistant to stress, have the ability to work under pressure and deal with difficult situations. Taking into account that HRIS analysts need to collaborate with various departments, it's essential for them to have high interpersonal and presentation skills. HR is a dynamic industry so all HRIS analysts must regularly update the HRIS database, follow trends and improve their competencies.
Responsibilities
As mentioned earlier, the competencies and experience of HRIS analysts are quite complex and require a wide range of skills, which are necessary to perform such duties as:
gathering data on positions and employees,
creating periodic HR reports and analysis,
developing labor standards and norms based on analysis of historical data,
studying and describing relationships inside and outside the organization,
analyzing and monitoring key performance indicators and linking them to the motivation system,
developing remuneration and bonus policies,
participating in budgeting, forecasting and controlling salary costs,
monitoring trends and market standards and good practices when it comes to remuneration, financial and non-financial bonuses,
supporting other HR units in the use of the HRIS platform and other administrative tasks.

Job brief
An HRIS analyst not only changes the field of HR management, but also improves the efficiency of HR decisions, checks the effectiveness of carried out tasks, and shifts the burden of HR activities from operational to tactical with strategic importance for the organization. An HRIS analyst not only focuses on the collection and analysis of historical data, but above all processes information of primary importance.
Thanks to the HRIS platform, an HRIS analyst combines data from different HR areas, e.g., shows how financial performance analysis can be translated into task engagement of individual organizational units or work teams. What is more, data analysis makes it possible to predict future decisions when it comes to hiring and staff turnover.
A good analyst can identify which newly hired employees will perform at a high level within two years, and which of them will leave the job. With such information, it is easy to change existing recruitment, selection and adaptation procedures to ones that are more effective and will enable the organization to achieve its key goals.
What is an HRIS analyst – summary
In order to maximize the efficiency of the HR department, it is important to build cooperation between professional HRIS analysts and people management specialists so that they do not compete with each other, but complement and support each other in the performed tasks.
HRIS analysts in the human resource management structure are important not only because they describe and control personnel activities, but also decrease deviations from the norm, errors and irregularities. This, in turn, allows companies to implement effective corrective actions and establish opportunities for further development.
Read also: What is HRIS?
If you like our content, join our busy bees community on Facebook, Twitter, LinkedIn, Instagram, YouTube, Pinterest.