Any user familiar with Amazon's offerings may have heard of Amazon FBA. In this article, we will take a closer look at this program, what costs it generates, and what benefits a seller can look forward to. We will also present another way to deliver goods to customers.
What is Amazon FBA – table of contents:
How to deliver products on Amazon?
Delivery of goods, purchased by a customer on Amazon, can be done in two ways:
The seller can ship the product themselves
Using the FBA program
The first option is suitable for people who: have their own logistics network, sell dangerous goods (eligible for sale on the platform but not meeting the FBA program requirements) or seasonal products that would contribute to excessive storage fees. By using this form of delivery, the seller can count on easy access to inventory, has the ability to use their labels and packaging, and sells at a lower margin.
The choice of whether the seller ships the product themselves or through the FBA program can be determined at the offer stage. All you need to do is to go to "Inventory"→ "Add Product", fill in the product details and in the "Fulfilment Channel" section select the appropriate option.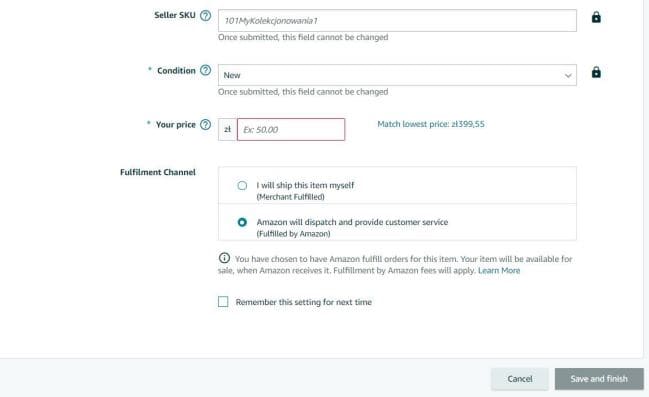 At any time, you can switch from shipping products yourself to the FBA system. To do this, go to "Inventory" → "Manage Inventory". → "Manage Inventory", then select the appropriate product(s) and click "Edit" → "Change to [Fulfillment by Amazon]".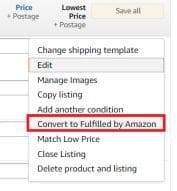 Fulfilment by Amazon (FBA) program
Fulfilment by Amazon is a program that offers to ship products to customers on behalf of the seller. The service provides storage of the assortment, packaging and delivery to the buyer's hands. This is a big convenience for the seller, as he doesn't have to worry about storage and logistics, or handling returns and complaints. Instead, it is the seller's responsibility to ship the products to one of 175 available fulfillment centers.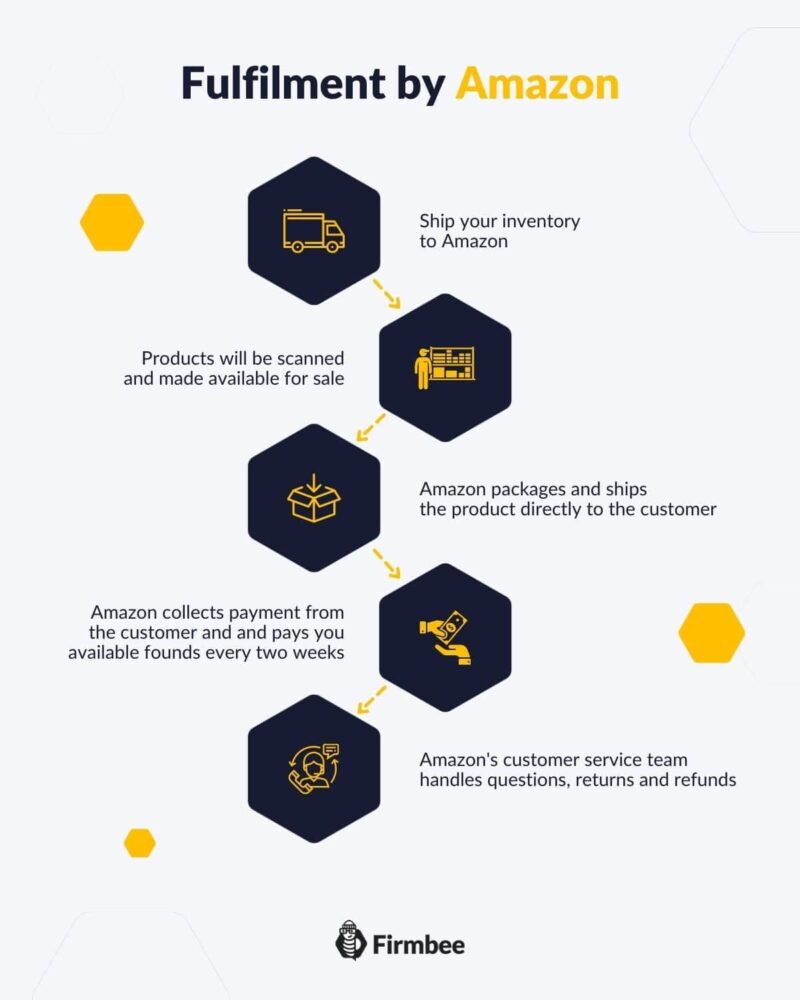 Vendors using the FBA program can manage their listings at any time. These capabilities are accessed via the path "Inventory" → "Manage FBA Inventory".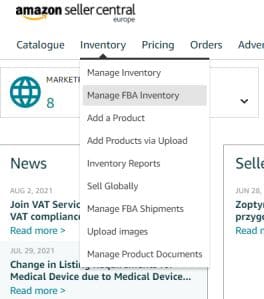 Why use Amazon FBA?
Using the FBA program, offers vendors many benefits. Among them are:
International sales – a seller can have one account and still sell their products to customers throughout the EU,
Increased sales – FBA increases the visibility of your offer, which will make it more competitive,
Selling even when the seller is not present – sales can be made automatically even when the seller is on vacation,
24/7 customer support – Amazon provides customer support 24/7, every day and additionally offers contact in the local language,
Additional benefits – such as, gift wrapping of products and same-day shipping.
How do I send inventory to Amazon?
Sending inventory to Amazon is possible by creating a shipping plan and then packing the products and sending them to a particular logistics center. This location is determined by the platform, which takes into account the shortest possible distance from customers. There are four ways to create shipments: Send to Amazon, Send/Replenish Inventory, Shipping Plan File Upload Tool, and Amazon Marketplace Web Service (Amazon MWS).

Amazon FBA rules and requirements
Not only are there benefits to the FBA program, but there are also certain rules and requirements that apply to vendors who opt for the program. The main rules include:
Customer Returns – Returns of goods from customers are handled by Amazon staff. At the logistics center, the condition of the returned product is assessed and a decision is made as to whether it is suitable for resale. If it turns out to be defective/damaged, then the procedure begins to determine who is responsible (the customer or Amazon) and whether the seller is entitled to a refund,
Reimbursement for lost/damaged inventory – in a situation where the carrier loses/damages the inventory shipped to the center (or to the customer), then Amazon can replace the product in question, with another of the same logistics network SKU, or reimburse the amount of estimated revenue from the sale of such product (deducting the applicable VAT rate).
The FBA program also comes with certain requirements:
FBA product restrictions – Some products can be sold on Amazon, but are not suitable for FBA. A detailed list is available on the platform's website following this link. For beverages and food products, their minimum expiration date must exceed 90 days.
Requirements that apply to inventory – include how to list, prepare inventory, label, package and ship. All requirements are outlined at this link.
Costs associated with FBA
FBA-related costs are divided into standard fees (for storage and fulfillment) and occasional fees (such as for a removal order or long-term storage).
Costs related to warehousing are charged based on the month used, cubic meters of warehouse space, and the country in which the logistics center is located. Amazon charges an additional long-term storage fee for each time inventory is held for more than 365 days.

The fulfillment fee is a flat fee per unit that is calculated based on its weight and dimensions. The exact cost table can be found below.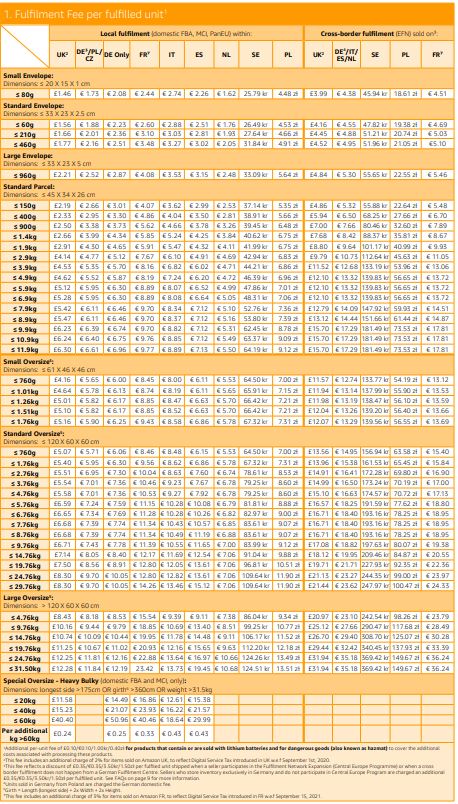 Additional service fees include e.g. local and cross-border returns, disposal. Price varies by zone:
Zone 1 includes the countries: Austria, Belgium, Czech Republic, Germany, Spain, Denmark, United Kingdom, Italy, Ireland, Netherlands, Luxembourg, Romania, Portugal, Poland,
Zone 2 includes the following countries: Estonia, Finland, Cyprus, Bulgaria, Hungary, Greece, Latvia, Slovakia, Sweden, Slovenia, Malta, Lithuania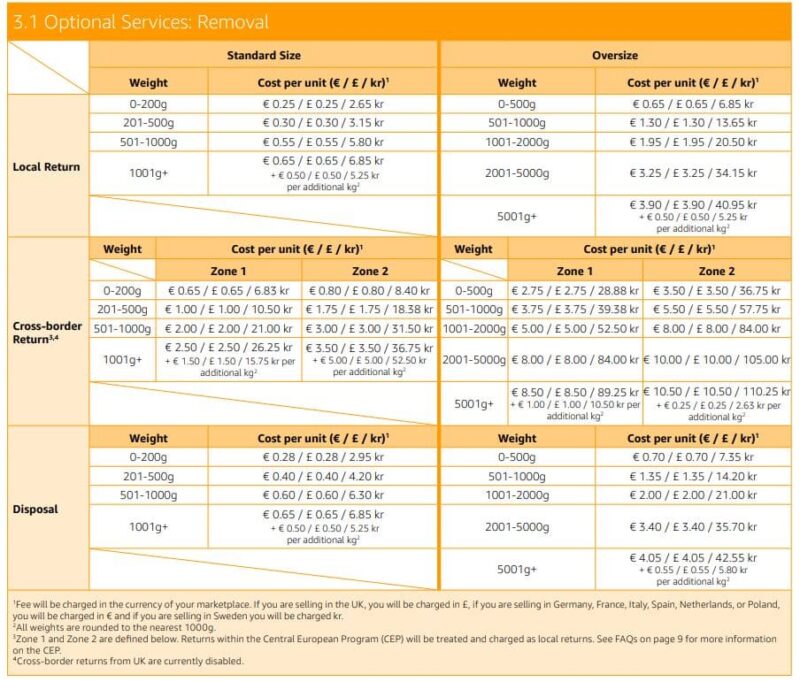 Shipping Small and Light
Small and Light is a program specifically designed for small and light products that are fast moving. It offers lower fulfillment costs, free shipping to Prime customers and inspires greater confidence. Products eligible for the program are:
equal to or less than 225g,
equal to or smaller than 33 x 23 x 5 cm,
with a value equal to or less than £9.
The fees for such shipments are presented in the table below.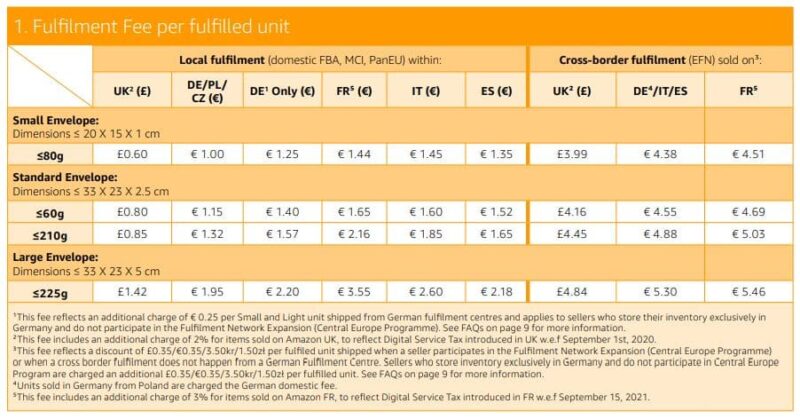 Selling on Amazon using FBA brings with it many benefits but also responsibilities. By learning the rules and requirements you can safely start selling with this platform.
Read our previous Amazon article: How much does it cost to sell on Amazon
If you like our content, join our busy bees community on Facebook and Twitter!