Online shoppers are getting more and more picky, demanding and impatient every year. According to Adobe, as many as 38% of them will abandon a website if they find it unattractive. Companies cannot afford it and are investing more and more resources in creating clean and easy-to-navigate websites so that customer journey is coherent and intuitive. So what determines sales in e-commerce? How to do it? Check out our hints.
Customer journey – table of contents:
Online shops very often operate on the lowest margins and cannot lower them indefinitely. The consumer's attention has to be drawn to something else, and that is the user experience (UX). UX is everything a user experiences while using a given product, system or service, and it is these emotions that influence whether he or she wants to return to a shop.
Sales in e-commerce – what is the shopping experience?
The development of new technologies has created many new points of interaction between the buyer and the brand. An advertisement on TV, radio, in a search engine, an advertising mailing or a post on Facebook are the so-called contact points that may constitute a starting point for the purchasing process. At subsequent stages, however, it may proceed on other platforms. A user may move from a mobile device to a computer, or from Facebook to a sales page.
It's crucial to understand that customer journey doesn't have to start on the store page.
It is important to generate interest well beforehand. Once this is successful, the user will begin the process of narrowing down the options, determining if the product best fits their expectations and capabilities.
Brands can help him or her decide by providing more content that can address their concerns, establishing market-based pricing, and even more precisely, providing a seamless online and offline experience. In fact, a large proportion of mobile apps users while shopping in stationery stores to check discounts, compare prices and take advantage of loyalty programs.
Shopping experience thus encompasses all of a person's interactions with a brand and can be measured, for example, by assessing the likelihood of continued use and recommendation to others.
Customer journey- how to design it?
When optimizing a customer journey to purchase, our short-term goal is to make the transaction close, but the overarching goal is to make them come back. The moment that can make or break a long-term relationship with a customer is therefore the after-sales service, which includes the delivery of goods and the returns and complaints policy.
From a user's perspective, the entire e-commerce shopping cycle can be encapsulated in 6 stages:
To become aware of the need.
Interest in a given brand, product.
Consideration of purchase.
Making a purchase decision.
Purchase.
After-sales activities – recommending a product, seeking additional information.
Marketing activities should be tailored to each of them. At stage one, advertising (both in traditional channels and online), positioning, i.e. presence in the top positions in Google for given phrases, and social media activities work well.
Moreover, when customers get interested in your product, you need to sustain their attention. To do this, you need to provide information that will reassure them that your product will meet expected needs. Here you can use ratings, reviews, sponsored articles, reviews, etc.
When the customer decides to buy, you have to convince him or her to make it on your website. In order not to lose this opportunity, you have to take care of an appropriate presentation of the product on the website (descriptions, photos, videos), but also adjust the price policy and the return and complaint policy, as well as state attractive discounts and delivery options. Once the product is in the user's basket, you "only" have to make the customer pay for it. And here there is no room for error. The process has to be simple and transparent, and at no point can the user wonder what they should do or where they have ended up.
However, once the transaction is finalized, the process hasn't finished yet. Yes, whether the product is returned (the customer has 14 days to decide) or not, doesn't depend on you, but how you handle the return does. And this largely rests upon the customer to decide to visit your store during future purchases.
What UX mistakes are most likely to discourage customers?
You should avoid the following common mistakes that disrupt the buying process:
1. No mobile version of the website
In 2019, over 60% of transactions in the fashion sector were completed from a mobile device. And while the statistics should indicate that a mobile first approach is the only right one (rather than fitting desktop views to smaller screens), it's still not the norm.
2. Forms that are too long
Multiplying the number of fields a customer has to fill in with data is tempting because it's knowledge at a premium, but customers simply don't like it. What's more, after the introduction of RODO, these are not allowed practices either. Don't require more data than is necessary to complete the order.
3. It is not possible to place an order without registration
Yes, logging in may suggest that the user is going to buy something from your store again, but first of all, it is not an ironclad rule, and secondly – it certainly should not be an obstacle on the way to purchase.
4. Few payment options
Users' payment preferences vary from country to country, so it's worth doing some research, but in general, there should be no shortage of payments via bank transfer (traditional and fast), credit card, and – of course – cash on delivery.
5. Lack of clear error indication and purchase progress bar
Point out to the user, e.g. in red, that he forgot to click "I accept the terms and conditions". When customers have to figure out what went wrong, they may get discouraged.
What best practices should you keep in mind when designing UX for e-commerce?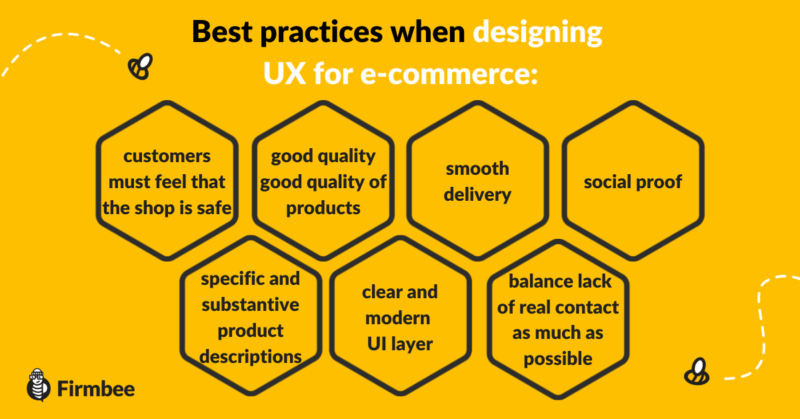 In e-commerce, brand trust is the basis of customer loyalty worth working for from the very first moment. Your new customers must feel that the shop is safe, the products are of good quality and the delivery is smooth. How to reassure them about that? First of all, by safeguarding that all the above aspects are true, and then – that other consumers have left their feedback.
So-called social proof, i.e. reviews and opinions of consumers, is priceless and shouldn't be missing either for individual products, or for your shop's brand. Of course, it is often difficult to get users to leave reviews, especially the positive ones, but that is why – in addition to a field that allows you to write a few sentences – it is possible to ask for "feedback" in the form of stars.
However, reviews cannot replace specific and substantive product descriptions. It is an absolute must-have in online shops, where you cannot touch and see the product with your own eyes. Description, photos (in abundance and on a model), and if possible a video, should balance this lack of real contact as much as possible. It's worth having a look at how the products are described by the greatest in the industry. For example, Zalando states how tall the model is and what size the clothes are in the picture.
The user cannot have any doubts concerning the shop's security and the standards of transactions. Therefore, the website cannot lack the HTTP protocol (symbolized by a padlock next to the web address), as a warning to Google is definitely a red flag, nor payment gateways, considered to be the safest.
The design or UI layer is also not without significance. Clear and modern immediately affects the positioning of the brand. There are many examples here and, although it is good to adapt them, you should also try to be unique so that the design becomes a part of your brand and its distinguishing feature.
Read here what to choose at the beggining – e-commerce or marketplace.
If you like the content we post, make sure you joined our Facebook community!