The human resources department is a very specific area of management, which bears great responsibility. It is the decisions of HR professionals that affect the development and success of the entire company or its stagnation. This is why the techniques used by HR administrators have to include efficiency, safety and versatility. In today's publication, we present a unique method that is based on pioneering data currency – data-driven strategy.
Data-driven strategy in HR – table of contents:
Neutral tool
A data-driven strategy is based on making key business decisions when the source is reliable information and facts. This approach allows full objectivity and eliminates guesswork, speculation and personal feelings.
It is worth noting that the described tactics are a long-term process of collecting, analyzing, studying and testing the obtained messages. It's the steady and focused mindset that will build a proven structure to obtain a lot of benefits.
The advantages of using Data-driven strategy
Organizations and businesses that adopt this standard gain many advantages. Being data-driven provides more accurate forecasts, which enables faster response to unexpected market changes, better adaptation to new circumstances, and effective mitigation of potential risks.
Making decisions on the basis of opinion and intuition runs the risk of including private biases and suggestions. It is the indifference of the acquired facts that is the greatest value, and then all actions that follow remain rational and logical.
The statistics are clear. The report prepared by Mckinsley Global Institute proves that the units which use the Data-Drive strategy increase the probability of acquiring a consumer by 23 times! But that's not all, as customer retention alone increases by a factor of 6 and company profitability by a factor of 19!
The awareness of operating on concrete figures increases the involvement of all participants in the process, regardless of responsibility, role and position in the company. In practice, each action is reinforced with proven parameters, which increases efficiency, as well as economic and budgetary optimization.
The Data-driven philosophy also applies to the human resources sector. Communication between employees triggers a whole new quality when the communication is supported by a very detailed concept. What's more, decisions supported by unambiguous messages are better perceived by members of individual departments. A clear and unambiguous company mission binds, increases morale, loyalty, improves cooperation together with satisfaction from the duties performed.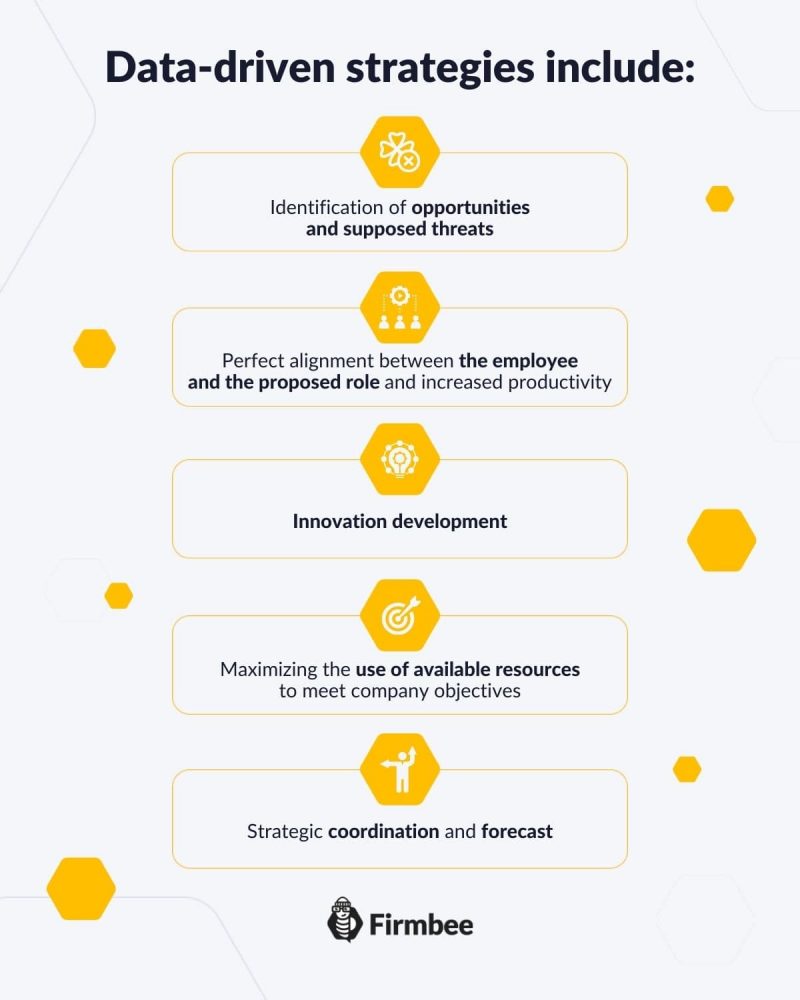 Data-driven strategy in HR
This is why the implementation of this strategy is an important tool for the HR professionals. This interesting instrument truly standardizes the following procedures, which allows for monitoring and immediate response.
Data-driven policies make it possible to realize adequate resolutions, but also to create special visualizations of potential business events and to verify their efficiency. Such activities lead to the completion of simulations under controlled conditions.
The human resources department thus activates the ability to design an efficient recruitment process, reduce turnover of current staff and create an attractive bonus system. This reveals a real impact on the involvement of a specific sector of the company, and consequently, results in an increase in sales.
The Gallup Institute notes that only 10% of employees surveyed view their company's integration process toward new talent as beneficial. The report is a great example of Data-driven's potential to control every stage of the hiring experience.
The use of relevant information brings knowledge about the willingness of specific individuals to take on new professional challenges, which is a huge advantage in the context of competing companies. Another source of valuable learning is understanding the mechanisms responsible for taking up activity in a given workplace, as well as the impulses that initiate resignation from further cooperation. In-depth knowledge and analysis of these impulses facilitate the interest of potential candidates, as well as the creation of excellent conditions for partnership.
Other advantages of Data-driven strategies include:
Identification of opportunities and supposed threats,
Perfectly align the employee with the proposed role and increase productivity,
Innovation development,
Maximizing the use of available resources to meet company objectives,
Strategic coordination and forecast.
Summary
Information and data are among the details that have a huge impact on the way business works, regardless of the industry or specialization. Human resource experts have a unique opportunity to use the Data-driven model to increase profitability and guarantee reputable working conditions.
Read also: Benefits of individual development plans
Do you like our content? Join our Facebook and Twitter community!