What are the types of HRIS software? Enterprises are increasingly using information systems to support work in many organizational areas. Computer systems are used for improving the flow of information and work, as well as the effective use and management of human resources. The pillar of any enterprise is the HR department, which supports all ongoing processes. Its main tasks include attracting employees, helping new employees adapt to a new environment, training staff, administering benefits, and retaining key talents. Effective staff management is only possible with continuous job monitoring, collecting information on employee performance, job satisfaction surveys, analysis, and reporting. A modern IT tool called HRIS – Human Resources Information System – can be used to efficiently carry out these processes. Read on.
4 types of HRIS software – table of contents:
What is HRIS?
One of the most popular information systems for managing human resources is the Human Resources Information System (HRIS). It is a complete set of tools, functions, and solutions for any company. The system functions based on a full-fledged database of employees and candidates, who can communicate with each other using popular instant messaging services, such as Slack.
The idea behind this system is to reduce bureaucracy and time associated with manual and often time-consuming work. The system offers full analytics, through worksheets, calculations, and reports located in one place. It also generates reports automatically, and the data is constantly updated.
The information in the system is confidential, and thanks to the possibility to define the roles of individual employees, the data is only available to the authorized. What is more, the system is a unique knowledge base. It includes a collection of documents, regulations, decisions, statements, contracts, and other documents in text, graphic, or video form.
Access can be configured for a department or a specific employee or position. All data from the database is sent to the cloud, making it possible to manage the system remotely. In addition, it is possible to access it from anywhere on earth and from any device with Internet access.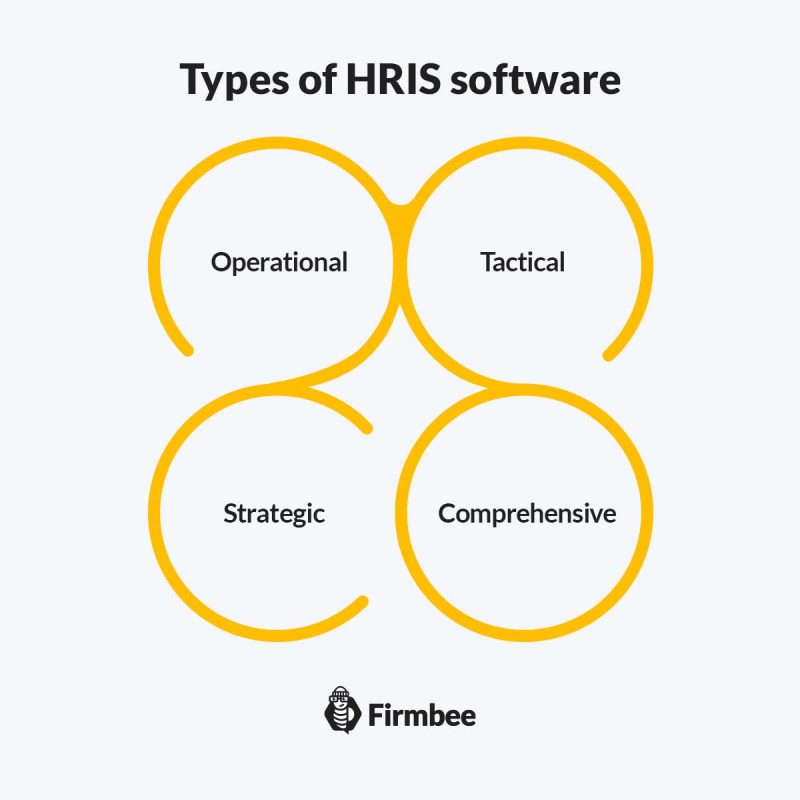 Types of HRIS software
There are four types of HRIS software:
Operational – dedicated to collecting human resource data and making personnel decisions, an employee database.
Tactical – enables decision-making in recruitment, job planning, professional development, incentive system and labor analysis.
Strategic – supports the key strategies of the organization, and provides the basis for key decisions and new projects based on the goals and mission of the organization. Provides information on human resources used in workforce planning.
Comprehensive – a complete and integrated system including a human resources module containing information about employees, recruitment, professional development, and employee experience.
Functions of HRIS
The basic function of HRIS is to securely store employee information such as sensitive personal data, documents, and certificates. To enhance security, the system monitors and records all data changes and the people who made them. Further functions are the following:
Acquisition of valuable employees and talents, by publishing job offers through various media, pre-selection and verification. In the case of new hires, HRIS supports onboarding by providing a knowledge base, training, and internal messaging.
A strategic element of efficient HR management is ongoing monitoring of job performance. The performance tracking application facilitates task analysis based on defined KRAs (key performance areas) to achieve desired KPI (key performance indicators) targets. The system helps to achieve organizational and team goals and controls employee performance.
Time and leave management, attendance monitoring, quick and easy entry of leave and sick leave, integration with the level of pay.
A knowledge base that can be used by all employees. They are authorized to view, change and update their data. They can check the amount of their salary, work performance achieved and submit various types of forms and applications.
The payroll module allows flawless calculation of remuneration based on actual working time, absences, and achieved results.

Benefits of HRIS
Supporting the management of human resources with the HRIS information system determines many measurable benefits for any organization. First of all, by automating HR processes, the efficiency of performed tasks is increased. Employees improve their knowledge and experience through efficient professional training.
HRIS significantly reduces bureaucracy thanks to several documents that are available online, without the need to print them. It eliminates inefficiencies caused by manual HR processes and prevents duplication of work while reducing workload and administrative costs. What is more, the available information, thanks to ongoing analysis and updates, is always consistent and without error.
Types of HRIS software – summary
Human Resources Information System is one of the most effective and modern tools supporting human resources management. It is fully secure and compatible with many mobile devices. It eliminates the risk of error, and the provided analyses cover a wide range of information. In a word, the automation of HR processes makes organizations more efficient and facilitates key decision-making. The system is dedicated to all companies, regardless of size, the scope of operations, and industry.
You've just read an article on the types of HRIS software. Read also: Types of NGOs.
If you like our content, join our busy bees community on Facebook, Twitter, LinkedIn, Instagram, YouTube, Pinterest.