Nowadays, on daily basis, we receive information about projects carried out by someone. However, very occasionally we hear about great entrepreneurial successes. A project is something more than just an idea – not to underestimate its importance, effective management is a way to put a scheme into measurable results. So, how to manage a project to achieve the intended purpose? Is it better to opt for traditional or agile project management?
Traditional or agile project management? – table of contents:
Traditional or agile – how do these project management methods differ?
Traditional project management
Traditional project management (also called cascade management) is oriented around the elements of certainty and sequentially. It is based on the implementation of successive, top-down planned steps in the implementation of a previously specified, clear objective.
This method does not allow for any understatements – the needs satisfied, the budget remaining at one's disposal, the time of realization – all this can be included in the framework of unambiguous data.
It is on their basis that the action plan is formulated, within the framework of which the consecutive stages of project management are included:
Analysis
Design
Implementation
Testing
Maintenance
Subsequent steps are implemented only after the activities in the previous stages have been completed. Its transparency, clearly formulated rules and appropriate documentation of their applications should lead to the achievement of the intended results.
Thus, traditional project management is a model safe in implementation, in which chaos is difficult to occur and which does not impose significant requirements on team members in terms of their competence.
On the other hand, it is a model resistant to change, very time- and cost-consuming and extremely formalized, and therefore difficult to apply in industries where change is an integral part of the business environment (IT, technology, fashion). Its examples are PRINCE2 and PMI/PMBOK.
Agile project management
Agile project management was created as an expression of the desire to adapt management methods to a dynamic business environment, in which uncertainty and adaptation to ongoing changes are inherent.
To this end, the idea of a structured management process with clearly defined and sequenced elements was abandoned in favor of guidelines such as:
Efficiency
Cooperation
Change-oriented attitude
The agile method rejects a linear view of the project process in favor of a multicentric one in which the final solution is composed of many other relatively independent solutions.
Small project units are much more flexible when circumstances force change. It is also their shape that defines the direction in which we are heading, and which is not shaped in a static way, as it has been in the case of traditional project management.
Agile project management allows you to work in real-time, without having to formalize every step taken. It also makes it possible to involve the whole team around the project, which works together and drives each other to create innovative solutions.
On the other hand, such organization of work requires significant discipline and coordination to focus the multitude of activities around priority directions. It is also a model impossible to implement in larger organizations that inevitably have to formalize the framework of their activities. It will also not work in the case of projects with a clearly defined objective, with little susceptibility to change. The examples of agile management models are AgilePM (DSDM) and Prince2Agile.
Traditional or agile? – differences in project management methods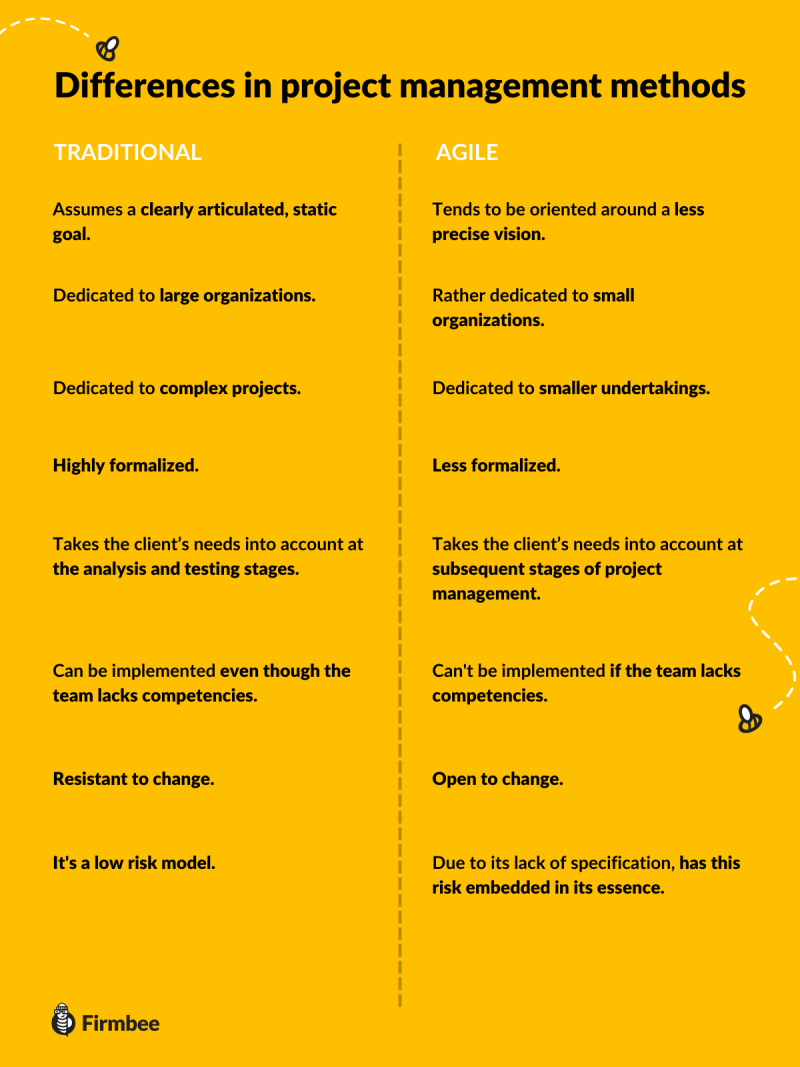 When considering which of the discussed project management models is more appropriate for a given organization, it is worth leaning into the key differences that can be seen between them:
Traditional management assumes a clearly articulated, static goal, while agile tends to be oriented around a less precise vision,
Traditional management model is dedicated to large organizations, while agile – to small teams,
Traditional management is dedicated to complex projects, while agile – to smaller undertakings,
Traditional management, as opposed to agile, is highly formalized,
The traditional model takes the client's needs into account at the analysis and testing stages, while the agile takes them into account at subsequent stages of project management,
Traditional management can be implemented even though the team lacks competencies, which would be impossible with agile,
Traditional management is resistant to change, unlike agile,
Traditional management is a low-risk model, while agile, due to its lack of specification, has this risk embedded in its essence.
You may also like our blog post about project milestones.
If you enjoy the content we publish, share a comment below and join our Facebook community. Let's stay in touch!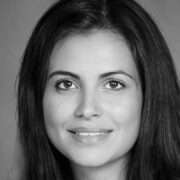 The most important questions
What is the traditional project management model?

It is a management model based on sequentially, certainty and a high degree of formalization, which boils down to a clear formulation of the objective and taking subsequent, pre-planned steps on the way to achieving it.

What is the agile model?

It is a model that places elements such as efficiency, collaboration, and a focus on change at its core.

Which project management model to choose?

It depends. If you operate in a stable environment, have specific knowledge of capital, costs and risks, work in a large team on a complex project – the traditional management model may be the right one. If, on the other hand, you work in a small team, in an innovative industry where change is an inherent part of reality, you should consider the agile model.