Times change, so do you still need to be an experienced graphic designer to create infographics, presentation templates, logos or graphics? Do you really need to spend hours over a painting to make it eye-catching and artistic? Or maybe free graphic software is enough? Without diminishing the experts in their profession, in this article we will try to introduce you to the essence of graphic design software available on websites with ready-made diagrams and templates that will help you get things done and bring the visual value of your or your company closer to your brand.
Free Graphic Design Software – table of contents:
Why graphic is so important?
A picture is worth a thousand words is popular phrase that point at our main sense of perception, vision. The way we perceive the current reality depends substantially on the visual input we are exposed to. This is because we've been spending our lives subject to the conscious and unconscious influence of photos, pictures, movies, games, apps and so forth. Also, companies and businesses have learned to put focus on enhancing visuals. This has created a market demand for graphic designers resulting in elevating the profession to a highly-paid and prestigious status.
What is the graphic design software used for?
Today's graphic programs give us a range of countless possibilities. Thanks to them, we are able not only to modify ready graphic products, but also to visualize our creativity.
Most of them have an option to edit both photos and videos. When editing photos we can, among other things, remove the red-eye effect, smooth out wrinkles, affect the overall color and sharpness. We can also modify the background elements, erase them or insert new ones.
These programs provide a plethora of tools to create various types of graphics that serve as a business card of the brand, helping you to maintain the consistency of visual communication, whether in posts on social media or printed forms.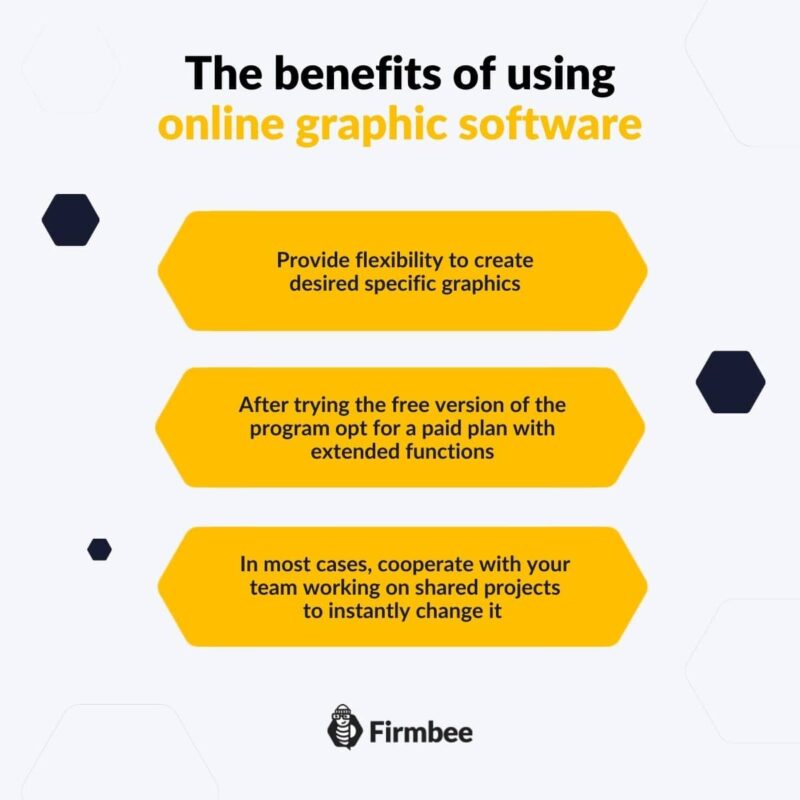 Top 5 Graphic Design Software in web browsers
We have selected some pleasant-to-use and easy-to-learn graphics programs available straight from web browsers. The advantage of these online programs is that they are free to all internet users. Here are some of our suggestions:
Canva

Is currently the most popular online graphics creation program. Its major asset is the ease and speed of use. It has many ready-made templates, interesting graphic elements and a wide bank of photos. Recently it has also been possible to create animated posts, but this option is available in Canvas paid version.

Snappa

The program is distinguished by a unique feature of connecting social media accounts and scheduling the publication of graphics in the editor. It also has a lot of compelling templates. If you are looking for a simple and easy graphics editor for social media, it is worth paying attention to – it can make the task easier.

Crello

This program has a ton of features and templates that will help you develop the look of your posts. It's possible to create not only logos but also create animations and video gifs in literally minutes. It is worth noting the lesser-known graphic templates with illustrations that can make your brand stand out from the rest.

Pixlr

Thanks to its advanced features, it enables you to edit photos and graphics in great detail. It is a very intuitive program supported by tools that use artificial intelligence. Its biggest merit is an option to open almost any format including PSD, PXD, JPEG, PNG and others.

Adobe Spark

Adobe may be associated with expensive software, but not its cousin, Adobe Spark. It's an intriguing exception, offering some free features of the company's creative suite. Its main purpose is to help you create content for social media, such as designing posts or banners.
All the above-mentioned online graphic programs are freeware. Of course, for a certain fee, it is possible to upgrade the programs to a fully-fledged version to broaden artistic perspectives and move to a higher level of graphic design.
The benefits of using online graphic software
Using graphic programs in browsers brings many benefits, mainly for people who are just starting their adventure with graphics and smaller companies or startups that do not have professional graphic designers on board. Thanks to such programs we can, among other things:
Provide flexibility to create desired specific graphics(logo, post, business card, etc.).
After trying the free version of the program opt for a paid plan with extended functions.
In most cases, cooperate with your team working on shared projects to instantly change it.
Check out our software and manage your graphic design projects:
If you want to stay in touch, join our Facebook community.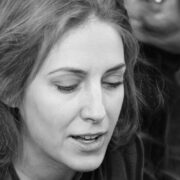 The most important questions
Who can use online graphic design programs?

Everyone. There is no limit to the use of the skills of such applications concerning current needs.

Are the listed programs free?

Yes, all the above programs come with free basic versions. However, if you want to use their full capabilities, you need to purchase a paid one.