We live in a time when it's easy to lose focus – there are so many distractions while studying, working or organizing our day. If you feel that your efficiency is decreasing, try our recommended applications – your productivity in personal and professional life will immediately increase. We have prepared a brief description of the capabilities of popular programs and 28 most interesting suggestions for increasing productivity.
Productivity apps – table of contents:
What apps provide productivity boosts?
Increasing productivity with dedicated apps means helping to manage time and complete daily tasks. Some programs also help monitor the level of focus among employees and, if necessary, suggest what changes to the work schedule are worth making. Thanks to such applications, your or your subordinates' productivity will increase, and performing duties will not take more time than it should.
Productivity apps are systems mainly tailored for mobile devices, whose task is to help us focus on the given activities that we have planned or want to plan. These applications are handy for everyone because they set to direct our path towards the best possible completion of a particular activity or task. In consequence, they improve our control over the time spent on duties, projects and all activities.
Productivity apps have several tools for efficient time management or scheduling various tasks with online plenaries. They aim to enhance our concentration, prevent us from putting off things of different status, or eliminate bad habits. Increasing productivity will help us in everyday life, where we are also not forced to plan many things, it is not an unnecessary element in everyone's life.
Who will benefit from productivity apps?
When it comes to productivity, dedicated apps are recommended to practically everyone. We all have different tasks to complete – some are related to professional matters, others to personal life. Regardless of the field, achieving goals efficiently is the key to conscious and effective time management. That's why new solutions in form of apps to boost productivity have sprung up in the market. Thanks to them, instead of wasting precious time on checking email or browsing the web, we will start completing tasks – effectively and programmatically. We have prepared for you a list of the top 28 productivity apps in 2022/2023.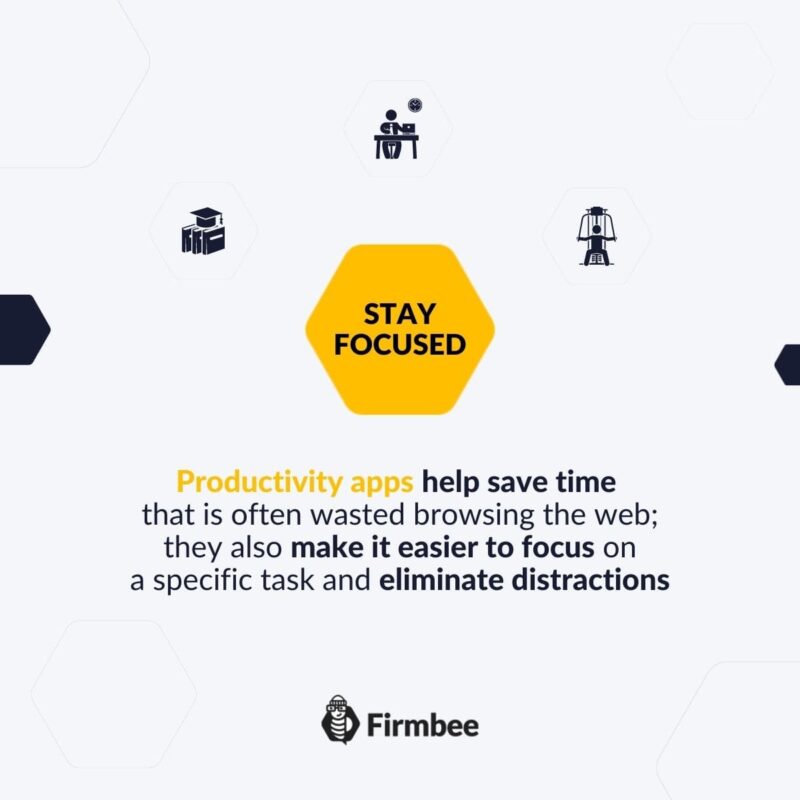 28 productivity-boosting suggestions – apps that work
OneTab

A simple application that helps to get rid of a dozen or so tabs opened at the same time in Chrome browser. This functional solution will surely appeal to you. When you're browsing the web, it's easy to open tabs to read their content "later". – But the browser's unreadable bar decreases performance and slows down your computer. The OneTab plugin will keep the bookmarks you want to look at and avoid the mess.

Feedly

Instead of going through articles on your favorite websites all over again every day, try boosting your productivity with Feedly. The app collects all the news from designated websites and presents it to you. Intuitive operation, practical help, and convenience are definite advantages of Feedly. With this app, you will succeed in increasing productivity.

Pocket

When it comes to recommended apps, productivity improves when you are not distracted by reading articles while you have other activities planned. The pocket can help you achieve this goal. If you've found something interesting, but you're currently doing other work, save the text for later. Enhancing your productivity with Pocket is very easy and works. And at your leisure, come back to your reading. Plus, if you want, you can tag a note to find it faster later.

Evernote

The list could not miss Evernote – one of the most popular productivity apps. Evernote helps to save, organize and, when necessary, find practical information. The application has many fans all over the world. Developing productivity with this application is very easy – thanks to built-in tools, Evernote allows you to store interesting information found on the web and tag it for later use. The app is not only intuitive and free but also available for mobile devices.

Dropbox

The virtual drive makes boosting your productivity a breeze. With Dropbox, you can conveniently store all the important data both personal and professional. The application enables you to access the stored database from any device – laptop, tablet or smartphone. Dropbox is one of the programs that greatly help to build up productivity at work. Its free version is popular with thousands around the world, including professionals.

LastPass

If your productivity and focus are slowing down because you already have too many accounts, logins and passwords to remember – LastPass can help. When it comes to productivity, apps like LastPass help you remember and keep safe all the data for accounts you create on different sites. When you visit a well-known site, the app will fill in your username and password you so you can log in with a single click. Many people appreciate this productivity boost – it saves time they can use to complete tasks.

Stayfocin sed

Another proposal is Stayfocused – an application that temporarily limits access to selected websites. With Stayfocused, you won't be distracted by Facebook or email notifications, so you can focus on your work and get better results. It is worth trying for free to develop your workflow.

Trello

Trello is a very powerful, but still simple-to-handle productivity app. It's a virtual whiteboard where you can stick lists of tasks to complete. These can be individual projects or shared with other employees. Trello helps you reign in project progress and assign specific tasks to users. You can develop your organization skills in college or at work with Trello.

IFTTT

If you waste a lot of time doing the same things every day, you can improve productivity with IFTTT. The app allows you to automate small processes. For example, it can mute your phone when you get home, automatically save photos of receipts in a folder of your choice, etc. This will help you save time and focus on important tasks.

Zapier

It is not a standalone application, but an applet that works with a web browser. Boosting your productivity with Zapier is about reducing tedious tasks and automating certain processes. You can choose to have the program save email attachments, create backups or new records in a spreadsheet for you – all of which will help you save time.

Slack

Slack lets you create communication channels for specific teams. It helps in tracking the progress of work and can even handle external contact – with clients or service providers. Instead of wasting time on hundreds of other messengers, save it and try Slack.

Asana

Another productivity app for teamwork is Asana. It's a browser extension, available on iOS and Android. It helps you oversee projects from start to finish, plus it makes it easy to track progress and communicate between employees. With Asana, increasing productivity in a corporation or large company is easy and simple.

HelloSign

If you have to sign a lot of documents at work, try HelloSign. This extremely intuitive app saves your time and energy because it's designed to facilitate the implementation of various processes at work. Also, other signatories can sign one document at a time. Electronic signatures made using the application have legal force and are duly encrypted.

Dropbox Passwords

This browser extension will appeal to everyone who doesn't like remembering passwords to different accounts. Thanks to an easy-to-use and secure application, your productivity will thrive- you won't waste time recalling and tediously typing your login data – the app will do it for you! All saved data is strongly encrypted, so you don't have to worry about losing it.

RescueTime

RescueTime is an extension that helps you monitor your computer time activities. With the generated reports, you can see what behaviors are taking up valuable minutes and then make the necessary changes to your work schedule. Eliminating distractions is very good for developing effectiveness at work and life.

Google Keep

This is a simple application for creating "to do" lists. Since the interface is very simple and the app can be linked to your Google account, the to-do list accompanies you throughout the day. Constantly remembering important things will greatly raise your productivity and help you achieve your goals – step by step.

Inbox by Gmail

Increasing productivity also means saving time on email. In this regard, Inbox by Gmail can help. It enables you to group messages and divides them into more and less important ones. This way, you'll always know which issue to tackle first.

Coffitivity

Do you like to work with certain noises, such as the sounds of a coffee shop? Check out the productivity app Coffitivity – it allows you to generate relaxing café sounds on your equipment. Focus and good results at work are guaranteed, although you'll have to make your coffee.

Noisli

This is another simple yet handy app for generating sounds. This time it's all about relaxing nature sounds that help you focus and work creatively. If you want to raise your productivity, adjust the type and volume of sound to your liking – try Noisli.

Toggl

The last suggestion is an app to measure the time you have spent on a certain project. If you want to know how long it takes to complete a certain task, turn on the clock in Toggl. This will make it easier for you to define priorities and designate work that needs to be tackled first because it takes more time.

Firmbee

Start working with Firmbee to elevate your firm's efficiency. Manage teams and tasks with project management module. Use CRM tools, regain finance control, and issue invoices with our free invoicing app.

Todoist

Another productivity app is Todoist. The clear interface contains the most essential functions for making a daily list of things we want to accomplish in a given day. We can also sort tasks, manage appointments or monitor hours spent on a particular activity.

Be Focused

Be Focused is smartphone software designed to divide your time into 25-minute focus moments followed by a 5-minute break. These types of time management systems make it easier to get things done and thus control the time spent on breaks.

Forest

The next app that helps you achieve step-by-step productivity is Forest. The system is based on focusing on a given activity by putting down the smartphone and not doing activities such as browsing the web, etc. As the name suggests, the app works on the principle of a tree, meaning while we are not using our phone we are contributing to the growth of our virtual plant. In the future, we can contribute to plant a real tree.

Freedom

Freedom program is a free application to block various types of advertising and distracting content, websites that waste our precious time. We have options here to customize the list of blocked information.

Nozbe

Nozbe is also an ingenious product for increasing work efficiency. It can generate tasks and assign them specific categories along with colorful icons. It also has recurring tasks.

Off-time

Off-time is another free productivity application. The program gives you the ability to set your filters that will limit the time you spend talking or writing text messages. It has automatic options for sending predefined messages etc.

Rescue Time

Rescue Time has a timekeeping tool. We can control the time spent using the internet, social media, etc. There is also a function that counts the time spent on other activities during the day such as talking to employees, making phone calls, etc.

Productivity apps are great tools to control your time spent on various activities like work, favorite pastimes, meeting with clients, meeting with friends, etc. By using popular free productivity apps, you can increase your efficiency, reduce time spent on idle activities and learn how to control and organize your schedule throughout the day.

If you feel that your productivity at work is slowing down – try our suggestions. We present our top 28 productivity apps for 2022/2023 – so you can feel in control of your time again and achieve all your goals – both professional and personal.

Read also: Best Free Dictation Software in 2021

If you like our content, join our busy bees community on Facebook and Twitter!

Author: Mira Bodhi

Knows all the pros and cons of working as a Freelancer and still makes the best of it. Time management and self-motivation are her biggest advantages. Currently working from Bali.

The most important questions

How to increase productivity?

Increasing productivity while performing tasks requires controlling time, attention, and regularity. Popular productivity apps customized for smartphones will help us in this regard, enabling us to manage our time in the best possible way.

Who are productivity apps for?

Productivity apps are designed for everyone as each of us deals with many activities daily. Some require higher priorities others less. Thus, using these apps will help us manage multiple activities. daily.

How do productivity tools work?

Productivity apps help save time that is often wasted browsing the web; they also make it easier to focus on a specific task and eliminate distractions.

What other options do productivity apps have?

Among other things, these tools come with a user interface that allows you to add notes along with photos, audio, etc. Some such applications can record audio directly, as well as connect to many other programs like an email client.

Is it difficult to use productivity apps?

Not at all. Most of them are simple programs or applets built into your browser – with just a few clicks, you can use them to make your work easier or save time.