The development of the Internet and machine learning has finally set aside traditional bulky paperback language dictionaries. Whether you are looking for a translation of a single word, phrase, sentence, idiom, paragraph or article, free online translators often come to the rescue. They provide feedback in no time, ad hoc, often offline at a click of a button. What other benefits come with these apps? How do they operate? Who can reap their benefits the most? And finally, which online translators are the best, in our humble opinion.
Top 10 online translators of 2021 – table of contents: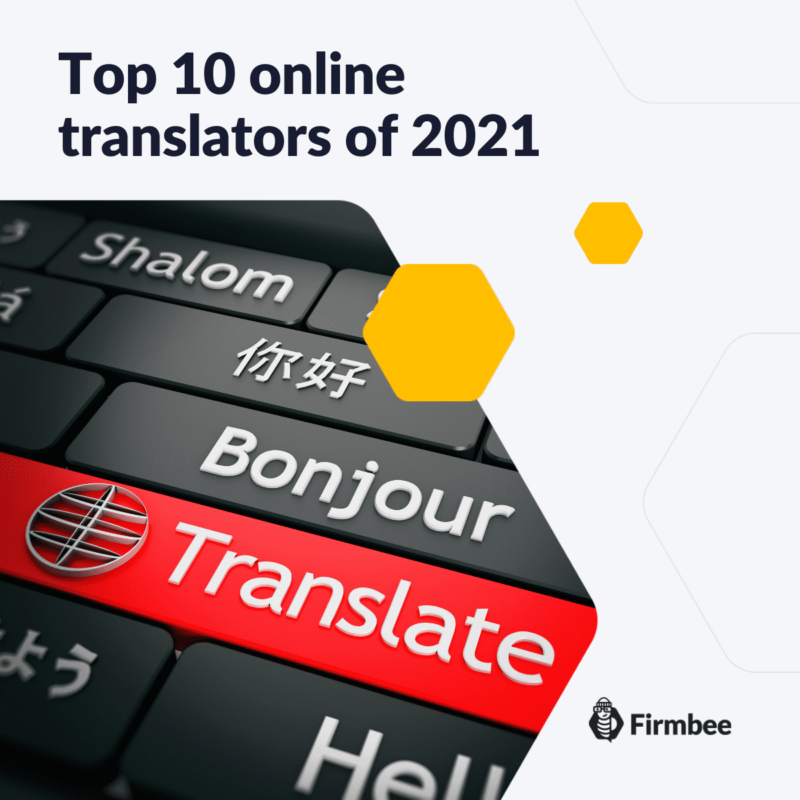 How does an online translator work?
Modern online translators operate in over a hundred languages. They handle texts of basically any size. Regardless of the length, the whole process takes no more than a few seconds. It is therefore a revolutionary solution, considering the language barriers it overcomes. Moreover, the mechanisms by which online dictionaries work are constantly being improved based on previous searches, so that the resulting translations are becoming more and more similar to the natural language we speak every day, requiring only minor human corrections.
You will also often come across additional features of online translators, such as pronunciation, the ability to scan text through the camera, voice search, manual text entry, and even real-time translation of a conversation. Hence, it is an extremely handy tool – both at work (for content creators, translators, people using a foreign language professionally – e.g. in e-mails), in education (for pupils, students, participants of language courses), and in personal life (when traveling, conversing with foreigners).
Top 10 online translators 2021
Google Translate

The popular Google Translate is a machine learning-based service that is constantly being improved and updated. In addition to converting text entered directly in a dedicated field, it also provides voice, image and video translation – also in real time – and currently supports more than 100 languages.

Collins Dictionary Translator

Within this platform, it is possible not only to search for entries in free dictionaries and translate the text, but also to improve it with synonyms and antonyms. It also has dedicated subpages for conjugation and grammar.

Bing Microsoft Translator

It's a free online translator that handles 53 languages and you can also manage conversations between two or more people by entering an individual code. It also has an optical character recognition option.

ImTranslator

ImTranslator is a free translating operating in 91 languages. It converts single words, phrases, whole texts and web pages. Google, Microsoft Bing and Translator provide support for it.

Babylon Translator

Babylon Online Translator is regarded as the best text translation software, tackling 77 languages from all over the world. It is not a free tool, but its affordability and a wide range of available functionalities compensate for this fact. Distinguishing features include automatic translation of e-mails, individually tailored to the recipients, enrichment of translations with a dictionary or Wikipedia threads, and the ability to link to enterprise systems.

DeepL Translator

DeepL is an online translator, based on machine translation, offering automatic text detection services, converting entire web pages and files. It is also constantly being improved with the option to rate individual translations. An enhanced, paid version is also available.

Microsoft Translator for Windows 10

It is a translator that can also work offline. It has voice translation, translating text from photos and saving searches that you can return to later.

Translatedict

It is a free online translator that supports 51 languages. It provides options for voice translation and text-to-speech conversion, with the option to download audio in the original and target languages. Transedict also offers paid proofreading and translation services.

PROMT Online Translator

PROMT Online Translator. This free app features conjugation, declension and contextual usage sections of translated words or phrases, thanks to which you can fully understand the foreign language meanings. It also enables the translation of larger text fragments.

SpanishDict

SpanishDict is an online software designed for people looking for translations from English to Spanish or vice versa. It has been supplemented with sections on conjugation, vocabulary, grammar and pronunciation, among others, making it an all-around tool for learning these languages.

Read also: Top 10 PDF editors in 2021!

Do you like our content? Join our Facebook and Twitter community!

Author: Mira Bodhi

Knows all the pros and cons of working as a Freelancer and still makes the best of it. Time management and self-motivation are her biggest advantages. Currently working from Bali.

The most important questions

How does a web translator work?

Online translators often rely on machine learning to improve their efficiency. They can convert large blocks of text, and increasingly have options for voice search, text search, and text to audio conversion.

Which web translators are worth using?

Our top picks from the list are Google Translate, Bing Microsoft Translator, Deep L and Babylon Translator.