Consumers are increasingly willing to shop online, as we can see by the increase in the establishment of online stores. One of the goals of marketers is to test techniques that will drive more sales without committing to an additional advertising budget.
Upselling is one example that can encourage customers to order more than they originally anticipated. So what does upselling entail and what specifically does it incorporate?
Upselling – table of content:
What is upselling in e-commerce?
Upselling is one of many strategies that enhance sales increase and is readily used by e-commerce giants. It involves offering customers more expensive or newer versions of the products they want.
For example: if a client is looking for sports shoes and is just watching a model for 30 USD – following the assumptions of upselling, he or she should also notice a newer and more expensive model of shoes on the product card in a visible place. It may, for example, be made of better materials, with more favorable parameters or come from a limited edition.
What is upselling based on?
This technique is based on providing the customers with a product that brings them more value than the version they originally viewed. Perhaps they didn't know that there are newer variants on the market at all – opening such a door for them and displaying more expensive proposals may trigger in some consumers the desire to have a better version.
Upselling postulates a non-intrusive presentation of more expensive models of goods – the desired scenario is expressed by increasing the value of the order. There is no question of persuasion – the consumer has a choice and can make a conscious decision. At the stage of searching for the best option, they can decide whether they want to pay extra for the improved version of the product.
Upselling – examples
Practice proves that certain groups of goods are particularly recommended for upselling and these are, for example, the highest-rated products and those with the most reviews. You can set these suggestions manually or automatically using a dedicated plugin.
If you want to handle this yourself – just start by preparing a spreadsheet where you list the products you sell one by one. If your store offers hundreds or thousands of items – identify the most profitable ones. Then create separate columns where you can mark which products from your store belong to the "premium" category or are upgraded versions of basic variants. The data collected in this way will serve you for further action – entrust it to a trusted programmer who will properly configure it on your shop's website. It's a long-term investment – work that you do once and then reap the benefits of that innovation.
Upselling automation
If you run an online business on one of the popular sales platforms – then you can confidently use the offered plugin, which will allow you to add your own upsells. We are talking about Shopify, Magento, WooCommerce or PrestaShop. Thanks to that, you will be able to test this technique without any help. However, remember not to offer the client too many options to choose from. Offering more than three suggestions may cause decision delay, and thus decrease conversions.
How to effectively practice upselling in e-commerce?
The items on offer must not be dramatically more expensive than the basic variant that your potential customer is looking at. What is more – it is worth justifying right away why the decision to choose a newer model will be profitable for the consumer. A short and condensed presentation of benefits will help to persuade him or her to the desired action. Point out clearly why choosing a more expensive product will bring a correspondingly greater value and improve your recipient's comfort.
In the case of an offline business, this role would be played by the salesperson – verbally communicating why a newer or improved version of the product would be more beneficial to the customer. Upselling is exactly what helps you understand why buying a newer product will bring more benefits or improve the quality of life.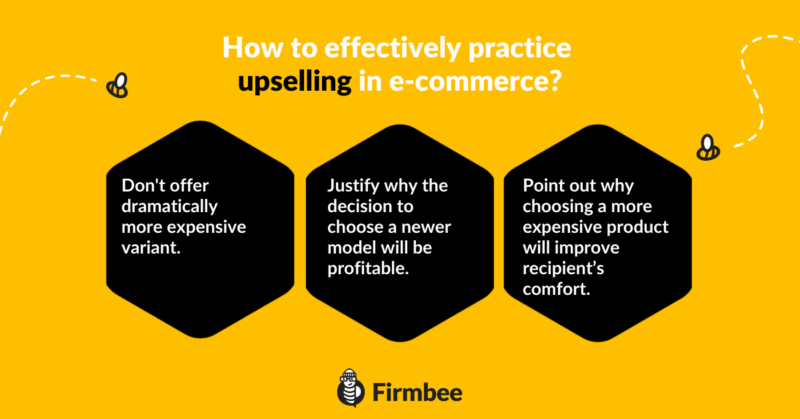 Develop your online shop
Even if upselling only leads to a few percent increase in sales – you'll gain extra money that you can use to grow your online business. It's up to you whether you want to intensify your advertising efforts, improve logistics or enhance customer service. The implementation of upsells into your online store does not involve large financial or time outlays. It's a one-time job that works later to the benefit of your online business.
Read our article about cross-selling, another technique used in e-commerce.
Join our Facebook community to stay in touch!