Making paper grocery lists or carrying around a handy notepad was nothing amazing until recently. With the development of technology, the traditional methods of writing down thoughts, ideas and observations became obsolete. Today, the most practical way for effective note-taking provide mobile applications. They are distinguished by their speed, clarity of interface and the possibility of extensive interaction with the program. We selected 8 apps that are mobile planners and organizers of everyday duties.
The 8 best note-taking apps – table of contents:
Why are note-taking apps so popular?
How often have you been in a situation when you had a moment of inspiration, an interesting idea or thought that you wanted to write down to remember? Surely there were many such situations. It is hard to imagine these days that there is always some piece of paper around to sketch ideas as they appear. The system application for taking notes, available on every smartphone, doesn't always work as well. It is very limited and extremely impractical, especially when we want to write something down in the form of a drawing, a sketch or a table. With the help of extended programs, we can put down everything that is more or less important.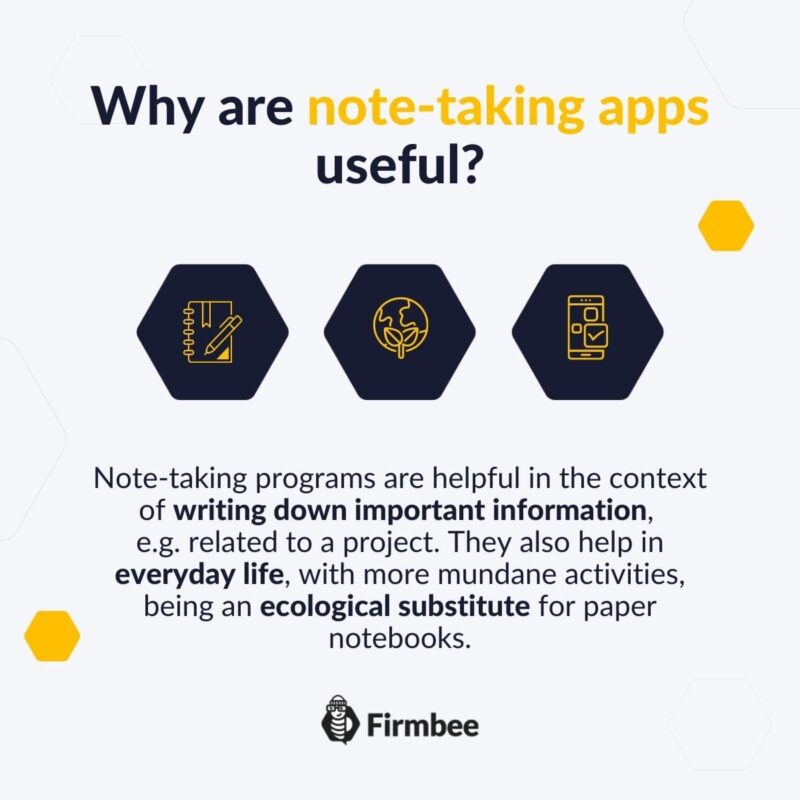 What are note-taking apps for?
Note-taking software is mainly for people who do creative mental work. In this context, a note-taking application will be an indispensable work tool. Freelancers who carry out various projects for their clients have a great need to write down their thoughts. It's a good idea to seize the moment exactly when it happens. A note-taking program is helpful in many unconventional situations – its practicality is almost unlimited. It comes in handy when writing down the menu, creating a shopping list or creating a list of difficult vocabulary in a foreign language. You can also create and amend a to-do list as you plan your busy schedule for the coming days.
Notes application – 8 suggestions for note-taking
Material Notes

A free app for taking notes for Android. It is a user-friendly program that amazes with its simplicity. Just click the + symbol to go to create personalized notes. The application is compatible with Microsoft software, so you can easily back up to Google Drive. Unfortunately, the program is only available for Android devices. In addition, the program does not provide the ability to synchronize data, for example, from several different devices.

Microsoft OneNote

A program for taking notes on your computer and mobile devices. The free version renders the full functionality of the program for 30 days. The application is a great choice if you work with Microsoft software devices. It is one of the most extensive and practical note-taking programs. With OneNote you create voice memos, implement graphics, tables, or sketches. You can also add clipped screenshots from your browser. With the free edition, you have up to a maximum of 5 GB storage capacity.

Notion

It is an all-purpose, professional note-taking application that works exclusively online. The basic Personal version has been made available to users free of charge. The versatile workspace, in the free version, can be shared with five guests. This makes it possible to share notes, for example, when running a business. In the application, we can place various important information, for example referring to the ongoing tasks or stages of the creation of projects.

Evernote

The most famous note-taking app. The free version of the note-taking program lets you sync up to two devices. You get the possibility to transfer 60 MB per month, while the size of a single note cannot be larger than 25 MB. Evernote has an intuitive search engine that will find your old notes in no time. You can also attach clipped web pages, .pdf files, receipts, photos and other documents in the program.

Scrble

Is an application available for free when you have Windows. It is especially recommended for writers who like laptops with touch screens. In Scrble you can freely modify written content and create sketches with your finger. Scrble has a function of automatic page change, which is handy when your note has more than one page.

OneNote

Is a free software adapted to work in different system environments. The notes application works on all popular platforms, which proves its high usability in operation. The program has several optional features providing you with tools to modify the background or type content exactly where you click, to name a few. OneNote has a simplified interface that cannot unfortunately sort notes.

Roam Research

It is a specific note-taking program that works only from a web browser. What distinguishes it from the competition is the ability to instantly combine multiple notes into one, without having to create additional folders. In Roam Research, you create a custom "data network", which makes the process of remembering a lot of information easier. The free trial version expires after 31 days – after that time you can purchase the full version of the application, or cancel the service.

Apple Notes

Completely free and compatible with iOS and OSX devices. The application has an extensive text formatting panel, allowing you to choose a variety of fonts and writing styles. The program supports synchronization through your iCloud account, which means that when you log in to another device, you can view your past notes.
Do you want to know other useful tools? Read also: Top 10 online translators of 2021!
If you want to stay in touch, join our Facebook community!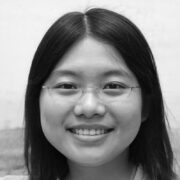 The most important questions
Note-taking apps- why are they useful?

Note-taking programs are helpful in the context of writing down important information, e.g. related to a project. They also help in everyday life, with more mundane activities, being an ecological substitute for paper notebooks.

Are free note-taking apps functional?

In the free versions, you can encounter several limitations. They concern, among others, the size of saved files or the ability to synchronize them with other devices. Apart from these aspects, free note-taking apps are very practical.

Which is desktop note-taking software to choose from?

If we want to have the software on a desktop, look for an application that also works offline. An extended interface and more functionality will also be helpful – working on a computer we have more possibilities and freedom in creating this type of content.