Task automation influences greatly the results of the company. With the development of digitalization and new technologies, task automation in the job market is becoming increasingly important. This can be applied to HR departments, where managers try to use automation optimally in the area of human resources management. Implementation of new technologies becomes the crucial factor that improves the quality of HR processes. Contemporary tools are available not only for big and strong organizations but for smaller and average-sized companies as well. The introduction of automation will enable more efficient management of human resources and may become a safety valve in uncertain times of economic crisis.
Impact of task automation – table of contents:
Task automation in the HR field
The work of HR departments involves significant challenges and expectations. The effectiveness of staff policies has a significant impact on strengthening the position of the company in the market as well as improving its image and competitiveness. This is the reason why it is worth using new technologies and improving work in such areas:
Recruitment and hiring workers – searching for candidates is a time-consuming task, mainly because of the fragmentation of the job market, where there are many portals and databases used by recruiting professionals. The solution for this problem comes from information technology tools that allow access to many portals simultaneously (multiposting), and the functionality of filtering of results allows to reach strictly specified candidates. Chatbots, that can make the initial selection of candidates and manage databases of individuals interested in job posts are equally useful. Moreover, it is worth using video interviews, online tests, or gamification.
Adaptation of new employees – there are dedicated platforms and onboarding software with databases of knowledge that contain instructional videos, as well as a set of rules and regulations – all for the implementation of that process. Moreover particularly useful are such functionalities as welcome e-mails, access to resources, coaching modules, and modules that facilitate the electronic workflow of personnel documents

Competencies management – specially designed platforms enable fast analysis and processing of data by using predictive analysis (analysis of historical and current facts to plan the future) to plan more effectively in the area of competencies and knowledge management.
Routine tasks – automation of such tasks as training planning, holiday applications handling, management of working timecards, and individual records.
Analysis of KPI indicators – more effective with systems of cost management, that improve reporting and allow effective analysis of all the processes. Advanced software allows measuring KPI indicators in retention and turnover of employees, resources of new job candidates, the efficiency of particular employees and working teams, the average cost of processes, and many more.
Implementation of task automation
Task automation related to HR processes will be effective only in case of accurate implementation, which has to be prepared with particular care. Such an approach will help to avoid problems related to badly adjusted solutions in the future. The very first activity in task automation implementation should be the analysis of HR areas where task automation can be introduced and where such action may bring measurable benefits. It is worth initially, on a trial basis, choosing less complicated processes to test new tools and identify potential problems.
In the next step, one should define goals to be able to check up later if task automation has served its purpose. Then the decision has to be made and the project coordinator and the right tools have to be chosen. In the end, one cannot forget about employees that have to be informed about changes and new solutions that are being implemented. The need for the introduction of new technologies and tools has to be explained to them, then training in the usage of those new technologies has to be provided.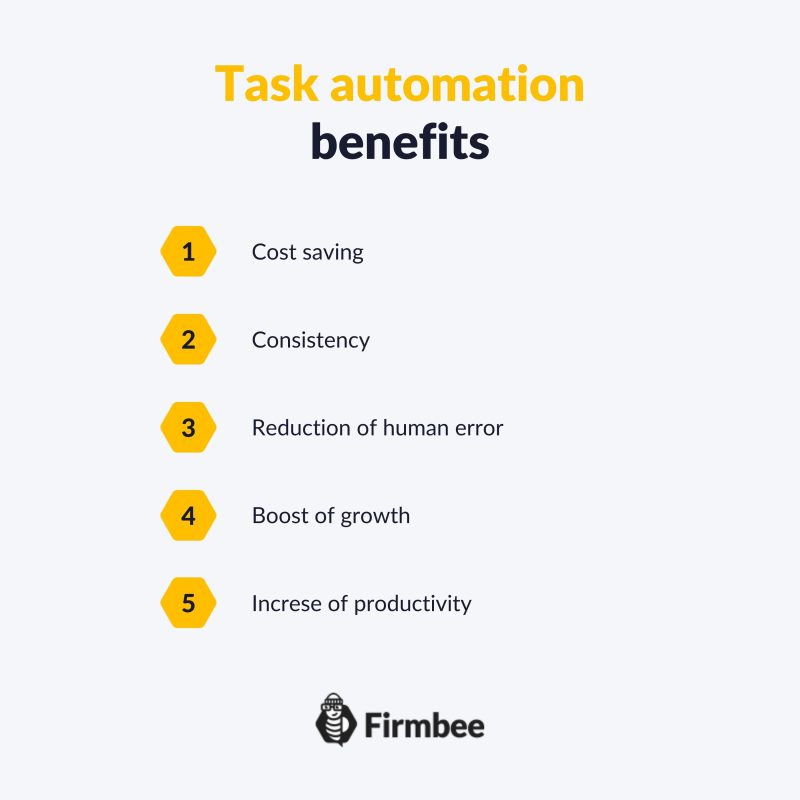 The benefits of task automation
Task automation in human resources management should bring tangible benefits to the organization, otherwise, the introduction of automation is pointless. The key benefits that determine the success of task automation are:
Limitation of tasks – that are performed manually, that require the intervention of employees. Those are the main tasks such as gathering information, reporting, and analysis preparation.
Faster execution of tasks – a creation of procedures in processes of recruitment that deal with search, selection, and onboarding is very time-consuming. Task automation significantly shortens the time connected to those activities.
Reduction of errors – human work is subject to the risk of errors. There is even a saying: it's only those who do nothing that makes no mistakes. Modern instruments can reduce the possibility of any errors.
Acquisition of valuable employees – task automation in recruitment and selection increases the chance of getting really good employees. This increases the satisfaction related to efficient hiring and adaptation.
Modern technological solutions presented above allow complex improvement of quality and conditions of all activities run by HR departments. Such solutions are excellent support both for the employees and managerial staff.
Summary
Taking into consideration all benefits of task automation in HR there is a question, why so many organizations in the market have not introduced such solutions? There may be many reasons such as concerns related to the introduction of necessary changes, lack of knowledge about abilities of new technologies presented by managerial staff, and lack of long-term company development strategy. There is a problem with the human being himself and his role in the work environment dominated by artificial intelligence. It should be noted that implementation of task automation in HR departments is first and foremost a chance, that can provide support for employees, not a threat, or not a competition for them.
If you like our content, join our busy bees community on Facebook, Twitter, LinkedIn, Instagram, YouTube, Pinterest.