Talent acquisition strategies are one of the most important resolutions companies have in relation to global changes and the "Great Resignation" problem. Read the article to find out more about strategies that may help you to find the best talents for your business.
Best talent acquisition strategies – table of content:
Talent acquisition strategies
Contemporary businesses have to do their best to rise the employee retention and only talent management that uses the best strategies may help to do it. The best strategies in talent acquisition are as follows:
Remuneration. Your organization has to be ready to meet, or even exceed, market pay. The company has to know in detail about the situation on the market and be able to create a competitive compensation to be able to attract new talents. The company who cannot match what other businesses are offering their employees are doomed to failure in talent acquisition.
Nobody wishes to work for less when somewhere else is much more to get. Great culture of the company doesn't count anymore – people work from home, more and more often alone, hence the only factor that may keep them with the organization is their salary.
Consider usage of ATS. All processes related to recruitment and hiring are time consuming and tedious. It takes much time and effort to collect, store and process all the documents, not mentioning the necessity for data extraction and analysis. To be able to compare many candidates accordingly with their core skills and experience you may decide to integrate automation into your processes. Applicant Tracking Systems (ATS) are more and more sophisticated and with the use of Artificial Intelligence (AI) they provide us with better analytical outcomes.
Good-quality ATS should be able to analyze the data of all your applicants, filter them accordingly to your preset values, and speed up the decision making process. Some of the initial stages, as testing, making surveys, filling up the basic documents, may be facilitated with the use of ATS as well.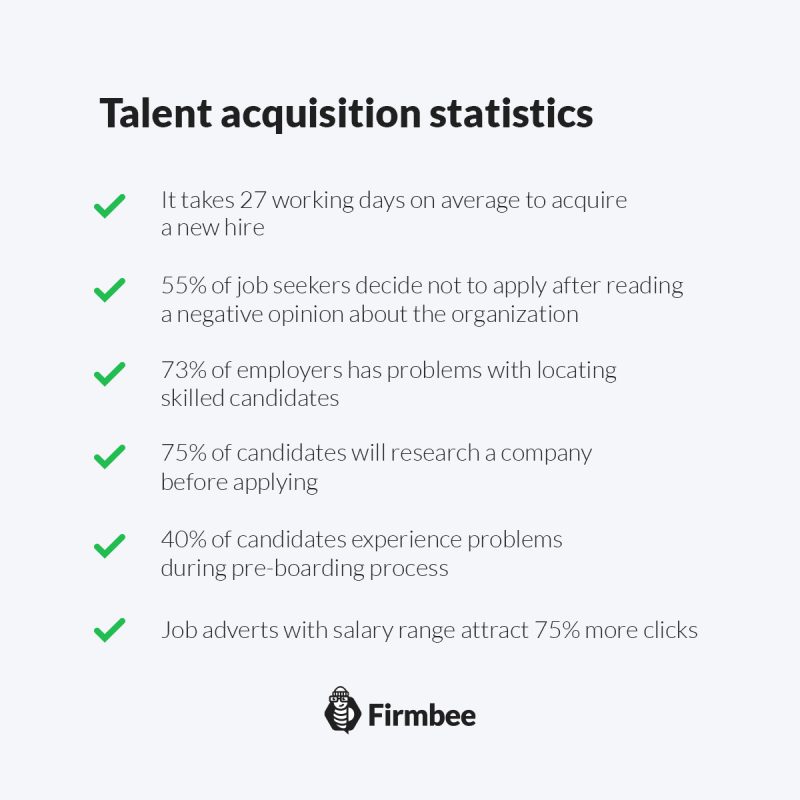 Hire internally. Review your workforce and check if some of the most needed candidates are not already employed at your own company. The search for best suited individuals should start there – hiring internally reduces cost of hiring, onboarding an training, hence it is worth considering. Reviewing the abilities of already employed individuals should be a part of ongoing practice, since internal hiring not only saves money but increases staff loyalty as well.
Hire contractors and remote workers. Not all of your employees have to be employed on the basis of permanent contract of employment and be based in your own office. Consider different employment options, be flexible, because some of the most talented employees already prefers to work remotely or chooses more flexible forms of employment. Be able to offer all of them and attract talent to your company.
Remember about diversity and inclusion. Most of the biggest companies in the world have already discovered that to attract talent the organization must be open to the diversity of individuals. The business needs to have inclusion policies implemented and diversity has to be one of the core values of the setting.
Previously used, less effective, models of hiring were based on referrals, where one white male would recommend another white male as the next employee. This search method proved ineffective. Talent may grow in all social standings and be of different: age, gender, ethnicity or race. Companies which are not able to embrace diversity are doomed to failure.
Focus on well-being and mental health. Contemporary employees understand that quality of work means quality of life. They stay with their employer as long as the working conditions are good enough to keep them in place. Bad working conditions is the most notorious reason for employees to make decision about leaving followed with low salaries, need for a change and plans for own business. Well-being programs are the must for contemporary employers – to keep up with the competition your organization must think about such innovation as well.
Use social media for recruitment. The majority of people, who has access to the new technologies, uses social media – accordingly to the statistics it is 58% of all the people in the world and it comes up to 4,62 billion people. They spend a lot of time having fun, but they follow and interact with brands and search for jobs as well.
Some of the recruitment techniques that were used till now are no longer relevant to great masses of people. To be able to find and attract talent companies must advertise through the social media. The amount of advertisement, the speed and frequency of job ads – all this have to be adjusted to the high usage of this medium to achieve required outcomes.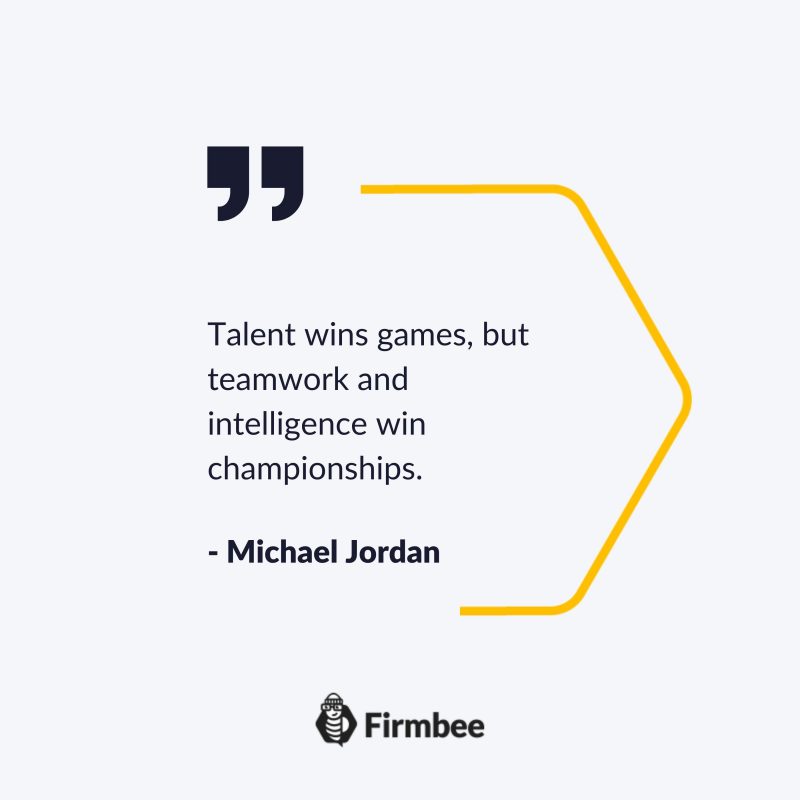 Know your prospective employees. There are huge differences between generations of employees and the companies, who know exactly how to provide the right working conditions for their prospective employees have better chances to attract talents. To understand the problem the managers have to remember that for example Generation Z (ages 18-24 today) will represent 27% of the global workforce, while Millennials will represent 75% of the global workforce by 2025.
Both of these generations can be seen as global since they have constant connection with the world through digital technologies. Those generations of employees have different expectations that they parents had. To attract individuals from Generation Z and generation of Millennials the companies have to understand that they: prefer to work from home, cherish diversity and inclusion, expect life-work balance, as well as pay attention to equality and environmental issues.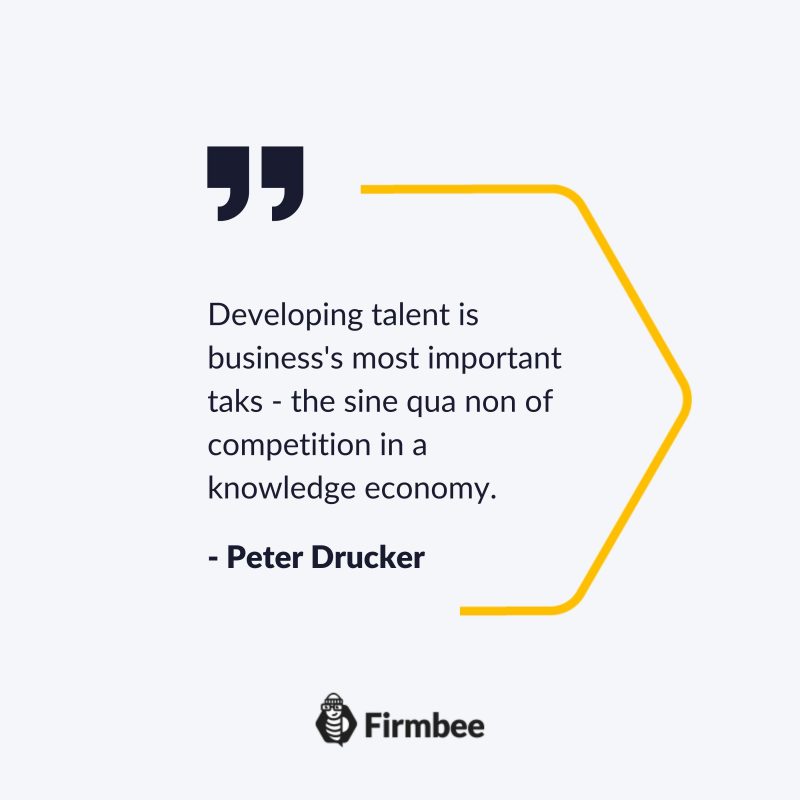 Summary
The ways of yesterday are no longer reliable – the societies are changing rapidly, the new generations of employees are more mobile, digital. The awareness of social issues increased as well and employees of today expect more from their employers than their parents had. All companies that want to attract talents have to apply new strategies of acquisition otherwise they may not be able to fill all the positions that require greater talent, ability and skill. Acquisition strategies have to follow global trends and change accordingly to the modern expectations otherwise they will stay unsuccessful.
Read also: A link between diversity management and equal employment opportunity in the workplace
If you like our content, join our busy bees community on Facebook, Twitter, LinkedIn, Instagram, YouTube.