Human Resources departments are associated mainly with the task of recruitment and matching individuals with their new positions. In reality, the recruitment is one of many elements for soft HRM to deal with. HR departments support communication between individuals and their new employer. Additionally, HR department provides employees with all necessary knowledge about the company rules and regulations and care for rightful application of all laws. Furthermore, HR department assures that all employees are motivated as well as evaluates employees' performance and productivity. There are two types of human resources management approaches: soft HRM and hard HRM. What are the differences between those two approaches?
Soft HRM and hard HRM – table of content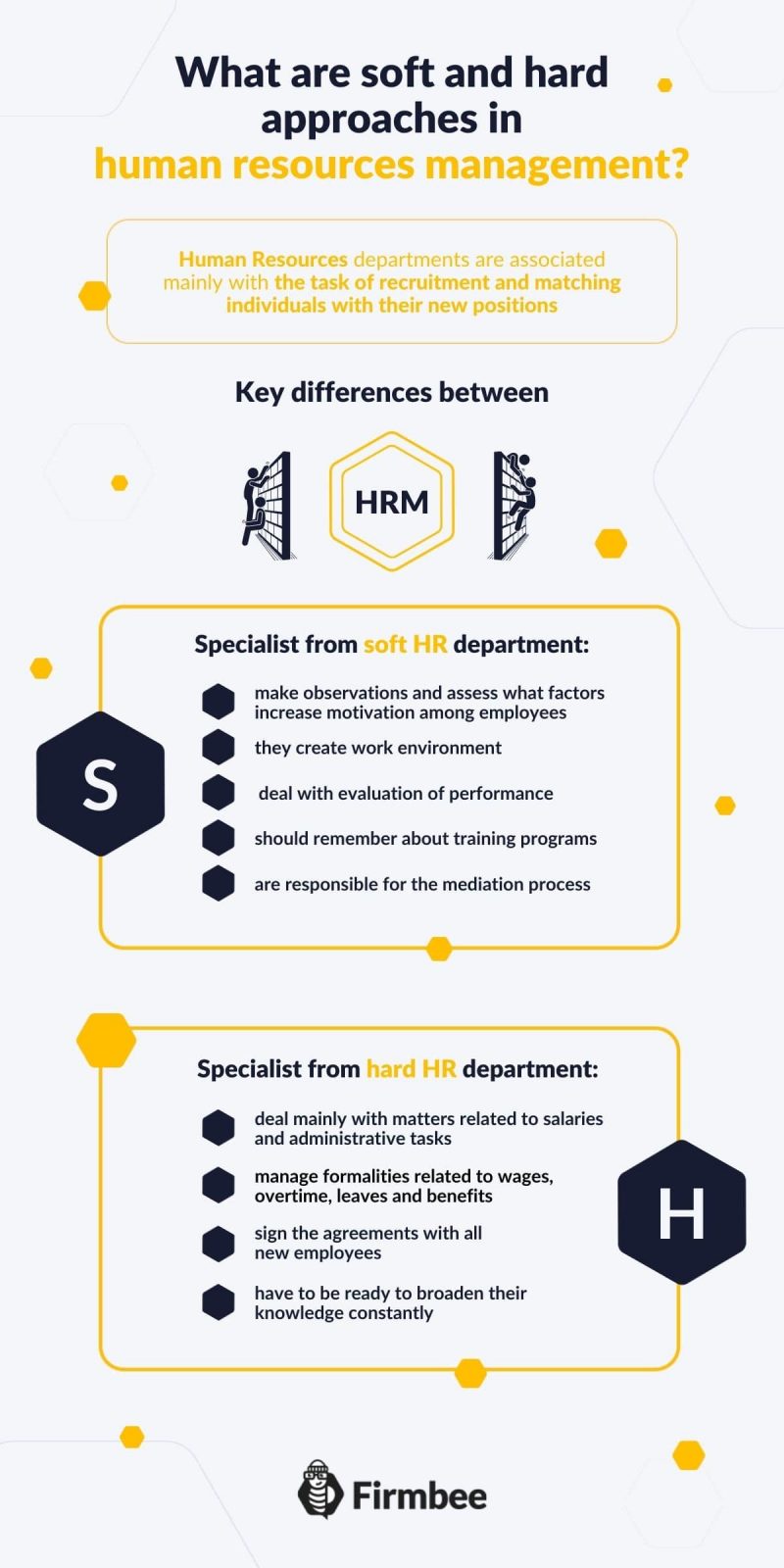 Soft HRM
Everything what is associated with the quality of work in the company falls under responsibility of soft HRM department.
Specialists employed in the soft HR department deal with the process recruitment and selection of all new employees. Those specialist must assure that individuals employed will match with their new positions.
Soft HRM department is responsible for all elements of employment process influencing work performance. Specialists from soft HR department make observations and assess what factors increase motivation among employees. Additionally, they create work environment, which supports work efficiency as well as they provide all necessary management tools and solutions. Soft HR department deals with evaluation of performance, which helps with assessment of positive and negative factors of employees' actions.
Soft HR specialists should remember about training programs. Development of skills is crucial for the professional and personal growth of the employees. Improvement of expertise is important both for the individuals and for the company, hence it is worth to pay attention to it. Adequate management of talents and abilities improves overall company's functioning.
Mediation process constitute another task of soft HR management. As we know, mediation is a form of resolving conflicts in the workplace. There are situations of disputes and misunderstandings between coworkers, which influence negatively effectiveness of work performance. In those situations, the aim of the HR department is to monitor possible conflicts and prevent their occurrence in the future.
In the workplace there are situations of conflicts between coworkers. Knowingly, tense atmosphere at work does not support effectiveness and efficiency. Specialist from HR department monitor conflicting behavior and resolve conflicts.
Hard HRM
Hard human resources management is different approach – specialists employed in HR department deal mainly with matters related to salaries and administrative tasks. They sign the agreements with all new employees as well as check the documents during the pre-hiring process. They manage formalities related to wages, overtime, leaves and benefits. HR professionals usually need to have legal and technological knowledge up to date due to frequent changes in law and technical advancement, therefore HR specialists have to be ready to broaden their knowledge constantly.
It is important to understand that hard HRM is not interested in employees' needs for self-development. Hard HRM sees employees as a resource not as individuals with ambitions or aspirations. Hard HRM is task-oriented and focuses on best possible profit for the company.
You may also like: HR trends in 2022
If you like our content, join our busy bees community on Facebook and Twitter.