It sounds scary, but there is nothing to be afraid of! With this simple tutorial, you will tackle the task of preparing a simple strategy in a trifle. Of course, the real document requires a lot of time, commitment and research, but practice makes perfect, so let's start with something simple.
Social media strategy – table of contents:
Why do I need a strategy?
The premise of a document such as a strategy is to answer some important questions so that you can define your goals, how they will be measured and the activities that you will undertake to realize your ideas. None of us likes to throw money away senselessly, right? How do you know if the actions you take on social media, or the web more broadly, are getting you results?
I'm writing about effects, not gains because we don't always have to assume a return on investment – sometimes we may want to change our image, which in simple terms doesn't translate into more money, but in the big picture – hopefully, it does. A huge benefit of strategy, besides defining where we are and where we are going, is to streamline the process of getting there effectively. So strategy helps you invest in those activities that will have the intended effect, reducing unnecessary spending on ineffective acctions.
But a social media strategy is not a creation for its own sake. It has to tie in with other documents and assumptions of your company: overall marketing strategy, brand mission and so on. But let's move on to the strategy itself. It's worth developing it for the coming year – which means the whole process will have to be repeated next year. I'll stop with each element in a moment, but for now, let's look at the big picture.
Analysis of the baseline situation
The more work you do in this department, the better. To make it easier, to remember what aspects to take into account, a special business compass was created with 6 directions:
Brand condition – what not only customers think and feel about your brand, but your entire audience. Take advantage of monitoring.
Marketing optimization – determining the actions taken so far – their effectiveness, costs, profits and so on.
Generate Returns – although social media is more of a space associated with other activities, that doesn't mean it doesn't sell. Look at conversions, leads acquired and online sales processes.
Operational efficiency – whether our operations are making us a profit or at least reducing expenses of whether we are losing money.
Customer experience – impact on customers, shopping cart, brand reviews, image.
Innovation – activities related to the research department: new ideas, proposals for change, customer feedback.
In this section, we also look at all our social media channels and describe them – the number of fans, engagement, key demographics, views, clicks. Are you posting regularly and responding to fan questions? Does the content you publish drive engagement? We also do a comparison with our competitors to determine ourselves relative to the other players in the market.
Don't worry if someone has more fans or followers. Because it's just basic data, you don't know if it relates to your customers, if it had any effect, and if there's anything to worry about. Social media is all about effectiveness. The comparison is just to get a rough idea of what's going on and if there are any good or bad practices. Analyze not only what channels your opponent is using, but also if there is a space where you can exploit his weaknesses. If his fans complain about bad customer service, maybe you should work on yours to advertise yourself as a company with good service?
Monitoring will answer the question of where and who is talking about your brand or products. In what way? Who is worth paying attention to? You will find influencers this way. Also, use it to make comparisons with your competitors. While the number of fans is only symbolic, the number of mentions is already a significant indicator of whether a brand is popular and in what way. Importantly, don't forget to Google yourself. This will not only help you look at your brand through the eyes of the average internet user, but it will help you pay attention to SEO.
Now that you have your goals defined, check to see if your current efforts are meeting those goals. If you're looking to make sales, but your fanpage isn't showing any links to your online store – you'll need to work on the channels you have. Also, analyze your current online campaigns against the goal. If you care about sales and your Facebook ads are geared towards fans, it means you need to remodel your campaign.
Take a look at your website statistics. Where do customers spend the most time? Which pages are they coming from? By defining your goals as image-oriented you'll want them to spend time on your "about us" page or in the news. And when your goal is engagement-oriented you should have high rates of visits to sub-pages with forms, forums or newsletter sign-ups.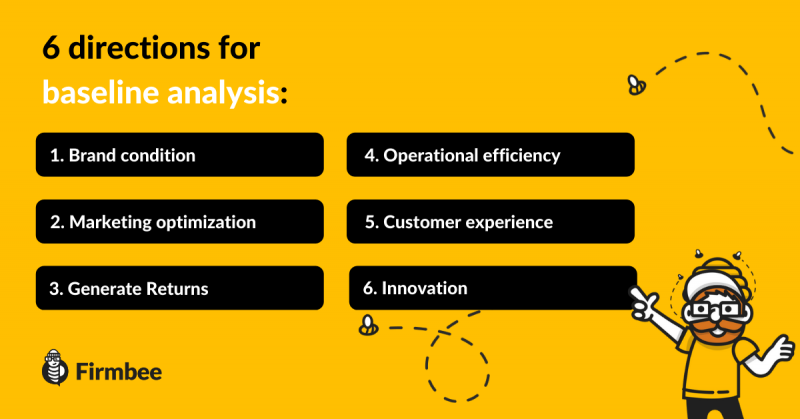 Target group
Create a persona. Imagine your customer. Who is he? What does he or she do? The more you can imagine about them, the better prepared you'll be to describe your target group. If you're completely uninspired, take a look at your current customers' profiles and study them. You can define your TG, or target group, in terms of demographics (age, gender, education, etc.) and behavioral characteristics (activities, philosophy, lifestyle). This will help you choose the right communication channel.
Each portal has its specific groups of users – on Pinterest you will find slightly more women, on LinkedIn business representatives, on Twitter journalists and celebrities, and Instagram is dominated by young people. For information about who you find on a portal, check out the portals' news pages or user research.
Communication channels
You're probably wondering: "Where are my customers?" To discover this, there are three ways: Ask your customers – You can create a small survey, ask your customers while they are shopping, or send a newsletter with a question. You can use Google Drive to create a survey.
Check online research – some industries have their research regarding social media, so you can look for such studies; this also applies to certain target groups. Use monitoring – a natural tool for determining the right channels is monitoring, which will show you where your brand and products are being talked about the most – you can create your channels there to engage in these discussions.Messages (content)
We are aware that nowadays we believe less and less in advertisements. Well-prepared messages are also a tool for SEO or search engine optimization. Content builds relationships. They should also achieve their goals. Of course, you can share them online – if you care about sales, the generated content should redirect to the sales page or urge you to buy.
What should the content be? Relevant, real-time (current) and giving something to the customer. Appropriate to convey what we want while helping us achieve our goals. On the other hand, we create content for the customer. Anyway, let's observe what's happening, what's trending, and use it to generate interest in our content.
Tactical operations
This part is where the big thing happens. That's not to say it's the most important part, but you'll get specifics from it. This is where you develop ideas for campaigns, newsletters, and combine knowledge from previous strategy chapters to develop specific actions. Contests, apps, ad campaigns – anything that will get you closer to achieving your goals.
Remember, these override your wants, skills and abilities. Just because everyone has Facebook doesn't mean your business has to be there too. Look for unusual ways to advertise, build relationships and make sales.
Resources
Budget, people and time – these are our main resources that we operate with. Divide your activities into weeks, maybe months. It will make planning easier. Have a calendar of posts for your day-to-day activities, so it's easier to maintain brand consistency. Include in your budget various costs: from advertising to pay for image licenses and online tools. Don't forget to have a small reserve for unforeseen expenses. Importantly, you need to have someone to handle all your projects. It's not only about hands-on work but also about skills.
Evaluation
Measurement indicators must be aligned with the objective. So if we have an image issue, we should measure metrics that reflect that theme. It is worth noting that KPIs, or key indicators, should be relevant from a business perspective – in other words, the number of fans or the impact of an online publication is not something that has a significant impact on our company. Try looking at the indicators more broadly. After all, we do not have to confine ourselves only to these numbers that relate to our goal, because side measures have an equally large impact on the condition of the brand.
When we are interested in sales we should also take into account the decrease in costs – so we can check how much less expensive is customer service through social media in relation to the call centers. While working on the image we should remember about employer branding and look at the number of candidates who come to us from the network and what they think about our company based on our presence in the virtual world.
The use of social media allows us to accurately track our customers – in a simple way by combining analytical tools in data media and Google Analytics we can determine which of our content generates the most money or brings the most customers. What's more, we can compare different types of content, channels or additional elements (hashtag usage, message length, content) to determine which content marketing strategy can bring the best results.
Remember that when conducting an evaluation, you should check whether the actions taken are still in line with the plan, whether the target groups have not changed, whether there are new communication channels that could be used, and so on. Ask yourself if your goals are still important to you.
Evaluation comes down to finding out which of the actions taken had an effect and what they were. If something didn't have the desired effect, try to optimize it. Maybe your ad campaign needs new images to bring in more clicks? If an action completely doesn't work or doesn't fit the strategy, just find something new.
Now, when you know how to prepare a social media strategy, read how it can help to increase your business exposure online and see it for yourself!
Join our Facebook community to stay in touch!
Author: Monika Czaplicka – She has been working in social media for 8 years. She works for clients from various fields, for years she was dealing with whisper marketing and preparing marketing strategies. Her debut book "Managing a crisis in social media" was published by Helion and was reprinted a few months after the first edition. She is a frequent speaker at industry events and conferences.