Creating a merchant account and adding products for sale does not guarantee instant success. There are several ways that can help you reach more potential customers, which can translate into higher earnings. The following article discusses the most important elements that influence succeeding on Amazon.
Start selling on Amazon – table of contents:
What does the product page look like?
The product page is what a customer sees when shopping on Amazon. It's where they look for all the information they need about a particular offer. So what makes up its construction?
Title – each word in the title should start with a capital letter. The maximum number of characters is 200 with spaces.
Images – to increase the quality of your listing, you should add images with a resolution of 500×500 pixels or 1000×1000. The background should be white and the product itself should occupy at least 80% of the photo's area.
VariantsThe space in the picture marked with the number 3 is the available variants of the given product, e.g. sizes, colors,
Bullet points – this is a brief description outlining product's features ,
Buy Box – which is an offer that has been highlighted on the product page,
Other offers – the same product offered by other sellers, differing e.g. in price or shipping option,
Description – includes keywords that help customers notice your listing. Using SEO basics is not just limited to Google search but also works when selling on Amazon. Searching for relevant keywords and using them, when creating a product description, can help you stay ahead of the competition. It is also a good practice to use bullets instead of long blocks of text to make the description more readable.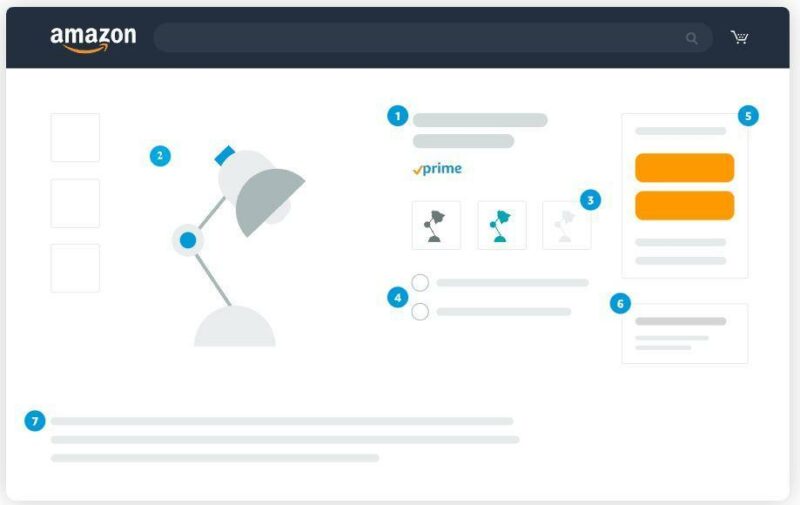 Buy Box – What is it?
Buy Box is a place on the product page, where next to the product description, there is an "Add to basket" button, which is used by customers to add items to their baskets. "Winning the Buy Box" is when one of the products offered by the seller takes the default place on the page. This increases the chances of a sale, but does not guarantee it.
Qualifications

Sellers using Fulfillment by Amazon (FBA) are automatically qualified to win a Buy Box. Other sellers must meet certain conditions, but even that does not guarantee them placement in the Buy Box:
The vendor must have a professional sales account,
The vendor must have the best possible service quality metrics – i.e. order defect, cancellation and shipping delay metrics (status can be checked on the "Account Condition" page),
A vendor must have a certain number of orders, which varies by category.
Ways to Win a Buy Box
Just getting qualified does not guarantee a Buy Box win. However, there are ways to increase your chances:
Competitive Pricing – the graphic below shows ways to check your pricing against the competition,
Faster shipping and free delivery – offering such facilities to customers, helps you win the Buy Box,
Quality of customer service – in order to provide the best possible customer service, you need to keep an eye on the condition of your account. Indicators such as defective orders, delays, cancelled orders, etc. are important.
Inventory Availability– a retailer who keeps their inventory up to date will avoid situations where stock shortages arise.
Forms of advertising on Amazon
Ads on Amazon help you reach potential customers, which in turn increases sales. The platform offers several types of ads:
Amazon Sponsored Product Ads– is the most common form of advertising on Amazon. The offer appears in the search results, but it is only distinguished from organic positions by the gray "sponsored" label, which is subtle, so it affects the effectiveness of the ad. The seller only pays for the promotion when the ad is clicked. It is also possible to set your own budget, but keep in mind that some keywords are more popular and more expensive.
Amazon Sponsored Brand Campaigns – formerly known as Headline Search Ads – are displayed listings at the top of the page where search results are located. The ad consists of showing three (or more) product listings, including their images, headlines, and brand logos. This form of advertising is available to sellers registered with Amazon Brand Registry.
Amazon Sponsored Display Ads – previously called Product Display Ads – is a form of remarketing. Unlike previous forms of advertising, this way works based not on keywords, but on the audience's interests in specific products (or categories). They are displayed to customers not only in Amazon search results, but also on other pages of the portal and on sites that cooperate with the platform. This form of advertising is only available to advanced users who are members of the Amazon Vendor program.
Sales Algorithm
Amazon has its own algorithm, the knowledge of which can help sellers reach potential customers and increase their sales. This tool is constantly changing, so keep a close eye on any updates. As of 2020, the algorithm is called A10 (previously it was A9). The new version differs only in a few details from the previous one.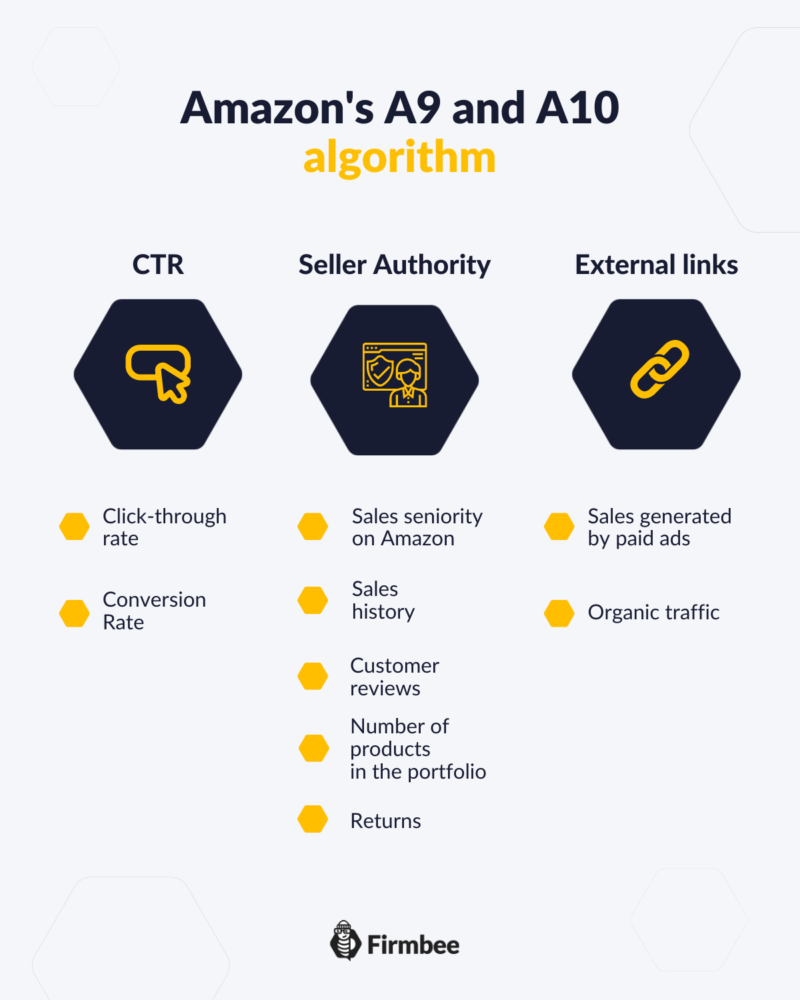 When selling on Amazon, you have to take into account the huge competition. In order to make the most of the platform's potential, it is a good idea to follow the rules and regulations imposed by the platform and using our tips on how to sell on amazon.
Read our previous Amazon article: How to add a product on Amazon?
If you like our content, join our busy bees community on Facebook and Twitter!