Do you run a business where your products need to look attractive but you don't want to spend a fortune on photographic equipment and editing software? Hiring a photographer seems pointless as the whole process requires a group of consecutive professional services to create and market and maintain your brand image. Better yet, you know that with the right tools you could do the job on your own with similar results. That's where smartphones and amazing photo editing apps come in handy to make your life easier and help you capture the quality of your work to a degree that absolutely meets your professional requirements.
Photo Editing Apps for Smartphone – table of contents:
What NOT to choose
The market for photo editing apps for Android and iOS devices is filled to the brim, so choosing the right tool shouldn't be difficult, right?
Quite the opposite. Most of them are mediocre scams to make a quick buck on the naive, inexperienced and desperate entrepreneurs Eagerly clicking on never-ending promises usually ends up in frustration, wasted time and resignation with no app on your PC. Others, on the other hand, require an upfront payment for the app and you aren't sure whether it will work. To save you some of your precious time, we researched the issue and came with some top photo editing apps so search no more and take a minute to read our review.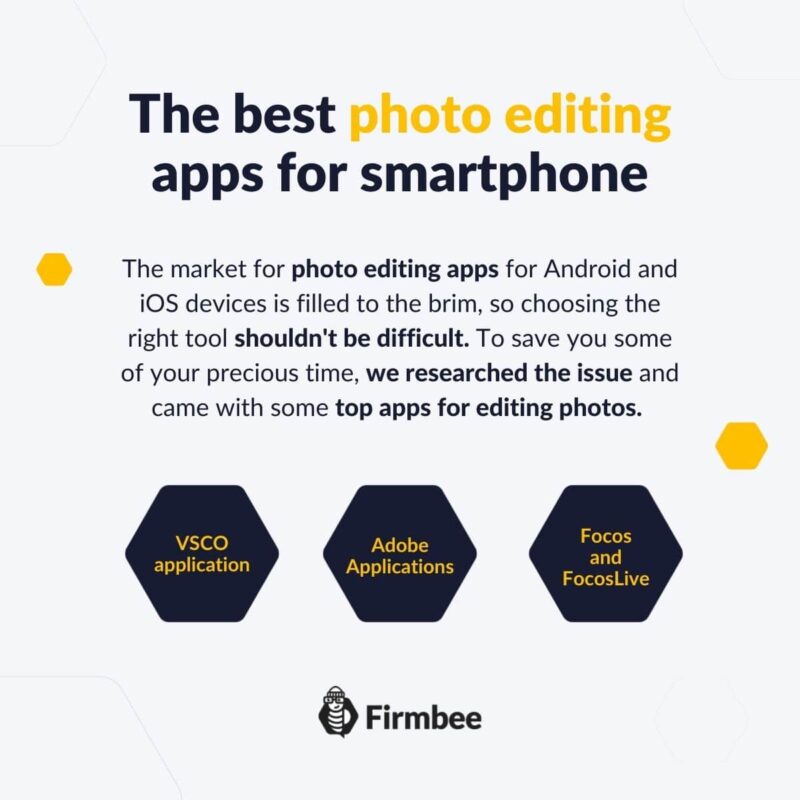 Top 3 Photo Editing Apps for Smartphone
VSCO application

The most popular and recognizable application for years has been of a well-established software VSCO. It is full of ready-made presets, thanks to which it is enough to select the aesthetics that suit us best. In addition, for demanding and skilled users, it gives you the opportunity to customize these presets, as well as extensively edit the photos without having to own professional hardware or software.

At the outset, the application requires setting up an account. After the first login, we are offered a 7-day trial and a chart displaying all the features included in the premium version. Surprisingly, the VSCO premium fees ($1.67monthly and $19.99annually) seem really low.

Unfortunately, from a technical point of view, the free version doesn't include many options. Thus, it's safe to say it could suit the newbies who begging their graphic adventure.

Adobe Applications

For some, an interesting option may seem to be an offer by one of the major players on the graphics market, Adobe. The giant has released two mobile versions called Lightroom and Psexpress.

Of course, without a subscription to Adobe CC (Creative Cloud), we will get a slightly truncated version that equips the users with basic functions to edit on layers or remove unwanted elements of the composition, but it's a good start to see if the software is worth purchasing later on.

Focos and FocosLive

The Focos app offers a premium account upfront – 1 month $1.99, 1 year $8.99 or a single purchase of $15.99. These prices are definitely competitive.

The free version comes with some unusual features, such as the ability to edit aperture size, moving focus (in the free version there are two shape choices) and lensing for can adjusting softness, linearity or noise.

The genuine capability concerns lighting options. You can display even in 3D to get an additional, broader view of work. Focos functions as a more advanced photo editing app and is very user-friendly despite the free version, which includes some limitations.

FocosLive features some video editing options for mobile devices. It is possible to import LUTs into the app to apply masks and even key out in color or use different blending modes.
Photo Editing Apps – Summary
The graphic editing market is teeming with applications for photos, videos or even graphic work and is constantly evolving offering cutting-edge solutions to stay ahead of competition driving the innovations. But Is it already possible to finally encapsulate all photo editing functions in one simple application?
Probably not entirely yet, but these days are looming over the horizon. Of course, if we have low expectations and requirements the apps we've mentioned will hold out and every amateur photographer who would like to expand his workshop won't be disappointed either.
This might interest You: Top 5 Free Graphic Design Software.
If you like our content, join our busy bees community on Facebook and Twitter.